When I arrived at Wheaton College in August 2018, I had no idea how a Christian college education would change me. I chose Wheaton for its strong Christian foundation and rigorous academics, trusting that I would be holistically prepared for a life of service to God.
Early in the semester, I met with a professor, Dr. Amy Black, to discuss my academic goals. To this day, I remember the last thing she said: "Remember to hold everything with open hands. You have no idea what God's plan for your life is, so hold it openly and allow him to work."
I had no idea how a Christian college education would change me.
"Hold it with open hands" has been the unwritten theme of my time at Wheaton. As graduation approaches, I can see the ways God has employed Christian education to equip me for life and ground me in the truth of his Word.
Sharpened by Shared Faith
Unique to the Christian university environment is a shared faith across the faculty, staff, and student body. Because of this shared commitment to the gospel, students can openly and respectfully debate doctrinal positions with faculty members and peers. Many professors open their classes with Scripture reading or prayer, and it's not uncommon to overhear a theological debate in the dorms or cafeteria.
Moreover, this common ground provides an environment where spiritual development and biblical ethics are stressed. For many students, their time at a Christian university is a time of determining their priorities and commitments. Without godly, consistent encouragement, a student's priorities can rapidly deviate from the faith.
In a Christian university community, students have roommates and friends who encourage them to attend church, even if sleeping in or binge-watching Netflix seems more enjoyable. When students are overwhelmed by work and other responsibilities, friends and mentors help keep them grounded in Scripture.
In students' times of temptation, fellow Christians are there to hold them accountable. A Christian community encourages students to "carry one another's burdens" (Gal. 6:2), "confess your sins to one another and pray for one another" (James 5:16), and mutually encourage each other in the faith (Rom. 1:11–12).
In students' times of temptation, fellow Christians are there to hold them accountable.
This environment of spiritual encouragement and support, along with discussions and debates, will continue with students for years to come. Students who attend a Christian university will, Lord willing, graduate with Christian friends who will continue to hold them accountable and have strong spiritual discernment. In a world that is hostile to Christians, the preparation at a Christian university will enable students to stay true to their faith, engage graciously in disagreements, and seek sources of accountability.
Applying Biblical Truth to Academic Study
Shared faith provokes students to develop their Christian worldview through close study, questioning, and debate. Through a strong core curriculum and focused study in a field of interest, students learn from Christian faculty and ponder the application of Scripture to their field of study.
A chemistry student, learning the complexity of atoms and molecules, will resonate with the declaration that "the earth is the Lord's and the fullness thereof" (Ps. 24:1). Students examining political systems and structures will better understand their Savior who "upholds the universe by the word of his power" (Heb. 1:3).
The apostle Paul instructed Timothy:
Continue in what you have learned and have firmly believed, knowing from whom you learned it and how from childhood you have been acquainted with the sacred writings, which are able to make you wise for salvation through faith in Christ Jesus. All Scripture is breathed out by God and profitable for teaching, for reproof, for correction, and for training in righteousness, that the man of God may be complete, equipped for every good work. (2 Tim. 3:14–17)
A Christian education, combined with the work of the Holy Spirit in your heart, will help you to live by this passage in all of life. Some refer to this as the integration of faith and learning. By learning from and with fellow Christians, you are taught how to "continue in what you have learned and believed," no matter the field of study.
When your pursuit of knowledge drives you to know and love God more, you will come to an increasing knowledge of the sufficiency of Scripture for all of life.
Opportunities for Mentoring
Thanks to a typically small student-to-faculty ratio at Christian universities, students have ample opportunity to be mentored by faculty members. In a public university, it's not uncommon for one professor to teach hundreds of students in a semester, which provides fewer opportunities to build meaningful relationships. Even though professors desire to mentor students, their time is limited due to the demands of large classes.
At a Christian university, faculty typically teach smaller courses, and thus have the time to mentor students. For a university student surrounded by other young people, having faculty mentors that care about you beyond the classroom is an indescribable blessing. To know that other adults (besides Mom and Dad back home) are praying for and supporting you is a gift.
To know that other adults (besides Mom and Dad) are praying for and supporting you is a gift.
I have benefited tremendously from Dr. Black and other professors who have prayed for me, provided counsel, celebrated life's victories with me, and been sources of encouragement and comfort when I miss home.
As you anticipate your college decision and whatever God has in store for you, my hope for you is this: that you would hold your future with open hands, just as my professor instructed me. Spend time in God's Word and in prayer. Discuss this decision with trusted family members or mentors. Examine your goals and aspirations, and consider what God might be calling you to. Above all else, lean on Jesus, who has graciously brought you this far and will continue to lead you every step of the way.
Get a FREE eBook to strengthen your family discipleship!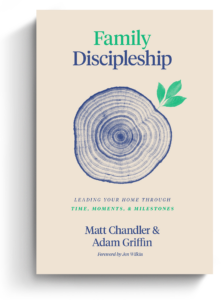 The back-to-school season is stressful for moms and dads. New rhythms of school, sports, and other extracurricular activities can quickly fill up a family's already busy calendar. Where do busy parents look for resources on discipling their family well? Aside from prioritizing church, what else can Christian parents do to instill healthy spiritual habits in their household?
Matt Chandler and Adam Griffin cover these questions and more in Family Discipleship: Leading Your Home through Time, Moments, and Milestones. And we're excited to offer this book to you for FREE as an eBook today.
Click on the link below to get instant access to your FREE Family Discipleship eBook now!