Dear Pastors Benton, Filson, and Teller: I know it has been a few weeks now since the big Glenn Beck rally in Washington. Most of the conversation about it has centered on Beck's Mormon faith. But that is not what prompts me to write to you. What prompts me to write is a statement Beck made on August 30 in an appearance on Bill O'Reilly's show, when he cheerfully celebrated that "240 pastors, priests, rabbis, and imams on stage all locked arms saying the principles of America need to be taught from the pulpit."
As I've continued to think about this statement, I'm moved to write today and say "thank you" for not being one of them. Thank you for your faithfulness in preaching Christ from the pulpit, not "the principles of America." Thank you for leaving that to others and reserving the sacred desk at our church for preaching, in the last few weeks, about the once-for-all sufficient sacrifice of Christ, about the privilege we have to approach God in prayer as Father, about Christ as the Wisdom of God, about Christ as the most valuable Treasure in the universe, worth trading everything to have.
I love my country and certainly I have concerns about where it is headed. But I also know that "this world in its present form is passing away" (1 Cor. 7:31). I know—as you quote it week-by-week—that "all men are like grass, and all their glory is like the flowers of the field; the grass withers and the flowers fall, but the word of the Lord stands forever" (1 Pet. 1:24-25; cf. Is. 40:6-8).
So thank you for continuing to preach the word of the Lord and present the beauty of Christ, and for not being so short-sighted to preach the "principles of America." You keep calling me to love Christ more than my country, more than anything, and this is the word I need most to hear.
Get a FREE eBook to strengthen your family discipleship!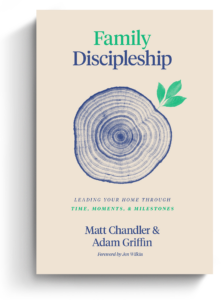 The back-to-school season is stressful for moms and dads. New rhythms of school, sports, and other extracurricular activities can quickly fill up a family's already busy calendar. Where do busy parents look for resources on discipling their family well? Aside from prioritizing church, what else can Christian parents do to instill healthy spiritual habits in their household?
Matt Chandler and Adam Griffin cover these questions and more in Family Discipleship: Leading Your Home through Time, Moments, and Milestones. And we're excited to offer this book to you for FREE as an eBook today.
Click on the link below to get instant access to your FREE Family Discipleship eBook now!