"No thank you. I'm not going anywhere. Ever heard of 'honor your father and mother'? Is this your idea of honoring me?" A fall had landed the elderly woman in the hospital with a broken hip, and she lashed out when her daughter told her she needed to move to an assisted-living facility.
Since 2011, 10,000 Baby Boomers turn 65 every day. According to Pew Research Center population projections, 18 percent of the population will be 65 or older by 2030. Caring for this growing older population can be challenging.
For the 43 million people who have provided care for a senior adult in the last six years, the challenge is a daily struggle. Many even cared for more than one person, all while raising families and working jobs.
In addition to the physical and emotional demands of caregiving, relationships with elderly relatives often include layers of brokenness. Many people navigate familial estrangement and mental illness as they organize meals and fill prescriptions. Ongoing care for an elderly family member can look like a disaster zone or a mission field—or both.
You will need thick skin and a large heart to care for a belligerent loved one.
Added to these typical stressors, what happens when Mom or Dad doesn't want the help you offer? You will need thick skin and a large heart to care for a belligerent loved one. Here are 10 suggestions.
1. Employ an ounce of prevention.
Many times, conversations about assisted living, relinquishing car keys, or turning over bank accounts take place in the hospital after a bad fall or serious illness forces the discussion. Such medical crises will only make things harder. Instead, have conversations about your concerns for the well-being of your parent early, before any signs of dementia or frailty appear, and before hospitalization complicates an already daunting task.
2. Ask questions.
Giving your parent an ultimatum is probably doomed to fail. Instead, when possible, include her in the decision-making process. Don't assume you know her fears and concerns—ask and learn before sharing yours. You might start with a simple open-ended question like, "How can I be praying for you?"
3. Don't assume it's dementia.
It can be tempting to dismiss a parent's opinions or preferences because she is older. But don't assume your mom has Alzheimer's just because she disagrees with you concerning her care. Keep in mind there could be two people whose perspective is biased—yours as well as hers. "The one who states his case first seems right, until the other comes and examines him" (Prov. 18:17). In the absence of concerns about safety or well-being, your parent has the right to object to your suggestions.
4. Request a medical evaluation.
A sudden change in a parent's demeanor isn't necessarily dementia, but it still could have an underlying medical cause. It's worth scheduling an appointment with a primary physician. Medical conditions such as a kidney infection or adverse reactions to a medication can alter an elderly person's judgment, creating confusion and agitation. The good news is, when these conditions are addressed, mental capacity often improves.
5. Get outside counsel—early.
If you must step in to protect your parent's safety, try gathering several family members together to assist you. In some cases, after exhausting every other possibility, you might need to contact an attorney familiar with elder law to help you obtain guardianship. Senior experts such as medical professionals, nurse case managers, senior move managers, or geriatric care managers, as well as pastoral staff, can be a Godsend as you navigate a tricky course. "Without counsel plans fail, but with many advisers they succeed" (Prov. 15:22).
6. Offer empathy.
"One of the hardest things I've ever done is hand my son the car keys," a senior once told me. "I don't think he had a clue what I lost in the moment." Most seniors must grieve more than one loss at a time: the loss of a spouse, health, independence, cherished belongings, or home. As you express your concerns and ask them to make a change, be sure you give them time to grieve.
7. Practice patience.
"My dad was very resistant at first to my handling his bank statements. It took a while for him to let me in," a friend told me. Most of us, including seniors, need time to think about our financial decisions. They may also need additional time to declutter or downsize. Don't expect to come up for a weekend and leave with a truckload headed to Goodwill. Try tackling one closet at each visit.
8. Look for God to work.
While an uncooperative parent can bring stress and family drama, God will surely use these forces for good (Rom. 8:28). I have seen estranged siblings reconcile while caring for their parents. I heard a senior share the gospel with his adult children when a terminal illness forced a discussion about hospice. Although you may never see or fully understand what God is doing in this time, you can trust your loved one to a faithful Father.
9. Involve the church.
Let your local church or your parent's church know about your circumstances. The body of Christ can bring much-needed respite and encouragement for weary families. As Jamie Dean explained in a recent article, the local church can helpfully reach out to caregivers and their families in a variety of ways.
10. Hold fast to the gospel.
Aging doesn't erase dysfunction. In fact, it often accentuates it. Faced with losing their independence, a senior may lash out at the only people they feel safe expressing their anger to—their children. Weary adult children can fear their situation is hopeless.
But caring for the aging can also grant us a greater appreciation for the finished work of Christ, who died for sinners long before we were willing to receive his love (Rom. 5:7–8). No one has the natural ability to give this kind of self-sacrificing love. Caregiving, then, becomes an opportunity to depend on our all-sufficient Savior. Cling to him.
Get your FREE 7-day devotional!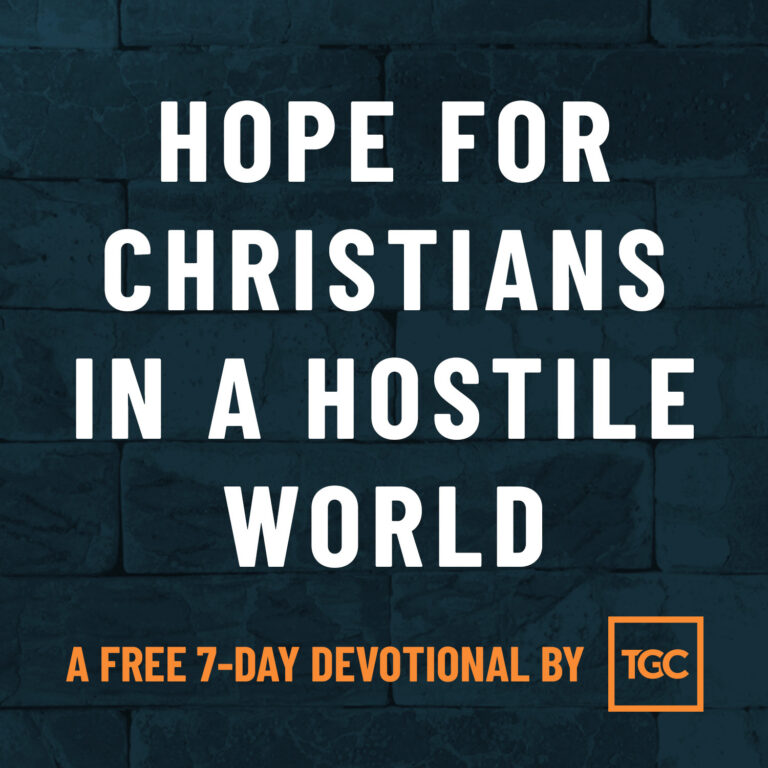 God's people have always been strangers and sojourners in this world. Do you feel that way, too?
You're not alone. Since the church's beginnings, Christians have often felt ostracized. And the Bible offers great encouragement for how to live with hope.
If you're feeling the weight of cultural exile today, our new 7-day devotional, Hope for Christians in a Hostile World, will encourage you.
If you sign up for this FREE resource, we'll send you an email each day for a week with a daily devotional featuring Bible readings and reflections written by TGC staff and friends.