The pandemic and the Delta variant hit us healthcare workers like a one-two punch.
In 2020, COVID's U.S. mortality rate was higher than heart disease and cancer, the Centers for Disease Control and Prevention reported. For those over 15, the virus is still one of the top 10 causes of death.
My fellow nurses and I have witnessed these deaths. We have escorted those souls to eternity's doors. And while the public once hailed us heroes, the honeymoon did not last. A survey in late 2020 of more than 15,000 registered nurses showed that 20 percent faced increased on-the-job violence.
The nurses could guess the reasons—"decreasing staffing levels, changes in the patient population, and visitor restrictions." The researchers found that healthcare workers were about 50 percent more likely than others to have been harassed, bullied, or hurt because of COVID. Indeed, through many dangers, toils and snares, we have come.
As the pandemic lingers longer than any of us anticipated, here are seven things Christian healthcare workers would like you to know.
1. We aren't superheroes.
We have feet of clay. Healthcare workers are quite human. We were not prepared to address the COVID crisis when it first hit. We are doing our best to care for people, but we can't always save our patients.
Healthcare workers are quite human.
We are also human in that we feel the insults and anger that families sometimes hurl at us. A hot word thrown out in an emotional moment hits us, and it lingers long after the person has calmed down and gone home.
2. We are exhausted.
Not tired. Exhausted. Which means we may not be able to reply quickly to a text or a social-media question: "Should this nurse who refused the vaccine resign?" We have thoughts on questions like these, but let's save those conversations for when we have time to talk, time for a cup of coffee, and time for a good night's sleep.
3. We are sad.
Many of us are watching someone die every day. Some are our coworkers. The heaviness at our work does not lift easily. We are seeing and hearing things I believe will be with most of us for a long time. However, we cannot open up about our experiences without breaching our patients' privacy. Please understand we may be sad for reasons we can't explain.
Many of us are watching someone die every day. Some are our coworkers.
4. We are a little angry.
Let me be clear: we aren't angry at you. We ask about your vaccination status when you come into the hospital because it is part of your health history. We aren't doing so to judge your character or to give you a lecture. Vaccine or no vaccine, if you come into our hospital, we will care for you.
Rather, we are angry that our country has become so divided that healthcare feels like a political football. Often, our patients and their families are wondering if we're on their side. They're tense and suspicious, and we have to work extra hard to assure them we're on the same team.
We [workers] are angry that our country has become so divided that healthcare feels like a political football.
So, here's our best nonpartisan advice: establish a relationship with a physician you can trust to tell you the truth based on sound medical information. There really is no substitute for a sharp physician who knows your medical history and whom you can trust.
5. We are not without hope.
We aren't seeing a lot of medical miracles right now. We are seeing death and heartache. But God is nevertheless still with us. His gracious presence is also a miracle. He works every bit as powerfully in loss as he does in someone's healing. So we stubbornly trust in an unseen hope (Rom. 8:24).
6. We know there's a greater purpose to our pain.
The apostle Paul writes, "We rejoice in our sufferings, knowing that suffering produces endurance, and endurance produces character, and character produces hope, and hope does not put us to shame, because God's love has been poured into our hearts through the Holy Spirit who has been given to us" (Rom. 5:3–5).
The world's superficial comfort can be like placing a Band-Aid over a hemorrhaging artery. But the Scriptures offer a chain reaction of true, lasting comfort through the promises of God. Our suffering matters to God. It isn't for nothing. He is at work in us.
7. Christ is worth it.
Elsewhere Paul declares, "For this light momentary affliction is preparing for us an eternal weight of glory beyond all comparison, as we look not to the things that are seen but to the things that are unseen. For the things that are seen are transient, but the things that are unseen are eternal" (2 Cor. 4:17–18).
We feel as though we carry the weight of the world on our shoulders, but that is a lie.
We feel as though we carry the weight of the world on our shoulders, but that is a lie. Christ bore that burden already for us on the cross. And because he did, our burdens, which feel heavy now, will seem oh-so-light compared the weight of his glory that is to come! God be praised.
Get your FREE 7-day devotional!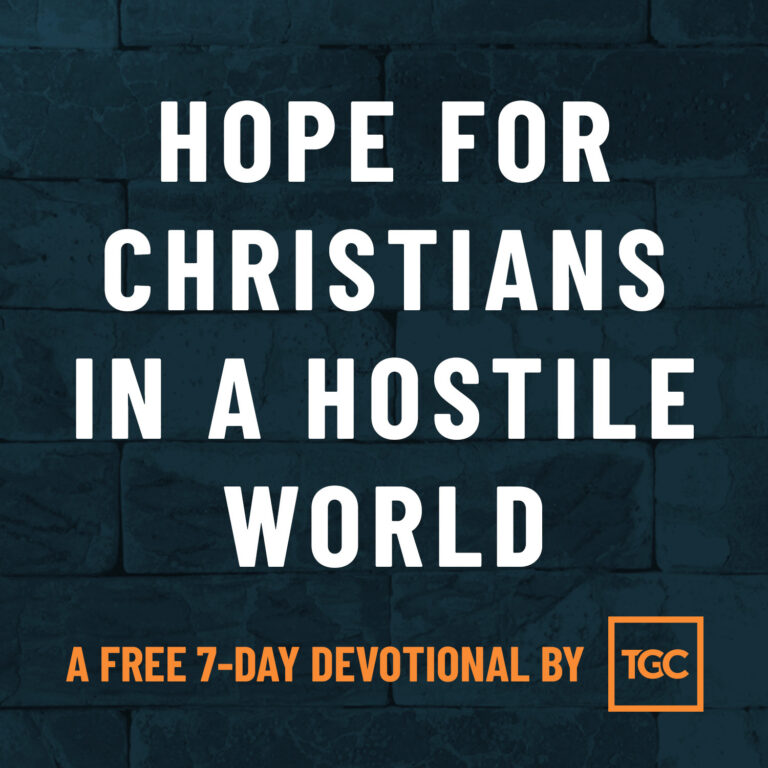 God's people have always been strangers and sojourners in this world. Do you feel that way, too?
You're not alone. Since the church's beginnings, Christians have often felt ostracized. And the Bible offers great encouragement for how to live with hope.
If you're feeling the weight of cultural exile today, our new 7-day devotional, Hope for Christians in a Hostile World, will encourage you.
If you sign up for this FREE resource, we'll send you an email each day for a week with a daily devotional featuring Bible readings and reflections written by TGC staff and friends.