Earlier this month, more than 50,000 people ran in the New York City Marathon
Last year my daughter participated in this famous race, and she introduced our family to marathon culture. Sharon and I went to cheer her on. Having never attended or run in a marathon, I was surprised at all that I saw. As our daughter ran, I thought about the life lessons represented. One related to parenting.
Parenting is like a marathon. Before the race you are fresh and rested. You start with excitement. But this is not a sprint.
There are painful moments. There are times you hit a wall and think you can't keep going.
But one day, it's over. Infants are grown. Bedrooms are empty. The house is quiet.
So how do we run the parenting marathon well and finish strong? Here are eight ways.
1. The race requires endurance.
The New York City Marathon is 26.2 miles through all five boroughs. It is long, varied, and painful. There are hills, bridges, streets, and parks. First-time runners know in theory that it can be painful. But when you actually experience the length and the exhaustion, you wonder if you will finish.
Similarly, seeking to faithfully disciple our children as Christian parents is a long, varied, and painful journey. It is not a sprint. There are certainly moments of joy, but also moments of pain when you want to quit. But this is expected when you realize you're running a marathon.
2. Running with others gives strength.
Some in the marathon ran with teams. Others ran individually, but they were surrounded by a mass of 50,000 runners. Even if you were running alone, you were not alone.
Family discipleship, like that marathon, is a community endeavor. We need likeminded parents in the church. Though ultimately parenting our kids is on our shoulders, we all need the camaraderie that parenting in a robust community offers.
3. Encouragement makes a big difference.
More than 1 million fans line the New York City race course. And what are they doing? Constantly cheering. Since many participants put their names on their shirts, complete strangers yell out encouragement by name.
Not only do we need encouragement, we should also give it. A parent you know is tired, discouraged, ready to quit. Your voice and words can be just the thing they need. Whom could you encourage by name this week?
4. You will be given needed resources at the right time.
When the runners start, they don't have all they need for the race. Twenty-six miles is a long way. But the organizers provide refreshments along the way, and generous spectators spontaneously offer refreshment too.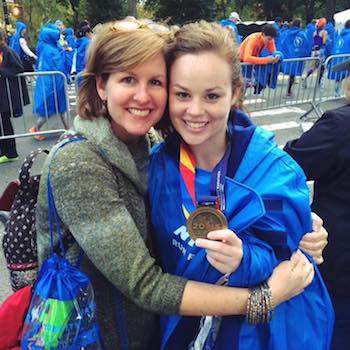 Similarly, parents don't have all the resources they need when they begin their course. But God gives grace and refreshment when we need it. You can trust the organizer of your race will provide refreshment. Look for it. It will be there.
5. You aren't competing with others.
Other than a few professional athletes, no one is competing against the other runners. Each just wants to finish. Perhaps you want to beat a personal best time. But the main goal is simply to finish.
Likewise, parenting is not a competitive sport. Yet we so often compare ourselves with others. The truth is, God just calls you to do your best. He knows your unique circumstances and limitations. Let the example of others inspire you, but not condemn you. You aren't competing against them.
6. Others who care about you are watching.
Each marathon runner is provided with an electronic chip to track his or her movements. It also allows others to follow them on the internet. As my 24-year-old daughter was running through New York City, her 81-year-old grandmother and her Sunday school class were watching from a smartphone in Alabama.
We parent with eternity in mind. God cares about what how we display his glory in our homes. Our example is being watched and encourages others.
7. It's all about the joy of finishing well.
At the end of the marathon, what does a runner have to show for five hours of pain? There are cramps, sore muscles, and blisters, but there's also the joy of a race well run. Each finisher receives a medal and a warming poncho emblazoned with the words "Finisher." As exhausted runners walk around New York wearing the blue ponchos, complete strangers call out "Good job!" and "Congratulations!"
We can't control what our children do with their lives. But we can finish well. We can know in our conscience that we did our best. Not perfect, but our best.
Duty is ours. Results are God's. We evangelize and disciple our kids, trust the God who made them, and pray we will hear, "Well done, good and faithful servant."
Keep on Running
Family discipleship (and the Christian life) is not a sprint. It's a marathon. You may be at mile 1, 18, or 25. Others can encourage you along the way, but ultimately you're running for an audience of One. You are not competing against anyone else.
The King who sits on the throne is also inside you, providing strength and wisdom. Walk if you must. But keep going! It will be worth the pain in the end. And best of all, your Father is waiting at the finish line with open arms.
Get a FREE eBook to strengthen your family discipleship!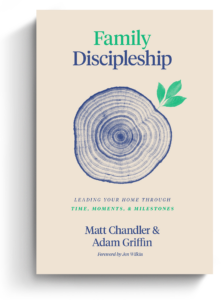 The back-to-school season is stressful for moms and dads. New rhythms of school, sports, and other extracurricular activities can quickly fill up a family's already busy calendar. Where do busy parents look for resources on discipling their family well? Aside from prioritizing church, what else can Christian parents do to instill healthy spiritual habits in their household?
Matt Chandler and Adam Griffin cover these questions and more in Family Discipleship: Leading Your Home through Time, Moments, and Milestones. And we're excited to offer this book to you for FREE as an eBook today.
Click on the link below to get instant access to your FREE Family Discipleship eBook now!