Our kids' favorite part of the day is story time. At the end of a long day, we all gather, and I read to them. Even my oldest, who's almost in middle school, looks forward to it. We've read a variety of books over the years, from mysteries to fantasies to literary classics. Favorites have included The Hobbit, King Arthur, Farmer Boy, and The Hardy Boys.
One evening, I was reading a different genre than usual. As I neared the end of the book, my eyes started to burn. I blinked and my vision blurred. Before I knew it, tears were streaming down my face. This was unusual for story time. I turned to my son, handed him the book, and whispered, "Can you finish, please?"
He took over reading for me while I sat there in tears. We were reading a biography of Nate Saint.
Saint was a mid-20th-century missionary in Ecuador to the Auca Indians. He and four others (including Jim Elliot) were martyred by those they came to serve. Yet this death didn't stop God's redeeming work. In time, many in the village came to embrace Christ, including the six who killed the missionaries.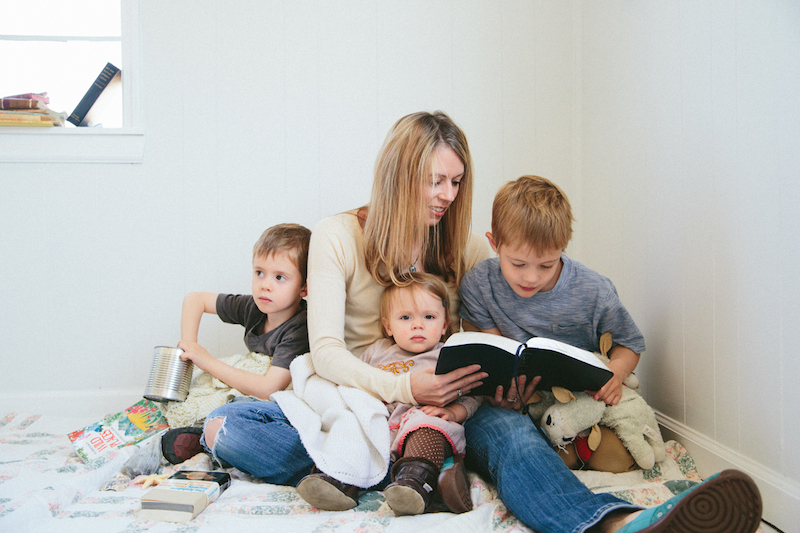 Reading a missionary biography, like that of Nate Saint, might not be your first choice since such stories are often filled with heartache and hardship. But I encourage you to consider reading them to your kids for five reasons.
1. They expose kids to God's kingdom expansion worldwide.
Missionary biographies open our children's eyes to see what Jesus has done and is doing to build his global church (Matt. 16:18). There are the early missionary efforts of David Livingstone in Africa and David Brainerd to the Native Americans. There's the work of Hudson Taylor in China and Cameron Townsend in Mexico.
Such stories of how God has used his servants to advance the Great Commission (Matt. 28:18–20) are remarkable. It's inspiring to learn about the work believers have done to translate Scripture into the languages of those they're called to serve. Many have shown great perseverance, spending decades on translation work.
Through the prophet Isaiah, God declares: "So shall my word be that goes out from my mouth; it shall not return to me empty, but it shall accomplish that which I purpose, and shall succeed in the thing for which I sent it" (Isa. 55:11). Missionary biographies show us how God's Word advances to the ends of the earth—and how nothing can stop it.
2. They show kids how gospel passion moves people out of comfort zones.
The story of Nate Saint and the other missionaries in Ecuador spoke volumes to our children about how love for God should push us out of our comfort zones. As Elliot famously said, "He is no fool who gives what he cannot keep to gain that which he cannot lose."
3. They show kids how God works through weakness.
Every missionary story portrays God's strength through human weakness. No one is capable of bringing the gospel to all the lost. Reading missionary biographies shows us how God's glory shines brightest in and through the inadequacies of his servants.
Whether it's through the physical disability of Amy Carmichael, the obstacles William Carey faced in getting to India, or Gladys Alyward's failure in missionary training school, God fulfills his purposes time and again despite the weakness and insufficiency of his people.
Reading of petite Gladys standing up to rioting Chinese prisoners and eventually improving their conditions is more than an adventure story. It's a real-life account of God's work through the unlikely. These stories magnify God's grace and power for our kids.
4. They show kids the amazing ways God answers prayer.
Who can forget the amazing testimony of God's grace in building George Mueller's orphanage in England? Rather than raise funds, he trusted the Lord to provide for the children's needs. So he prayed and trusted—and God provided, sometimes in the 11th hour.
Every missionary biography tells the story of God's answered prayers. Such stories remind us that God works through our prayers to accomplish his will in this world. This should spark in us a greater passion to pray for the lost.
5. They challenge us as parents.
These books not only challenge our kids, they confront our own hearts too. It's easy to get buried in the mundane duties and challenges of life and forget there's a world that needs to hear of Jesus's love for sinners.
These stories can inspire us to pray for missionaries. They can spur us to support them financially and practically. Reading missionary stories ultimately reminds us of our high calling as believers, turning our hearts to eternal things.
Take Up and Read
So in the next story time with your children, consider a missionary biography. Take time to learn about the culture where the missionary served. Pray together for that country or people group.
As a family, you'll learn more about how you can help and serve missionaries. Who knows, maybe one of your kids will become one.