Editors' note:
In Reformed Preaching, Joel Beeke―a pastor and professor of preaching with over four decades of experience―explores the fundamental principles of Reformed experiential preaching, examining sermons by preachers from the past and bridging the historical gap by showing pastors what the preaching of God's life-transforming truth looks like today. Order today.
Evangelical Christians are blessed to live amid a resurgence of biblical preaching. For that we should be grateful. Preaching Scripture is the old path of God's great servants before us. Ulrich Zwingli (1484–1531), Heinrich Bullinger (1504–1575), and John Calvin (1509–1564), for example, saw the ministry of the Word as the great engine by which the Spirit works regeneration, reformation, and revival.
Even in a good thing, however, we can become imbalanced, and just as an imbalanced diet can stunt physical growth and lead to illness, so imbalanced preaching hinders spiritual life.
Here, then, are four lessons we can learn from the reformers. You might think of them as four vitamins for healthy preaching.
Vitamin E—Expositions
First, preach expositions of the Word.
Zwingli preached through Matthew, Acts, 1 Timothy, 1 and 2 Peter, Hebrews, John, the rest of Paul's epistles, Psalms, the Pentateuch, and then various historical books and prophets. Bullinger preached 100 sermons on Revelation, 190 on Isaiah, and 170 on Jeremiah. Calvin also devoted himself to preaching verse-by-verse through books of the Bible.
When was the last time you preached through a book or major section of the Bible? You don't need to preach as many sermons on a book as these preachers did (they preached multiple times each week), but you should be walking your church through some portion of God's Word on a regular basis.
Vitamin E deficiency causes neurological problems resulting in muscular weakness. Lack of expository preaching weakens the body of Christ so that its members grow inactive.
Vitamin D—Doctrines
Second, preach doctrines.
This preaching shouldn't displace regular preaching through books of the Bible. However, some of Bullinger's most influential sermons were those published in his Decades, five sets of 10 sermons (hence the name). Each of these sermons, while opening the Scriptures, focused on a doctrine of the Christian faith.
For example, in the fourth decade Bullinger preached sermons on the gospel, repentance, the Trinity, creation and providence, the worship of God alone, the incarnation, Christ's kingly and priestly offices, the Holy Spirit, angels, and the soul of man. It's noteworthy that the Decades were even more popular in English Protestant and Puritan circles than Calvin's Institutes.
Vitamin D is important for strong bones. Regular biblical preaching on the essential doctrines of Christianity strengthens the bones of faith so that we can stand against heresy. To some extent, we can accomplish this goal while preaching through books, but some doctrines will be neglected if we don't supplement continuous preaching through the Bible with biblical preaching on the core beliefs of the faith.
Vitamin C—Christ
Third, preach Christ.
This was Zwingli's constant theme even as he preached through various books of the Old and New Testaments. We can see how Christ-centered Zwingli was in the opening statements of his Sixty-Seven Articles:
Everyone who says that the gospel is nothing without the sanction of the Church, errs and blasphemes God.
The summary of the gospel is that our Lord Christ, true Son of God, has made known to us the will of his heavenly Father and has redeemed us from death and reconciled us with God by his guiltlessness.
Therefore, Christ is the only way to salvation of all who were, are now, or shall be.
Whoever seeks or points to another door, errs. Indeed, he is a murderer of the soul and a thief.
Therefore, all who regard other teachings equal to or higher than the gospel, err. They do not know what gospel is.
For Christ Jesus is the guide and captain, promised by God and given to the entire human race.
That he is an everlasting salvation and head of all believers who are his body, which is dead and incapable of doing anything, apart from him. (3)
Such convictions in the heart spark preaching that, through the power of the Spirit, magnetically draws to Christ. As historian Hughes Oliphant Old observed, "Zwingli above all preached Christ and the saving power of his death and resurrection." We must do the same.
A lack of vitamin C leads to scurvy and ultimately death. A lack of preaching Christ can lead well-informed Bible students into eternal death. As we preach expositions of God's Word, let us make sure our listeners don't get so inundated with details about the text that they lose sight of the Lord Jesus Christ who is the way, the truth, and the life.
Vitamin A—Application
Finally, preach application.
Open Calvin's Sermons on Epistle to the Ephesians, and you'll be impressed at how much time the Genevan reformer devoted to practical application—"application was the dominant element," not theology or textual commentary (Gerstner). Consider a sampling of Calvin's statements from a sermon on Ephesians 1:4–6:
We perceive then that we have so much more reason to be humbled, seeing that we were in the way of perdition till he had drawn us out of it. . . .
But yet we must always bear in mind that God's electing of us was in order to call us to holiness of life. . . .
Moreover, let us also observe that though God has reformed us and set us in the good way and made us to feel that he has worked in us already to subdue us to his Word and to make us serve him obediently in all things, yet it does not therefore follow that we are fully reformed on the first day, no, nor yet in our whole lifetime. . . .
And, therefore, when we feel any vices in us, let us fight bravely against them, and let us not be downhearted as though we were not God's children. . . .
Although, then, we find many miseries in ourselves to thrust us out of the way, yet let us go on, still assuring ourselves that as long as we live here in this lower world we have our journey to pursue. (36–38)
In the same way, let us preach God's Word for God's glory in the holiness of God's people. Vitamin A is crucial for good vision. And without application, people begin to grow blind to their sins and the spiritual realities of true godliness.
Cumulative Effect
Like a parent preparing daily meals for the family, preachers understand that they can't "do it all" in any one sermon. Some will be more expository; others will be more topical and doctrinal. Some messages will be full of practical directions; others will simply call people to rest in Jesus Christ.
The example of the reformers calls pastors to preach messages that are biblical, doctrinal, experiential, and practical, so that Christ's body grows up into communion with its living Head and displays his likeness in everyday life.
Is there a vitamin deficiency in your preaching? How will you supplement it?
Get your FREE 7-day devotional!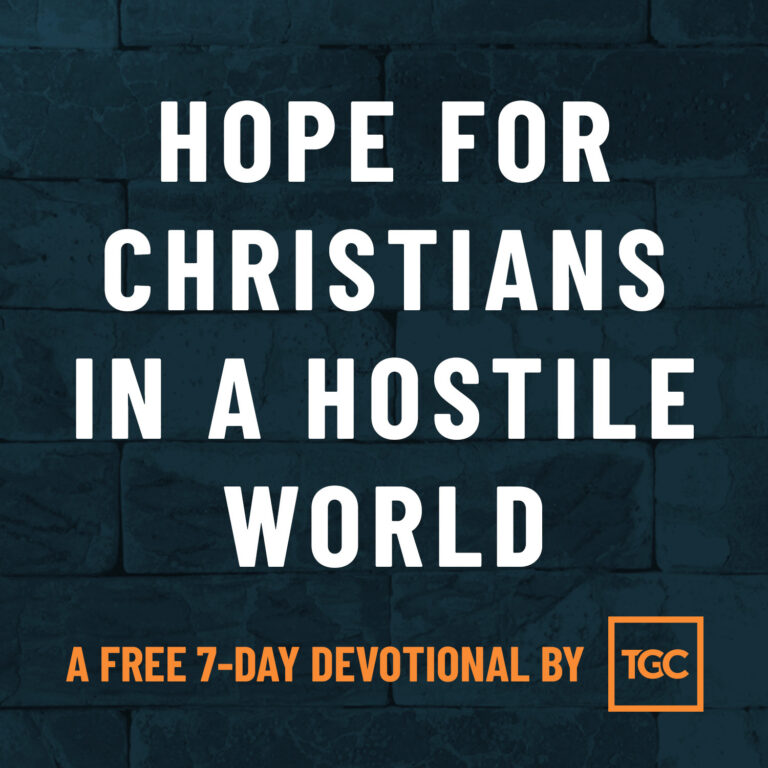 God's people have always been strangers and sojourners in this world. Do you feel that way, too?
You're not alone. Since the church's beginnings, Christians have often felt ostracized. And the Bible offers great encouragement for how to live with hope.
If you're feeling the weight of cultural exile today, our new 7-day devotional, Hope for Christians in a Hostile World, will encourage you.
If you sign up for this FREE resource, we'll send you an email each day for a week with a daily devotional featuring Bible readings and reflections written by TGC staff and friends.