You've heard the caricatures. The Puritans are "haunted by the fear that someone, somewhere, may be happy." They are the "killjoys," the joyless "frozen chosen." That's the modern view of the Puritans. The very words Puritan and puritanical are slung about as bits of verbal mud.
The word "Puritan" was coined in the 16th century as a term of abuse. For the average Englishman, there was the Roman Catholic "Papist" on one side, and the "Precisionist" or "Puritan" on the other. The term suggested a nit-picking, holier-than-thou party of men who considered themselves purer than the rest. It was certainly not a fair description: Those it was applied to strove to be pure, but never thought of themselves as pure, as their constant testimony to their own sinfulness and imperfection demonstrates.
Puritanism was a Bible-based movement. Doctrinally, it was a kind of vigorous, joyous Calvinism; experientially, it was warm and contagious and rejoiced in fellowship with God and with the saints; evangelistically, it was active and urgent, yet tender; ecclesiastically, it was centered on the triune God, his worship and service.
The Puritans, though serious and godly, were for the most part joyful—one of the most joyful groups of people, in fact, ever to grace the earth. Here are five kinds of joy that marked the Puritans.
1. Holy Joy: Happiness in the Fear of God
The theme of Psalm 128 is obvious since it is repeated twice: "Blessed is every one that feareth the LORD; that walketh in his ways" (v. 1; cf. v. 4). The word blessed refers to a genuine, happy, internal joy that springs from the depth of the heart.
In addition to centering on God and on fearing him as the foundation of our joy, the joy of Psalm 128 centers on three creation ordinances: work, marriage, worship. Most joy in human life under God radiates from your daily work, your domestic situation, and your worship of God.
But what does it mean to fear God? The Puritans taught that the fear of God involves three essential ingredients: a correct conception of God's character; a pervasive sense of God's presence; and a constant awareness of our obligation to God. To fear God means the smiles and frowns of God are of greater value than the smiles and frowns of man. The Puritans stressed that the reverent fear of God is the key to faithfulness in any situation in life. Sin brings us unhappiness; it destroys joy from within. But godly fear shrinks from sin.
2. Vocational Joy: Happiness in Your Work
The God-fearer, Psalm 128 goes on to say, will find joy in his or her work as done unto the Lord: "For thou shalt eat the labour of thine hands: happy shalt thou be, and it shall be well with thee" (Ps. 128:2).
The Puritans believed that only the God-fearer:
Enjoys his work not just as a job that provides the necessities of life, but as a calling from God. Fearing God, he enjoys every aspect of his work and relishes every accomplishment as a token of God's love and grace.
Works with a God-glorifying purpose in view. This basic integrity preserves him from much trouble; it enables him to transact all his business with scriptural integrity, diligence, and zeal. It helps him pursue his goals with zeal.
Trusts in God's promise of provision. Like the widow of Zarephath, he trusts that God will provide even if his supplies dwindle.
Handles life's disappointments with spiritual maturity, resting by faith in the sovereign purposes of God.
Knows that he will enjoy for eternity God's gracious reward upon his good work and his good works.
Consequently, the Puritan view of secular work is theologically rich.
3. Domestic Joy: Happiness in Your Family
Psalm 128:3 proceeds to say that God's normal way is to allow the God-fearer to reap genuine joy from his own family at home: "Thy wife shall be as a fruitful vine by the sides of thine house: thy children like olive plants round about thy table."
Likewise, the Puritans believed that joyous blessings accrue to the God-fearing in family life: First, there is the joy of a fruitful, godly wife. Children are not the only fruit a God-fearing wife bears. A vine doesn't only provide grapes. It also produces leaves, shade, beauty, and soil conservation. The fruitful wife manifests many Christ-centered graces in her life. The vine is a symbol of fruitfulness. The vine produces refreshment and gladness. A God-fearing wife offers wise counsel to her husband. His heart safely trusts in her. She provides companionship, intimacy, and unspeakable joy in all areas of life.
No doubt many Puritan marriages fell considerably short of the ideal. Yet the Puritans view of an ideal marriage and their diligence, in dependence on God, to work toward that ideal made the foundations of their homes solid. They believed God's promise that the married man who fears God and walks in his ways will be blessed with a happy marriage (Ps. 128:3).
4. Worshipful Joy: Happiness through Preaching and the Sabbath
Psalm 128:4–5 says that those who fear the Lord shall be joyful on the Sabbath in worship:
Behold, that thus shall the man be blessed that feareth the LORD. The LORD shall bless thee out of Zion: and thou shalt see the good of Jerusalem all the days of thy life.
The Puritans believed that, by God's grace, most blessings in life ultimately come from Zion and Jerusalem. The Lord's Day, which they called the market day of the soul, was at the heart of their joyous life. In God's courts, they heard and experienced afresh from Lord's Day to Lord's Day that their sins were washed away in the precious blood of Immanuel. This filled them with joy unspeakable—often tears of joy—and made them yearn to live wholly and solely for God's glory.
In common with the Reformers, the Puritans believed in the centrality of the church. And they believed that "the acceptable way of worshiping the true God is instituted by himself." Puritans embraced the regulative principle of worship, believing that nothing should be added to or subtracted from the Word except that which is displayed in New Testament worship.
Again and again we hear of Puritans happily traveling hours to hear a good sermon, and of how they thought that listening to sermons was far more fulfilling and joyous than an evening of worldly reveling. Sermons were usually an hour or longer. The Puritan Laurence Chaderton from Emmanuel College, Cambridge, once apologized to his congregation for preaching to them for two hours straight. Their response was to cry, "For God's sake, sir, go on, go on!"
5. Future Joy: Happiness through God's Covenantal Faithfulness
Psalm 128:6 declares that the happiness of the God-fearing shall extend far into the future: "Yea, thou shalt see thy children's children, and peace upon Israel." The Puritans were joyous covenant theologians. They saw the covenant of grace as a great whole, beginning with the God of the covenant, its outworking in the life of the covenant community, and the work and witness of that community in the world around them.
The believer ought to be striving to rejoice in God's covenant faithfulness all his days—yes, in God himself, for is it not, the Puritans said in their most famous collected statement ever written, that the very purpose of man is "to glorify God and enjoy him forever"?
No Killjoys Here
The Puritans were far from killjoys. They knew joys their critics failed to fathom. For the Puritans, the foundational secret to all this joy—in God, in work, in the home, among the children, in public worship and on the Lord's Day, and for the unknown future in the conversion of rising generations—is the serious, reverential fear of the Lord in the face of the Lord Jesus Christ, applied by the Holy Spirit.
It is a Trinitarian joy, in and through the one who said, "Your joy shall be full." Outside of Christ, God can only be a consuming fire and an everlasting burning.
Get a FREE eBook to strengthen your family discipleship!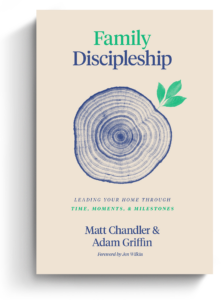 The back-to-school season is stressful for moms and dads. New rhythms of school, sports, and other extracurricular activities can quickly fill up a family's already busy calendar. Where do busy parents look for resources on discipling their family well? Aside from prioritizing church, what else can Christian parents do to instill healthy spiritual habits in their household?
Matt Chandler and Adam Griffin cover these questions and more in Family Discipleship: Leading Your Home through Time, Moments, and Milestones. And we're excited to offer this book to you for FREE as an eBook today.
Click on the link below to get instant access to your FREE Family Discipleship eBook now!