On Thanksgiving Day, Americans celebrate our most religious of secular holidays. For hundreds of years we've made a national tradition of giving thanks for the blessings of the preceding year. But for Christians, every day should be a day of thanksgiving, since the regular practice of gratitude is a means by which we become rightly oriented toward God.
Without a regular infusion of gratitude we can become self-involved, believing that we are responsible for all that we have in our lives. Only by developing the discipline of gratitude can we ensure that we are cognizant of God's goodness and reliant on him for our daily existence.
Expressing our gratitude can be challenging even when we feel blessed. But what about when we are enduring times of pain, suffering, or difficulty? How can we be thankful when we've lost our job or when our child is enslaved to pornography? How can we be thankful when our neighbors are suffering from sexual abuse or dying from opioid addictions?
When our world seems to be falling apart, how can we be expected, as Paul tells us, to "give thanks in all circumstances" (1 Thessalonians 5:18)? Is the apostle saying we must be thankful for these troubles? As Jim Burns explains,
No. If you look closely you'll see that Paul is not telling you to be thankful for these things; rather we are to be thankful in our circumstances. There is a major difference between being thankful for every situation in life and being thankful in those situations. He challenges us to find reasons to be thankful even in the worst of struggles.
All of us struggle in times of suffering and despair to express our gratitude for what God has done for us. But there are four reasons believers can be thankful in times of trouble:
1. Because we are not alone
No Christian ever goes through times of trouble alone. We are not only united with Christ, we are also united with fellow believers through our union with Jesus. Our Savior does not remain outside of us, simply leading the way to a better life, Michael Horton says. Rather, "we live in him and therefore in and for each other."
If you are anxious or afraid, in pain or in doubt, turn to the Lord and seek out your brothers and sisters in Christ. Let other believers know of your trouble so they might help share your burdens.
2. Because God is sovereign
As Christians we can be thankful that we are children of the sovereign Lord. Even when our life seems to be spinning out of control, we can trust that God is fully in command and that he uses times of trouble to make us mature and complete.
As James writes, "Count it all joy, my brothers, when you meet trials of various kinds, for you know that the testing of your faith produces steadfastness" (James 1:2-3).
3. Because we have hope
We tend to think of hope as an emotional state that reflects what we would like to happen in the future but are unsure will actually happen. For instance, we may "hope" that our ruptured marriage will be mended or we can avoid financial ruin. Despite our earnest desire, though, we have no assurance we will get the outcome we prefer
In Scripture, though, hope means something entirely different. Hope is a desire for a future outcome that is absolutely certain. We know that for those who love God all things work together for good (Romans 8:28). Because we trust in God's promises, we can be completely confident about the outcome. Because we know God can and will do what he says, our hope is a form of knowing. As R. C. Sproul says, "Hope is faith looking forward."
4. Because we have God
Over time, the practice of thanksgiving becomes a gift in itself. As we grow in gratitude, we learn to be thankful not only for the good gifts God gives us but for everything in our life, including our trials and sufferings. We learn that even in grief and pain we can be grateful, since we still have the greatest gift we could ever want: God himself.
The act of thanksgiving helps us to deepen our trust in the goodness of God and helps us to be humble in whatever circumstance we may be called upon to endure. While we don't have to be thankful for our circumstances, knowing that we have God for all eternity can help us learn to be thankful in our present circumstances.
In a season of sorrow? This FREE eBook will guide you in biblical lament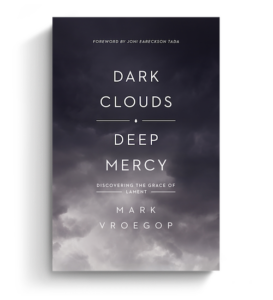 Lament is how we bring our sorrow to God—but it is a neglected dimension of the Christian life for many Christians today. We need to recover the practice of honest spiritual struggle that gives us permission to vocalize our pain and wrestle with our sorrow.
In Dark Clouds, Deep Mercy, pastor and TGC Council member Mark Vroegop explores how the Bible—through the psalms of lament and the book of Lamentations—gives voice to our pain. He invites readers to grieve, struggle, and tap into the rich reservoir of grace and mercy God offers in the darkest moments of our lives.
Click on the link below to get instant access to your FREE Dark Clouds, Deep Mercy eBook now!