In 2017 Jason Romano left his job at ESPN, where he had worked for 17 years, to start something new. He took a position with Sports Spectrum, the media company "where sports and faith connect." Sports Spectrum had been a magazine since 1985, but it hadn't fully adapted to the online media landscape. Romano helped the company complete that process. He launched the Sports Spectrum podcast and also expanded the scope and reach of the website and social-media platforms. 
For Christian sports fans, Sports Spectrum has become a go-to online space for testimonies, news, and conversations with prominent Christian athletes and coaches. And while Romano certainly has help, his unique skills, vision, and connections—honed during his time at ESPN—are essential to Sports Spectrum's success.  
In The Uniform of Leadership: Lessons on True Success From My ESPN Life, Romano and co-author Stephen Copeland (a former Sports Spectrum editor) take a look back at his time with the worldwide leader in sports, with an aim toward helping readers "re-center as leaders in a toxic, me-centered culture." Part memoir and part practical leadership guide, The Uniform of Leadership represents what is best about Romano's work. It uses the power of personal stories to encourage readers to reflect on their own lives while ultimately pointing them toward Jesus. 
This collection of compelling, inspiring, and often funny stories challenges readers to ask themselves the hard questions. It draws them into introspection and then directs them into action so they can cultivate habits of service and excellence in themselves and in those around them. From Tony Dungy to Darryl Strawberry, Will Ferrell to Dwayne "The Rock" Johnson, readers will discover how to replicate the principles practiced by some of the most influential leaders in sports and entertainment. And in the end, they'll be able to construct thriving cultures where the people they lead can bloom where they're planted and serve one another.
Leadership Ethic: 'I'm Third'
The guiding metaphor for the book, as the title suggests, is a uniform. An athlete's uniform will include at least three forms of identification: the league, the team name, and the athlete's name. That the athlete's name comes on the back is significant, Romano suggests, because it symbolizes the nature of true success, which comes from putting others first and being one part of the whole. 
In a similar way, Romano writes, "The uniform of leadership is for God to come first, others to come second, and us to come third." 
The uniform of leadership is for God to come first, others to come second, and us to come third.
The "I'm third" principle—Romano cites the Indiana Wesleyan basketball program as the place where he encountered it—was first popularized at YMCA camps in the 1920s before finding expression elsewhere in American culture (most notably at the Kanakuk summer camp in Missouri and in NFL Hall of Famer Gale Sayers's autobiography). But it has its foundation in Matthew 22, where Jesus gives the two greatest commandments: love God and love your neighbor as yourself. 
"Jesus's words reflect the design of a kingdom uniform, and wearing it properly will ensure you play the game of life in the most meaningful, fulfilling, fun, and liberating way," Romano writes.
Throughout the book, Romano returns to that metaphor. Each of the 18 chapters offers vignettes from Romano's life and time at ESPN, which are used to illustrate and examine particular components of leadership: presence, process, identity, service, gratitude, grit, active patience, perspective, consistency, empathy, and so on. There are practical "Putting on the Uniform" and "Discussing the Uniform" sections at the end of each chapter that offer space for personal reflection, continually pointing readers to the idea of putting God and others before yourself.
Mix of Old and New
For regular readers of leadership books, the principles in The Uniform of Leadership will probably be familiar. They call to mind the work of recent authors like Jon Gordon and Todd Gongwer, who blend business, sports, and faith in their approach to leadership. The book is also part of the broader history of American "true success" literature. Built around the idea that serving others is more important than results-oriented achievements, true success literature has been popular in sports and business circles since the early 20th century. 
But while the principles may be familiar to some, they might be new to others. More importantly, Romano offers a distinctive voice and framing to the ideas he articulates. He weaves in personal stories and anecdotes that provide a behind-the-scenes glimpse of ESPN's operations. And he displays admirable honesty and vulnerability. Romano doesn't depict himself as a leadership guru who has it all figured out, but as a fellow traveler who continually wrestles with his ambitions and insecurities as he strives to grow.
This openness cultivates an invitational ethos that's apparent throughout the book. It's not just about coaches, managers, and CEOs. Everyone is invited to put on the uniform of leadership, because everyone can work for the good of others. Romano learned this the hard way. "Passion for my personal career goals blinded me to the beauty around me," Romano writes of his early years at ESPN, "the meaningful space where God had creatively led me; the culture smack in front of me where I had an opportunity to love, serve, and show empathy to others."
It's not just about coaches, managers, and CEOs. Everyone is invited to put on the uniform of leadership, because everyone can work for the good of others.
Romano's invitational approach is combined with firm convictions. While Romano welcomes everyone into his leadership journey—Christians and non-Christians alike—he roots his understanding of leadership in the Bible. In nearly every chapter Romano turns to Scripture to explain and expand on his ideas, and he points to Jesus as the ultimate source of his identity. 
Because Romano seeks to cast a wide net and bring as many people as possible into the conversation, some readers might come away from the book with a desire to go even deeper. Take, for example, the "me-centered" culture that Romano identifies as the root of many current problems. "The uniform of leadership isn't difficult to understand," he writes in the final chapter, "but it is profound and countercultural in a society that's so hyperfocused on performance, status, and worldly success."
In nearly every chapter Romano turns to Scripture to explain and expand on his ideas, and he points to Jesus as the ultimate source of his identity.
Romano's identification seems right, but we don't get a sense of why. What is particular about the way American culture works—what are the historical and cultural forces that shape us toward becoming more focused on performance and status? And on the other hand, what is not unique to contemporary American culture? What about our me-centeredness is part of the universal human problem of sin, the tendency to put ourselves on the throne instead of God?  
Others-Focused Leadership
Bringing up these areas of further exploration shouldn't detract from what The Uniform of Leadership does well. As a practical guide to others-focused leadership, the book excels. It's an excellent introduction or refresher on wise leadership principles that anyone can cultivate, and an invitation into deeper conversation and reflection. 
This should be no surprise to listeners of the Sports Spectrum podcast. Since 2017, Romano has cultivated a unique space for Christians in sports to share their stories. With The Uniform of Leadership, he shares part of his story—and, true to the spirit of the book, he does so with the ultimate aim of pointing to Christ and encouraging others to reflect and grow.
Get a FREE eBook to strengthen your family discipleship!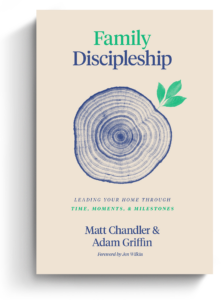 The back-to-school season is stressful for moms and dads. New rhythms of school, sports, and other extracurricular activities can quickly fill up a family's already busy calendar. Where do busy parents look for resources on discipling their family well? Aside from prioritizing church, what else can Christian parents do to instill healthy spiritual habits in their household?
Matt Chandler and Adam Griffin cover these questions and more in Family Discipleship: Leading Your Home through Time, Moments, and Milestones. And we're excited to offer this book to you for FREE as an eBook today.
Click on the link below to get instant access to your FREE Family Discipleship eBook now!