In Christian sports circles, Romans 12:1 is a popular verse. The exhortation to "offer your bodies as a living sacrifice" is often used as a reminder that even amid competition we can worship God.
But the next verse is also crucial: "Do not conform to the pattern of this world." In the context of sports, one way for Christians to do this well is to reflect on the broader meanings and messages of the games we play and watch. What is their cultural significance, and how are they forming and shaping us?
These five books, written by scholars and experts, help Christians consider such questions. I've selected one book for each member of the American sports "trinity" (basketball, football, baseball), as well as two books that cover broader themes related to religion and national identity.
If you've ever wondered how religion and sport have been intertwined in American society, Baker's well-researched and fast-paced book is a good place to start. He provides a broad and sweeping picture of faith and sports in the United States, with fascinating stories and examples throughout. While a good portion of his book focuses on Christians, Baker also includes Jews, Muslims, and other religious adherents in his analysis.
There are other important books that cover similar ground, including Shirl Hoffman's Good Game: Christianity and the Culture of Sports, and Tony Ladd and James Mathisen's Muscular Christianity: Evangelical Protestants and the Development of American Sport. But those books tend to use history as the background for sociological analysis. Baker brings the historical narrative to the fore. His credentials as a historian and compelling writing style make his book stand out.
2. Basketball: A Love Story by Jackie MacMullan, Rafe Bartholomew, and Dan Klores
Basketball was developed at a Christian college by a Christian instructor for the purpose of cultivating Christian values and spreading the gospel.
But James Naismith, basketball's founder, did not try to hold the game close. He let it out into the world for all to enjoy and appreciate. Over a century later, the breadth and depth of the game's appeal is remarkable. It has a special bond with men and women, big cities and small towns, the adaptive sport community, and religious groups including Protestants, Catholics, Mormons, Jews, and Muslims. Although soccer still reigns supreme on a global scale, basketball is right beneath it in international popularity.
While Basketball: A Love Story barely mentions the game's Christian roots, its collection of stories and interviews nevertheless testifies to God's goodness and the ways that a sport can resonate at a deep level with human beings across cultural divides.
There is no shortage of excellent books on the history of American football. In fact, if you want to expand your options, I put together a set of eight recommendations in 2018 for the Evangelical History blog.
I'm picking a book that was published a year later because Blood, Sweat, and Tears provides crucial insight into the ways football has been linked with ideas about race and masculinity. "To appreciate coach Gaither and FAMU football," Derrick White writes, "is to understand one of the most critical sources of Black pride and producers of Black manhood in the twentieth century."
More than a biography of Gaither, this book is a work of cultural and intellectual history, using sports as a lens to better understand American society. There is a Christian angle, too. The son of a preacher, Gaither saw his work on the gridiron as something akin to the calling of a minister. White shows that Gaither built a team culture infused with religion, including pregame prayers and mandatory church attendance.
While religion is present in Blood, Sweat, and Tears, it isn't a central theme. This is true of most of the best sports biographies. When trained historians or expert journalists take on a sports figure—even when that figure is a devout Christian—religion usually receives surface-level treatment. Readers who want more details on the faith journeys of important Christian athletes and coaches are left with few options besides hagiographical books that trade thorough analysis for inspirational platitudes.
Jackie Robinson: A Spiritual Biography is an exception to the rule. It centers on Robinson's religious life, and combines accessible prose with scholarly rigor. Long and Lamb have done their research, and they know the ins and outs of both Robinson's spiritual life and the broader religious contexts in which Robinson was involved.
It's difficult to peel back the layers of mythology that surround the Robinson story. But this book provides an honest look at the ways Christianity shaped Robinson's life, both before and after he reintegrated Major League Baseball.
First a warning: of all the books on the list, Patriotic Games is the most academic. It began as a dissertation, and you can tell from the prose.
Yet this book is also incredibly useful for understanding just how and why sports have such a powerful hold in American society. If you've ever wondered how amateurism became a central feature of college sports, or why football became a Thanksgiving tradition, or why the national anthem is played at sporting events, Pope's book will give you the details. He shows that things we take for granted today in sports were not always so, but that they developed and emerged during specific moments in history.
He shows, too, that our sporting traditions are part of broader national project of moral and intellectual formation—they're designed to articulate and advance certain ideas about what it means to be a citizen and an American.
Persistent Goodness
Consider these five books as a starting point to better understand American sports culture. On their own, of course, they won't transform or renew our minds. But they can be a tool to help us recognize and notice the waters of American sports culture in which we swim.
While they will confront us with the brokenness and distorted priorities of American sports—with the "pattern of this world"—they also provide glimpses and signs of God's persistent goodness.
Get a FREE eBook to strengthen your family discipleship!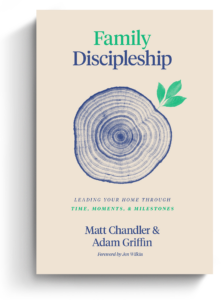 The back-to-school season is stressful for moms and dads. New rhythms of school, sports, and other extracurricular activities can quickly fill up a family's already busy calendar. Where do busy parents look for resources on discipling their family well? Aside from prioritizing church, what else can Christian parents do to instill healthy spiritual habits in their household?
Matt Chandler and Adam Griffin cover these questions and more in Family Discipleship: Leading Your Home through Time, Moments, and Milestones. And we're excited to offer this book to you for FREE as an eBook today.
Click on the link below to get instant access to your FREE Family Discipleship eBook now!