We are honored today to run a guest post by our friend and fellow historian (as well as fellow Cornhusker fan), Paul Putz (PhD, Baylor University), who specializes in 20th-century U.S. history, especially sports, religion, and the Midwest. His dissertation, "God, Country, and Big-Time Sports: American Protestants and the Creation of 'Sportianity,' 1920–1980," looked at the ways in which American Protestantism became embedded in the world of commercialized, big-time sport in the 20th-century United States.
Given his extensive reading and wise insights, I asked him if he would recommend some books for us on Christians should think about the history and game of football.
---
As a new football season kicks off, America's most popular sport is (once again) in a major crisis period. From its links with CTE to stories of football players and coaches implicated in acts of domestic violence, sexual assault, and abusive coaching practices, there are serious problems with America's favorite sport that should not be ignored. In light of all of this, how are Christians—particularly those who love the sport—supposed to engage with and think about football?
I don't have a definitive answer. I am still wrestling with it myself. But let me suggest one useful first step: start reading.
I'm not talking about the heroic tales of football triumphs from your favorite team, although I occasionally indulge in that genre when it comes to my Nebraska Cornhuskers. No, I'm talking about books that offer thoughtful historical analysis about America's obsession with football, books that help us understand how and why the game became so important in American society. By understanding football's past, we can perhaps begin to understand the hold that it has on us today—and whether or not that hold should persist.
If you're ready to take the plunge, here are seven recommendations to get you started (with a bonus opportunity to go for two if you'd prefer eight instead).
---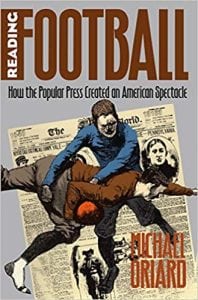 1. Michael Oriard, Reading Football: How the Popular Press Created an American Spectacle (University of North Carolina Press, 1993).
Oriard played as an offensive lineman in the NFL before becoming an English professor. With five books on the cultural history of football (plus an autobiography), Oriard is arguably the pre-eminent interpreter of football's meaning in American history. Perhaps the best feature of Oriard's writing is his attention to nuance. He understands that football's meaning is contested and complex, and he resists the urge—common among some scholars—to bludgeon the game. Oriard's strengths are readily apparent in Reading Football, which explores the early days of football and the ways in which newspapers and magazines invested the new game with significance and drama.
---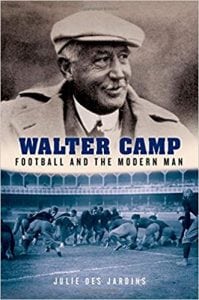 2. Julie Des Jardins, Walter Camp: Football and the Modern Man (Oxford University Press, 2015).
Although Walter Camp did not invent football, he did more than any single individual to take the game from its rugby origins and make it a distinct sport. In this book, Des Jardins uses Camp as a lens to see the ways that football became linked with American manhood and national destiny. Listen to North Carolina football coach Larry Fedora ("Our country will go down, too" if football goes down) or Michigan coach Jim Harbaugh (football is the "last bastion of toughness" for American men), and it is clear that those links have remained strong for more than a century.
---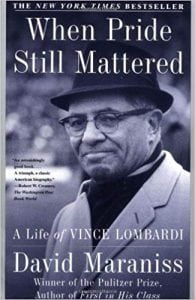 3. David Maraniss, When Pride Still Mattered: A Life of Vince Lombardi (Simon & Schuster, 1999).
This is biography at its best. Maraniss strips away the myths behind the legendary coach, revealing a flawed and driven human being who somehow comes across as more flexible and caring than his detractors would believe and also more insecure and selfish than his supporters would admit. Perhaps more than anything else, Maraniss shows the costs of football glory—the emotional burden Lombardi carried as he sought to live up to his winning reputation, and the sacrifice paid by Lombardi's family, forced to live with a distant husband and father who did not have the time to meet their needs even as he satisfied those of a million strangers.
---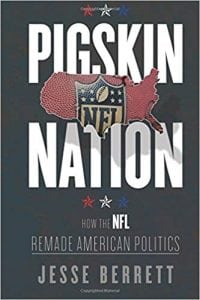 4. Jesse Berrett, Pigskin Nation: How the NFL Remade American Politics (University of Illinois Press, 2018).
Published this year, Berrett's book is easily one of the best cultural histories of professional football that I've read. Focusing on the 1960s and 1970s—when the NFL emerged as America's most popular sport—Berrett examines the numerous ways professional football interacted with cultural and political trends emanating from those years of tumult. Like Michael Oriard, Berrett excels at nuanced interpretations of football's meaning, discussing not just the fandom of conservative politicians like Richard Nixon, but also how John F. Kennedy, George McGovern, and other liberal politicians embraced the game. To understand how professional football became intertwined with our politics and sense of national identity in the television age, this is essential reading.
---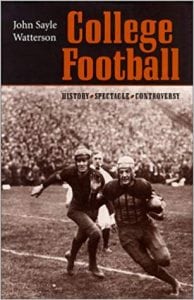 5. John Sayle Watterson, College Football: History, Spectacle, Controversy (Johns Hopkins University Press, 2000).
I generally shy away from describing books as "magisterial." But Watterson's history of college football from its nineteenth-century origins up to the end of the 20th century is about as close to magisterial as any football history book comes. Plenty has happened in college football since this book was published in 2000, so perhaps a new and updated edition is in order. Even so, if you're looking for a sweeping single-volume history that explains how college football ascended to prominence in American society, this is as good as it gets.
---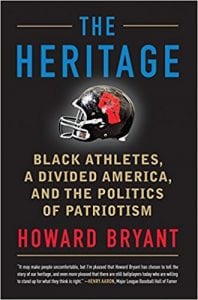 6. Howard Bryant, The Heritage: Black Athletes, a Divided America, and the Politics of Patriotism (Beacon Press, 2018).
While all of the books listed above discuss race, The Heritage brings black athletes and the racist structures they faced (and continue to face) front and center. Bryant does not focus exclusively on the gridiron game. But the controversies and tensions that Bryant analyzes in The Heritage are most apparent today in the debates over the NFL's kneeling protests. Since football is played at its highest levels these days primarily by black men, Bryant's sharp analysis of the black athlete experience is crucial to a full understanding of football's meaning and importance in American life.
---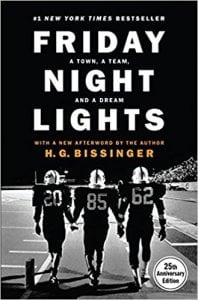 7. H. G. Bissinger, Friday Night Lights: A Town, a Team, and a Dream (Da Capo Press, 1990).
Perhaps you've already binge-watched the Friday Night Lights television show or seen the movie. Don't let that keep you from reading the book on which those productions were based. Bissinger's account of an Odessa, Texas, high school's 1988 football season still holds up today, both for the unforgettable characters and also Bissinger's unflinching description of football's cultural power—for good and ill—in a local community.
---
Bonus read: if you've already finished and enjoyed Bissinger's book, check out S. L. Price's Playing Through The Whistle: Steel, Football, and an American Town (Grove Press, 2016).