This book is the first serious, scholarly account of the Jesus Movement, which peaked in its influence from around 1969 to 1972. Because the movement was by nature informal and youthful, it didn't leave behind the careful documentation we now desire. But Larry Eskridge, who has worked at Wheaton College's Institute for the Study of American Evangelicals since 1988, has gathered what does remain into a coherent whole. We owe him a debt of gratitude.
Eskridge argues, "Far from being an ephemeral blip or a religious fad, the Jesus People Movement was a major episode in American religious history" (283). In my opinion, God's Forever Family: The Jesus People Movement in America succeeds in validating and developing that vital argument.
The structure of the book is straightforward and convincing. Linking the Jesus Movement back to the standard-brand youth ministries of the 1950s, Eskridge shows how radical a departure the Jesus Movement was—even visually. The very appearance of a longhaired hippie with a big King James Bible under his arm boldly preaching the gospel on the streets of our cities compelled people's attention as something stunning. Eskridge takes us back to that moment in American history with a vivid account of its sweep of events, its leaders, and its details. He includes an appendix with further findings from his research, ample footnotes, and a subject index. We cannot now think about the Jesus Movement without consulting this valuable resource.
I Was There
I was personally grateful for the tone of Eskridge's conclusion:
For many Baby Boomers who were involved in the movement, their experiences as part of God's Forever Family continued decades later to be the benchmark by which they measured their own spirituality and the health of the American church. . . . The memory of the movement, or the movement's template, still lingers within the evangelical subculture, and an enduring hope abides that a new revival might spring up among future generations coming of age within a culture that many believers feel has turned its back on God. (283–284)
The Jesus Movement permanently defined my own expectations of gospel ministry. I was there. I saw the power of God change the subject among the youth of Los Angeles from politics and drugs to Jesus and his power. It ruined me for life. I cannot settle for routinized ministry. I saw what only God can do, as did many of my contemporaries. Our restless hearts will never stop aching for a new visitation of the Lord upon our land.
Disappointing Aspects
Some aspects of God's Forever Family disappointed me. For one, the ministry of Francis Schaeffer is underrepresented. His influential lectures at Westmont College and Wheaton College, the effect of his bestselling books, the magnetic attraction of the L'Abri community in Switzerland, his bold demonstration of the gospel's relevance to the whole of life—the story of the Jesus Movement cannot be complete without fuller recognition of Schaeffer's timely ministry.
In addition, there appear to be simple errors as to fact here and there. For example, the photograph of Love Song on page 224 incorrectly identifies the members of the band. The correct names are Bob Wall, Chuck Girard, Tommy Coomes, Jay Truax, and John Mehler.
Moreover, the evaluative language used to conclude chapter seven is eyebrow-raising. The context concerns the cults and heresies that preyed on the Jesus Movement, such as the self-styled "Children of God" (COG). Eskridge quotes a 1971 memo from the COG leader referring to their followers as the little lambs who "laugh and sing and dance and play and [four-letter word for sexual intercourse] and bear lots of little lambs! And the shepherds like it!" This is representative of the abusive cult. But referring to the legitimate warnings from the Spiritual Counterfeits Project (SCP) in Berkeley, Eskridge writes:
The SCP became part of a larger evangelical obsession with anticult teachings. . . . The SCP would join in a veritable evangelical crusade to define orthodoxy and battle theological error at the grassroots level. . . . The anticult writings signaled an unprecedented fixation within evangelical ranks on doing spiritual warfare against "the other" and protecting the faithful from their depredations. The anticult paranoia within the evangelical subculture. . . . (207, italics added)
Eskridge's account of the serious misbehavior within the COG makes his dismissive language here mystifying. The evidences he himself cites warrant respectful advocacy of groups like the Spiritual Counterfeits Project. When I was living in Scotland not long after the Jesus Movement, a Transcendental Meditation group asked our church for the use of our facility. The SCP supplied the materials with which I could warn our church, which wisely heeded the warning. The SCP, with the general evangelical concern for theological integrity, deserves a more honored place in this record of the Jesus Movement.
Finally, I was surprised that the revival at Asbury College and Wheaton College in 1970 is not mentioned. This campus awakening dovetailed with the larger Jesus Movement and had an enduring influence on those schools. I was there at Wheaton. I saw it.
Cultural Upheaval
My primary takeaway from God's Forever Family is the positive spiritual potential created by stressful cultural upheaval. The Jesus Movement sprang out of the collision of mainstream evangelical Christianity, which had become tired and outdated, with the hippie counterculture of those times. That conflict was used, I believe, by the hand of God to radicalize a whole generation of young Christians. It started, as Eskridge points out, in small ways. One instance was Ted and Elizabeth Wise in the San Francisco Bay area in the mid-1960s. I got to know them a few years later. Ted certainly was a maverick, which I liked about him. But Ted, a dope-smoking non-conformist, was laid hold of by the gospel. In his own words, "Jesus knocked me off my metaphysical ass." Ted then found his way to a church—sadly, one that had lost its edge. There were no alternatives for new converts like Ted. Both sides tried to make the partnership work. But the parameters of what that church could allow just weren't bold enough. So Ted and Liz, daring to follow the New Testament, stifled by church tradition, struck out on their own. They, and others, forged a new way of being biblical Christians while also being the vanguard of a cultural revolution. Their new pattern caught on, and the Jesus Movement exploded, offering an exciting new Christian identity to anyone willing to follow. But it was born out of conflict during a time of intense social urgency, born out of an impatience with the status quo and a longing for reality with Christ, whatever the cost. The churches that embraced that openness were blessed. The churches that could not adapt were passed by.
Within the upheaval of our own day, it makes me wonder: where are the adventurers for Christ who will refuse to be limited to lifestyles and ministries that no longer communicate the boldness of New Testament Christianity? I think of Acts 29, for example. I so admire these young stalwarts planting gospel-centered churches in hard places. Maybe, by the grace of God, Acts 29 will provide the spark for something greater. I think also of The Gospel Coalition, Together for The Gospel, and other streams of blessing the Lord is giving us. Maybe we are at the front end of a new awakening. The Jesus Movement was like a power surge. It came, and it went. But this time, more slowly, we are planting churches, building websites, writing books, forming networks, and so forth. This time it is not going away but only keeps coming. This time the spiritual momentum could become greater, maybe far greater, to reshape the rest of this century for the greater glory of Christ.
This 64-year-old ex-hippie-street-preacher prays it will be so.
Get a FREE eBook to strengthen your family discipleship!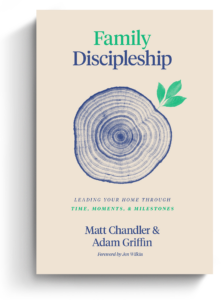 The back-to-school season is stressful for moms and dads. New rhythms of school, sports, and other extracurricular activities can quickly fill up a family's already busy calendar. Where do busy parents look for resources on discipling their family well? Aside from prioritizing church, what else can Christian parents do to instill healthy spiritual habits in their household?
Matt Chandler and Adam Griffin cover these questions and more in Family Discipleship: Leading Your Home through Time, Moments, and Milestones. And we're excited to offer this book to you for FREE as an eBook today.
Click on the link below to get instant access to your FREE Family Discipleship eBook now!