I always like to know a little something about an author before I sit down and open up his or her book. Today, I interview my friend Laura Wifler of Risen Motherhood about her new children's book, Any Time, Any Place, Any Prayer. This book is a wonderful way to teach children that they can talk to God when they are happy or sad, in need of help or in need of forgiveness. It's beautiful book with a needed message—I highly recommend it!
It releases on September 1st, along with its accompanying Any Time, Any Place, Any Prayer Coloring and Activity Book. You can pre-order it today!
---
Can you tell us a little bit about yourself?
I'm Laura Wifler, wife to Mike and mom to my three, wild and wonderful children: Eli (8), Colette (6), and Eden (4). I'm an author, podcaster, and the co-founder and executive director of Risen Motherhood, a ministry for moms to grow in the gospel.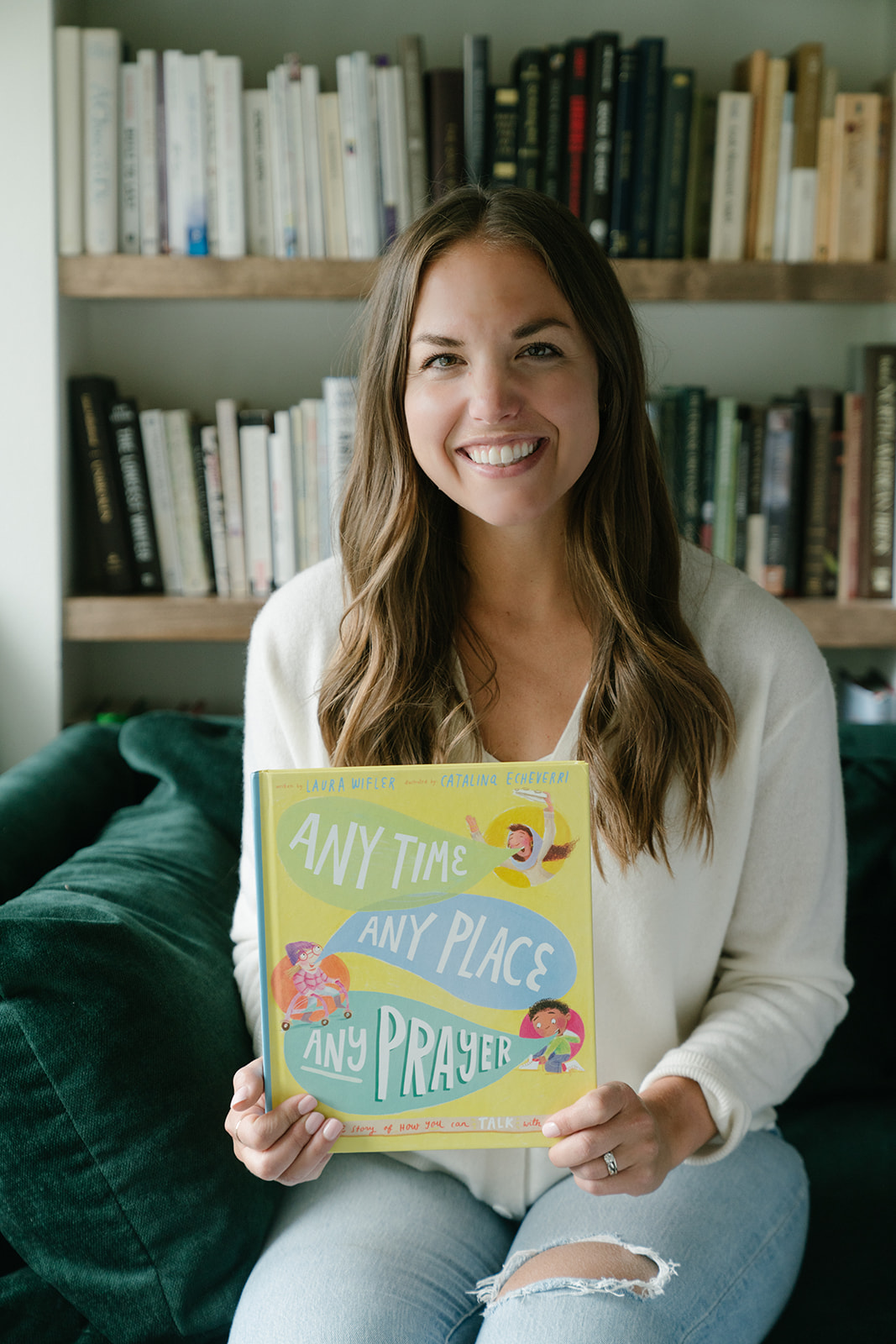 I live in central Iowa surrounded by cornfields, gravel roads, and sunsets the color of orange sherbet. It might not be on your top vacation list, but if nothing else, come visit to see the stars at night. They'll blow you away. 
When did you first start writing? What do you enjoy about it?
When I was 8, my parents gave me a little red and blue diary with a gold lock. I hid the key under my bed and wrote my innocent secrets on its pages. Over time, I wrote more and more, eventually starting a blog in 2010. Through it all, I loved the ability to capture and tell stories, to make someone feel joy, sorrow, surprise, or tension. The power of the written word stunned me then, and it's something I'm struck by to this day. 
Is writing ever difficult for you? How so?
I can't remember where I heard this advice, but someone once told me: "Go where the words are." When writing is difficult for me, it's usually because I'm trying to write something that's not ready to be written yet. As a writer, I often have several assignments to work on, in addition to all the things I simply want to write about. I've learned that if the words aren't coming, it's usually best to take a break on that particular project and, instead, write what's ready. 
Some days it's a blog post. Other days it's several microblogs for Instagram, or even a children's picture book! Of course, discipline is still necessary, but allowing the ebb and flow of creativity and writing to naturally take its course has helped significantly ease my frustration when the words won't come.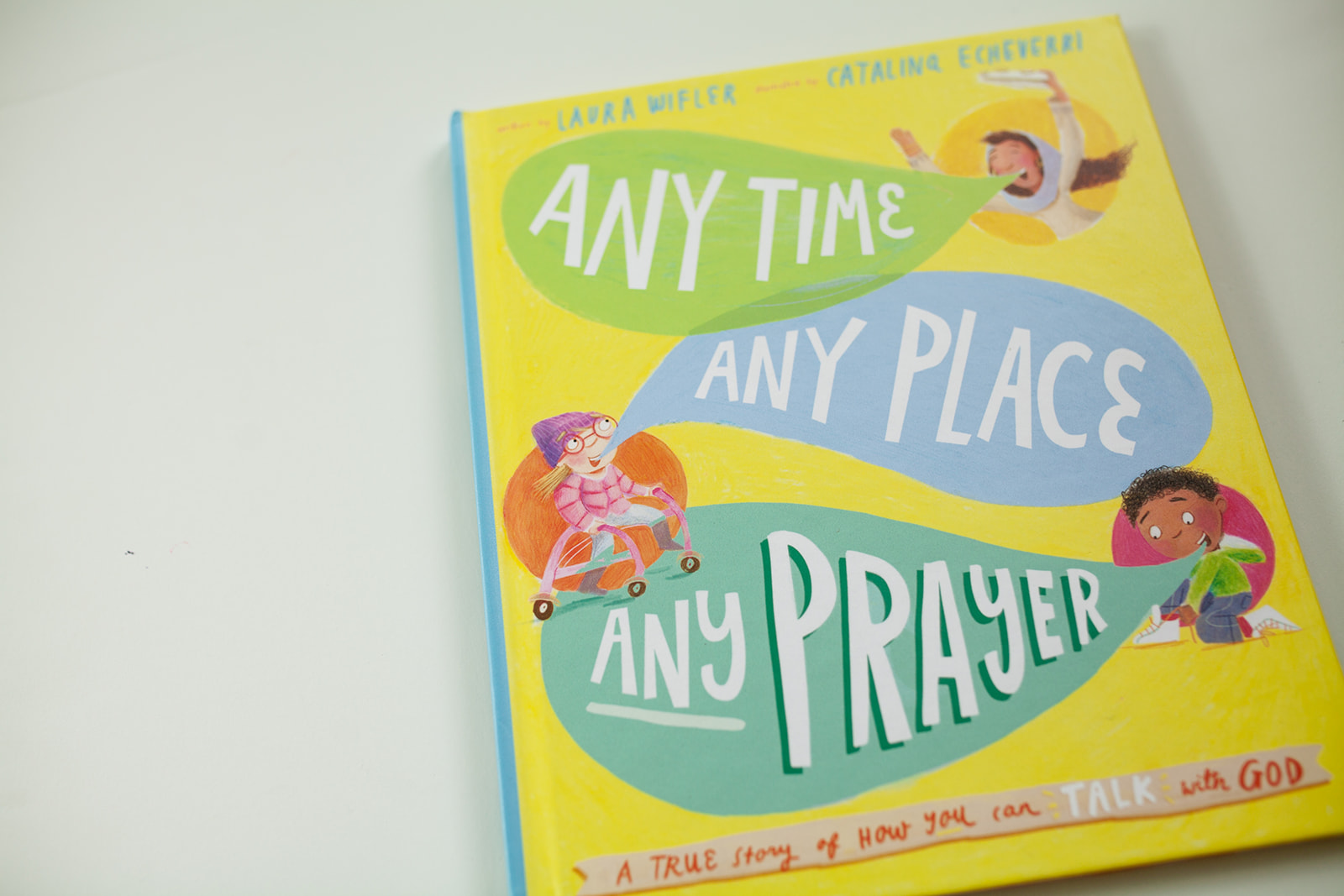 What led you to write Any Time, Any Place, Any Prayer? 
For a long time, one of the most frequently asked questions we received at Risen Motherhood was, "How do I teach my children how to pray?" As a mom to three children, I know firsthand how much a Christian parent longs to see their child have authentic, honest communication with God. I wanted to write a book to provide children with a theology of prayer that walks through the story of Scripture, looking at the concept of prayer from the start of the Bible until the end. 
The book looks at prayer in each part of the gospel story—Creation, Fall, Redemption, and New Creation—and shows how God has always made a way for his people to talk with him. Children will see there's a reason why prayer is sometimes awkward or hard, but because of Jesus's death and resurrection, those of us in Christ have the Holy Spirit to help us pray about anything on our hearts. And as believers, we have a great hope to look forward to when we will someday speak with God face-to-face! 
What's the central message you hope readers will take away from your book?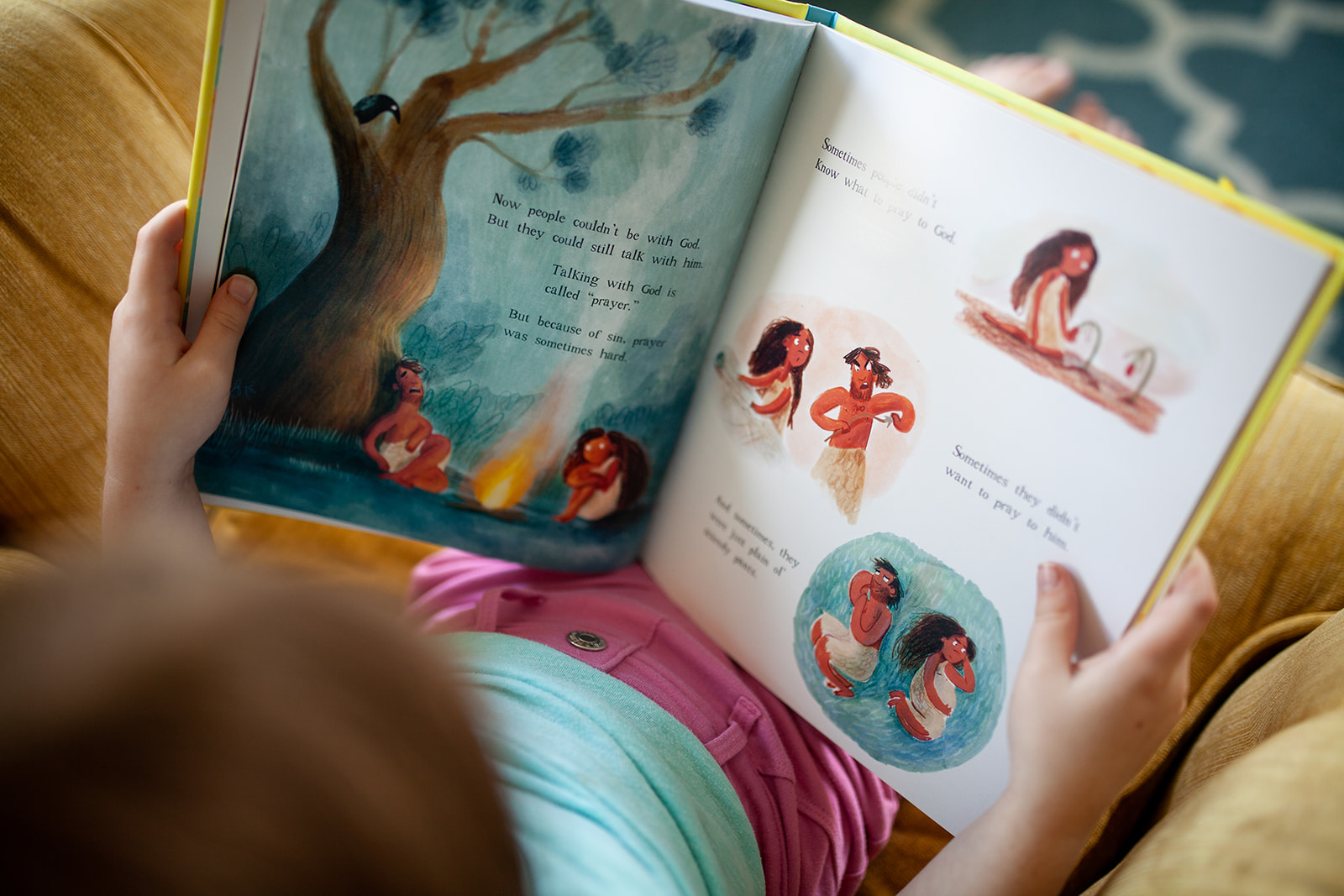 My prayer is that every child and adult will discover what I have found—that prayer is a beautiful gift from a loving God. It's a privilege and joy to talk with him any time, any place, about anything!
How has writing this book affected your own life?
I'm consistently taken aback by how similar I am to my children when it comes to prayer! Like me, sometimes they don't want to pray, they feel embarrassed to pray, they don't know what to pray about, or they even get bored during prayer. Like me, they bring a mix of motivations, assumptions, questions, and knowledge to prayer. As adults, we're just much better at hiding it. 
As I worked on this book, the same truths I want to impart to the readers impacted me: God loves talking with his people, and there is nothing that should stop us from coming before the Father with confidence and trust. We are saved by grace, and we pray by grace. 
For a sneak peek, here are some quotes:  
"Many years ago – nearly as long ago as you can
go – two people lived with God in a beautiful garden. 
They were Adam and Eve, and they were friends with God. 
They could talk with him about every thought they had. 
Every question they wondered. Every feeling they felt.
They told him anything, anytime."
"God's people prayed many times – millions and billions of times – until one day, God the Father sent his Son, Jesus, to earth. 
Jesus invited people to be his friends. 
Because he was God, talking with him was like being back in the garden! It was awesome! 
And because Jesus was a man, he understood his friends' feelings and their questions about living in a world spoiled by sin. 
Jesus talked with his Father, any time, any place, any prayer. He told God how he felt, what he needed, and what he was thinking." 
Here are some endorsements: 
"In this accessible resource, kids and families will learn together that God desires to enjoy fellowship with us through prayer. . . . This book shows just how simple it is to talk with God because of what Jesus has done."
— JT English
"This beautifully written and illustrated book has a simple message but is chock full of gospel and theology, offering us a simple, child-friendly biblical theology of prayer. Both the words and illustrations help us to see that people of every age, ability, era, and ethnicity can talk to God any time, in any place, with any prayer." 
— Kristie Anyabwile
"What a needed reminder for all of us, young and old alike."
— Ruth Chou Simons
When will Any Time, Any Place, Any Prayer be coming out?
The book releases September 1, 2021. But you can pre-order the book, along with its accompanying coloring and activity book, today!
If you had an afternoon to do whatever you'd like, where would we find you?
Depending on how much brain power I had that day, it would be a toss up between writing or reading. Either way, I'd have some sort of drink in-hand, and I'd be cozied up on a couch in our home library. It's not epic, but there's something grounding in its simplicity. 
---
Laura Wifler is the co-founder of Risen Motherhood and serves as the executive director and co-host of the podcast. She is the co-author of the bestselling book, Risen Motherhood: Gospel Hope for Everyday Moments, and the author of the forthcoming children's book, Any Time, Any Place, Any Prayer (September 2021). Laura, her husband, and her three children live in central Iowa. You can find her on Instagram or at www.laurawifler.com.