I finished loading my six children into our minivan and crawled into the driver's seat. Another therapy session for my oldest son was in the books. I mentally rehearsed what I'd seen and heard as I watched families come and go in the waiting room.
A mother asking the therapist about the necessity of restrictive clothing meant to help with a brain injury, since it was impairing her daughter's ability to use the toilet by herself.
A look of concern a mom's face as she heard her autistic son screaming and banging his fist in the other room because he'd been asked to put on his shoes.
A mother patiently waiting while her daughter navigated her electric wheelchair through the door so that she could speak privately with the therapist.
All this before my own son Sam came bounding enthusiastically through the door. We sat for a minute discussing with his therapist how he's still dropping ending sounds and omitting words in his sentences, making his speech hard to understand.
Each of the mothers was wearing a similar expression of tiredness, evidence of the difficulty of the job they face each day. Anyone sitting in the waiting room could see that raising a child with special needs is not easy.
Hard Does Not Equal Bad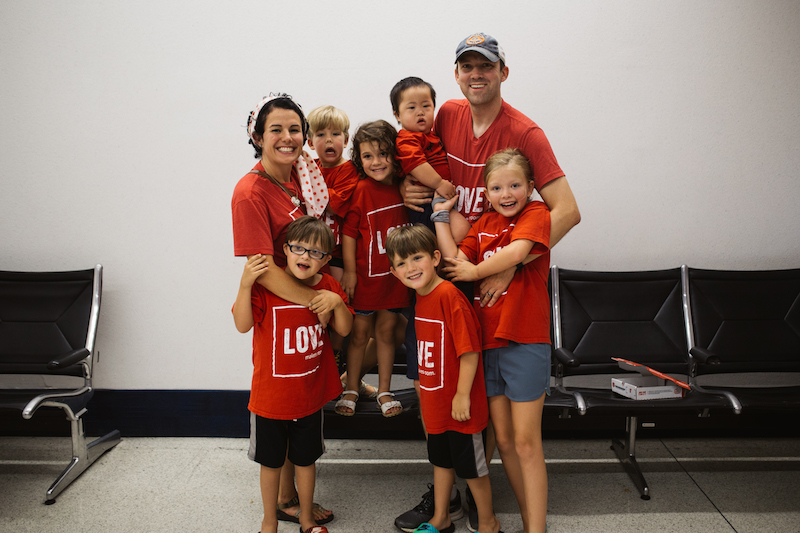 When we first heard our son's possible diagnosis, I remember crying with my husband, Dave, unsure how to pray for the son in my womb. I didn't want to pray he wouldn't have Down syndrome. It felt like a rejection of my child. Dave gently reminded me that if Sam had Down syndrome, then God would use it for his glory and Sam's good, but that Down syndrome exists because of the fall. It was okay to pray for his physical wholeness.
Parents in the special needs community often downplay the difficulties they encounter in raising their child for the same reason I didn't want to pray for Sam to not have Down syndrome. We don't want to reject the beautiful ways that disability has shaped our child. We don't want to inhibit others from seeing how our child's special need has blessed our family and changed us for the better.
There's so much that is good and beautiful in raising a child with special needs. Through Sam we've learned this invaluable lesson: Hard equals hard, but it doesn't equal bad. The suffering and sacrificing we experience is being used to sanctify us. I can say that, out of all my children, Sam has helped me the most to be like Christ. He's shown Jesus to me through his example of love, persistence, hard work, and loyalty. And he's shown me to me by challenging every ounce of patience as I come face to face with the sin in my heart.
There's so much that is good and beautiful in raising a child with special needs. Through Sam we've learned this invaluable lesson: Hard equals hard, but it doesn't equal bad.
Choose Hard
So how does a family who knows all the hard realities of raising a special needs child find themselves in a Chinese civil affairs office adopting a baby with the same extra chromosome that's "cost" them so much already? We had been given hard with Sam, but now we were choosing it with our newest son, Ben. Why? Because along with the challenges, we were conscious of the deep joys and redemptive blessings of raising a child with special needs.
In the end, how do you weigh or balance the benefits and challenges in life? Is that even what we're after—the improbable notion of a balanced life? Dave and I have concluded our best life is not one of balance and ease, but of dependence on God. Happiness never comes in a perfectly wrapped-up life. It comes from loving others and being loved by a perfect God.
If you are considering adopting a child with Down syndrome or another life-altering emotional, physical, or cognitive special need, I'll be honest with you: it will be hard at times. Most of us can imagine the difficulties, but we don't easily imagine the blessings. If you choose this life you will also be choosing a path that involves increased dependence on Christ and blessings from a God who delivers them in the hard stuff of life. Just as you can't imagine the hard, so you can't imagine the blessings.
Most of us can imagine the difficulties, but what we don't easily imagine are the blessings.
This is not only our experience; it is a biblical truth. God promises that spending your life on others is the pathway to life: "For whoever would save his life will lose it, but whoever loses his life for my sake will find it" (Matt. 16:25).
---
Editors' note: Take a few minutes to hear more abut the Baxters' adoption in this video by The Archibald Project. The Archibald Project is an orphan care advocacy organization that uses media to tell stories. To see more inspiring orphan care stories, please visit their website and follow them on Instagram.