The Story: A new survey finds that one in six adults between the ages of 18 and 23 now identifies as LGBTQ.
The Background: A recent Gallup survey finds that the number of Americans who identify as lesbian, gay, bisexual, or transgender has increased to 5.6 percent, up from 4.5 percent in Gallup's previous update based on 2017 data. The increase is primarily due to the rise in LGBT identification of younger generations, who are far more likely to consider themselves something other than heterosexual.
Almost one in ten (9.1 percent) Millennials (Americans born between 1981 and 1996) and one in six (15.9 percent) members of Gen Z (born 1997-2002) identify as LGBTQ. In comparison, only 3.8 percent of Generation X (born 1965-80), 2 percent of Baby Boomers (born 1946-64), and 1.3 percent of Traditionalists (born before 1946) identify as something other than heterosexual.
The largest non-heterosexual category is bisexual. More than half of LGBTQ adults (54.6 percent) identify as bisexual, compared to about a quarter (24.5 percent) who say they are gay, 11.7 percent who identify as lesbian, and 11.3 percent who identify as transgender. An additional 3.3 percent volunteer another non-heterosexual preference or term to describe their sexual orientation, such as queer or same-gender-loving. (Respondents could give multiple responses when describing their sexual identification, which is why the totals exceed 100 percent.)
The vast majority of Gen Z adults who identify as LGBTQ (72 percent) say they are bisexual. Gallup notes that 11.5 percent of all Gen Z adults in the United States say they are bisexual, with about 2 percent each identifying as gay, lesbian, or transgender.
About half of Millennials who identify as LGBTQ say they are bisexual. In older age groups, expressed bisexual preference is not significantly more common than expressed gay or lesbian preference.
Women are also more likely than men to identify as LGBTQ (6.4 percent vs. 4.9 percent, respectively) and bisexual (4.3 percent, with 1.3 percent identifying as lesbian and 1.3 percent as something else).
What It Means: No one who has been following the trends in sexuality in America will be surprised by these findings. Social contagion and normalization of homosexuality have combined to make the younger, highly susceptible, and credulous generations believe they should identify as LGBTQ.
Social contagion is the thesis that attitudes, beliefs, and behavior can spread through populations as if they were somehow infectious. "Simple exposure sometimes appears to be a sufficient condition for social transmission to occur," research psychologist Paul Marsden says. "This is the social contagion thesis; that sociocultural phenomena can spread through, and leap between, populations more like outbreaks of measles or chicken pox than through a process of rational choice."
Social contagion is the only adequate explanation for why so many younger people—especially women—claim to be bisexual or "bi-curious" in such a short time. The ubiquitous promotion by the mass media of bisexual female relationships has promoted the idea that such "experimentation" is a natural part of growing up female.
Bisexuality as a form of social contagion has numerous and often self-reinforcing causes.
First, for years the most popular search term for pornography for women has been "lesbian." (This is a bit of misnomer, however, since most of the porn produced for this category is by women who also produce heterosexual porn.) Pornography that includes women engaging in sexual acts with other women is also the most popular category among 18- to 24-year-old men and women. Among women looking for online pornography, "lesbian" is the most popular term overall, and such content is twice as likely to be watched by women as men.
In the past 40 years an abundance of social science research has established that consuming pornography affects perceptions of sexuality and of sexual norms. As far back as 1973, researchers were finding that exposure to pornography at a young age increased involvement in homosexual practices. Not surprisingly, as more young women are exposed to homosexual pornography at a young age, they consider engaging in sexual acts with other women to be a natural part of womanhood.
That image is reinforced by their role models in the media. A shockingly high number of young actresses who began their careers on the Disney Channel either now identify as bisexual, lesbian, or queer or have talked about engaging in homosexual sex. The list includes Miley Cyrus, Rowan Blanchard, Demi Lovato, Raven Symone, Selena Gomez, Josie Totah, Mollee Gray, Hayley Kiyoko, Alyson Stoner, and Bella Thorne. For other young actresses and pop stars, coming out as gay/bisexual/queer is almost obligatory and necessary for the young audience to consider them LGBT allies.
One of the reasons bisexuality is considered necessary is that it is now considered "transphobic" to not be sexually attracted to someone who has the same genitalia as you. In other words, if you're a man who refuses to date a trans woman (i.e., a man) or a woman who refuses to date a trans man (i.e., a woman) you will be called transphobic. (Ironically, this nullifies the L and G in LGBT, since gay men and lesbian women who refuse to date someone who has genitalia of the opposite sex are also considered transphobic.) For many young Americans, even if you aren't attracted to the same sex and have no desire to enter into a same-sex relationship, it is still better to identify as "bisexual" to avoid being considered a bigot.
What can be done about the influence of bisexual social contagion? The most important step a parent can take is to help a child select the right group of peers. For better and for worse, your children will be influenced by the people they associate with. While the Bible doesn't use the term "peer contagion," it has quite a lot to say about both the company we keep and avoiding harmful influences:
"Whoever walks with the wise becomes wise, but the companion of fools will suffer harm" (Prov. 13:20).
"My son, if sinners entice you, do not give in to them" (Prov. 1:10).
"Do not be misled: 'Bad company ruins good morals'" (1 Cor. 15:33).
We can't completely control who will they be exposed to, of course, but whenever possible, parents should know their child's peer group. And as much as we can, we should choose those they will spend their time with, both online and also in person.
Another key to fighting peer contagion is to dilute the effect of peers with intergenerational influences. Outside of parents and teachers, most teens and children do not associate with older people each day. This is often true even in our churches, which tend to be segregated by age groups.
Having older peers in their life can dilute the effect of their age cohort, and give teens a broader perspective on their problems. It is also helpful for older children and teens to have an adult in the church (and outside their family) they can turn to for guidance or to talk to about their struggles.
Intergenerational community is part of God's vision for the church and family, which is why our children suffer when they don't have friendships and influences that cross generational lines. We especially need older Christians who are unafraid to speak out for the biblical view of sexuality and to show younger generations how Jesus models a better way to be human.
Get a FREE eBook to strengthen your family discipleship!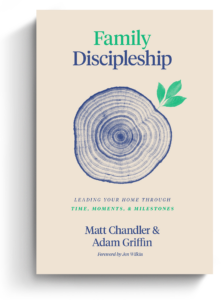 The back-to-school season is stressful for moms and dads. New rhythms of school, sports, and other extracurricular activities can quickly fill up a family's already busy calendar. Where do busy parents look for resources on discipling their family well? Aside from prioritizing church, what else can Christian parents do to instill healthy spiritual habits in their household?
Matt Chandler and Adam Griffin cover these questions and more in Family Discipleship: Leading Your Home through Time, Moments, and Milestones. And we're excited to offer this book to you for FREE as an eBook today.
Click on the link below to get instant access to your FREE Family Discipleship eBook now!