He had plenty of time to contemplate retirement during a long work commute across the Bay Area of Northern California. His bucket list included predictable items: spending more time with family, traveling, and doing some local charitable work.
Vern Buller, who inspired our International Outreach team by his passion to share the gospel with people in a country he never visited, went to be with the Lord last summer. I first heard about his one-time retirement goals four years ago, when I wrote about the "charitable work" that took over his list.
Friends and family members gathered in Spokane, Washington, to remember the 78-year-old father, grandfather, and the husband of Loretta for 53 years. The table display at Vern's memorial service featured Burmese-language books that reflected his passion for the calling he found in his final years.
A Surrendered Life
Vern was ready for something different following his 35-year career with Bank of America. As Loretta explained, "His job had become 'sell, sell, sell.' And, with that commute, he had little time for anything else."
As retirement approached, a verse came to Vern and wouldn't leave. Job 42:12 says, "And the Lord blessed the latter days of Job more than his beginning." This single verse fueled his desire to make a difference by sharing the gospel.
With enough money to retire comfortably—another one of Vern's goals—the Bullers relocated to Spokane to enjoy the new season of life near their children. Here, true to his intentions, Vern began serving on the board of the local Union Gospel Mission. He also helped serve meals to the homeless who lived under Interstate 90, and he later helped set up a church near the freeway."
Vern once observed that homeless people have something in common with lukewarm Christians. "Both are seemingly content to live in a foggy haze," he said. "While the homeless might fear letting go of their addictions, Christians can be afraid of living a fully surrendered life—of what Christ might require of them."
Making a Difference
In Spokane, the Bullers became involved with a refugee resettlement program. However, when the first assignment to host an immigrant family in their home went beyond the expected three-week commitment, they wanted to decline a second one. Then Vern recalled that verse from Job and realized they needed to have willing hearts in order to see what God would do.
In 2007, the Bullers took in a Chin-Burmese family from Myanmar (also called Burma) and discovered the husband and wife were believers. They further learned about the Buddhist-majority country whose government allows its brutal military force to persecute religious and ethnic minority groups.
The immigrant couple introduced Vern via e-mail to an inland missions director in Myanmar's poorest Chin state, near Bangladesh. Pastor Paul* oversees several missionaries in this area once influenced by American Baptist Missionaries. The pastor also networks with others who spread the gospel throughout the country.
After hearing about the need for a gospel resource that Paul could translate and print in large quantities, Vern felt led by the Holy Spirit to support Myanmar missions. He searched for an evangelistic tract through Desiring God Ministries and found John Piper's Quest for Joy.
In 2010, due to Vern's eager solicitation, International Outreach (IO) provided funds for printing the tract—50,000 copies each in both Burmese and the Tedim-Chin dialect.
The Bullers later helped fund additional printings of Quest for Joy in several more dialects. As Vern said, "God ordained this tract to touch the hearts of Burmese people since it translates well."
Seeing What God Would Do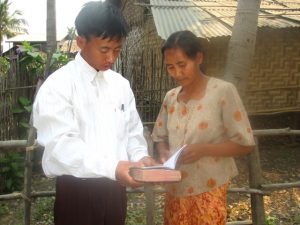 Indigenous evangelists and Bible-school students in northern Myanmar faithfully distributed the tracts in areas unreached by the gospel. Pastor Paul reported "powerful door-to-door ministry" and many Buddhists coming to Christ "because of this singular outreach."
The fruit of that work necessitated Bibles and discipleship materials. Vern found two booklets by John Piper, For Your Joy and In Our Joy, and obtained IO funding for the translation and printing of more than 5000 copies of each. Vern's IO partnership further enabled Paul to translate and print 15,000-plus copies of the late Jerry Bridges' Who Am I? book, which answers basic questions about faith in Christ.
Vern's love for a nation and people he'd never met went beyond securing Bibles and biblical resources. He and Loretta supported Burmese missionaries, churches, orphanages, and disaster relief in Myanmar. They also provided funds for six motorbikes, according to Paul, to help missionaries reach rural villages.
In return, Vern's "latter years" were blessed with knowing that more than a thousand people came to know Jesus Christ through his efforts.
Remembering Vern
In failing health a few years ago, Vern had a vivid dream of a man bowed prostrate in worship at the foot of a cross with the inscription, "All for the Sake of the Cross." He later expressed his desire to be remembered for having lived according to those words.
Missionaries across the Pacific have mourned the loss of the man they called Uncle Vern, especially Paul, who came to think of him as his best friend.
"Vern worked with us to accomplish what the Lord called us to do," the pastor said. "We will never forget his love for the lost people in Myanmar."
*Name changed for security.