I remember the woman who made me terrified of becoming a mother.
My husband and I were attending a Bible study with another family who had four small children. Every time they came to the study, the mom and dad couldn't keep their eyes open. The mom just stared blankly at the study leader and groaned every time she had to get up to chase the children.
I couldn't relate to that level of exhaustion. But I would learn soon enough. I would walk that sleep-deprived road five times with five babies. I myself would become that bedraggled, blankly staring lady who scared all the young women in the church into never wanting kids.
Now I can look back on that season and laugh at the craziness. I've come out the other side. I survived. Now I tell my kids, "I was so tired when I had you, I put my phone in the fridge. I forgot the words to 'Jesus Loves Me.' I put olive oil in my coffee instead of creamer. I ran all over the house trying to find you and then found you nursing on my breast. I started the dryer with nothing in it. I made choo-choo sounds whenever I saw a train, even if I was completely alone."
I can laugh now, but I couldn't laugh when I was in the midst of it. My season of sleeplessness was one of the hardest times of my life.
Facing Our Physical Limitations
When my first baby was 4 weeks old, I got into a horrible cycle of insomnia. My postpartum hormones were out of control, and the roots of anxiety strangled out every opportunity for me to sleep. I would put the baby down for the night and lie in my bed staring at the clock. I knew I would have a couple of hours at best before the baby woke up to eat. As the minutes ticked by, I pictured my stores of strength for the next day draining away. I knew I would have nothing left.
But what could I do? I felt completely helpless. Sometimes I had panic attacks, and I had to get up and pace just to try to slow my heart rate.
I begged God to let me sleep. "Don't you know I need this?" I pleaded. "How can I do what you called me to do if I can't sleep?" I was confused. Being a mom was hard enough. How could I do it with no sleep?
It is true that we need sleep. Sleep is a good gift from God. God does not treat our physical needs lightly. He is the one who created us with these needs, and he delights in meeting them. But, as with many good gifts that meet our needs, this one had become an idol to me. My heart was telling God, "I cannot trust your care for me unless I have sleep." My hope was in the gift, not in the Giver.
God was prying my hands open to make me let go of my dangerous self-reliance. I was terrified of what I would find if I truly came to the end of myself. I didn't want to know. But God didn't give me a choice. Sleeplessness forced me to stare my utter helplessness in the face. But instead of finding a black hole of despair, I found the grace of God.
Daily Mercies
In my own sleepless nights and the torturous days that followed, I saw God's mercy. There were many days when I couldn't see anything but God's mercy. I saw his mercy in friends and family who provided food when I could barely remember where the fridge was. I saw his mercy in naps I was able to take at completely unplanned times. I saw his mercy in coffee. I saw his mercy in verses that had been hidden in my heart for years that suddenly came alive to hold me tight when I felt like I was falling through thin air.
This sleepless stage of life is a great reminder of things that are guaranteed—and things that are not. I'm not guaranteed a good night's sleep. God doesn't owe it to me.
But there is comfort that runs deeper than simply outlasting a particular stage. There is something that is guaranteed to us, right now, with sleep or without sleep: "But this I call to mind, and therefore I have hope: The steadfast love of the Lord never ceases; his mercies never come to an end; they are new every morning; great is your faithfulness" (Lam. 3:21–23).
I love that that verse uses the word "morning." As a sleep-deprived mom, mornings can be especially grueling. But that's exactly where God meets us with fresh mercy.
I might not feel "new" every morning, but God's mercies are always new. My energy might be small (or non-existent), but God's faithfulness is great. My legs might be wobbly, but God's love is steadfast. Sleeplessness has stripped me of all my strength time and again, but it has never destroyed me. No matter how weak my body, my mind, or even my faith, God has been "the strength of my heart and my portion forever" (Ps. 73:26).
My flesh and my heart have failed me many times—but God has never failed me.
Our Limitless God
When everything is going well, it's easy for us to say we trust God. We don't even realize that we have placed conditions on him until those conditions are tested. My sleepless nights revealed that I was really thinking, God can help me through the day (as long as I get a good night's sleep). And by taking away sleep he was graciously taking away those conditions. He was showing me that he is enough.
Do we trust God to equip us for the tasks that he calls us to? When he called me to be a mom and gave me my marching orders, I didn't need to hand him a list of his marching orders, too. "You must give me sleep, physical strength, energy, clarity of mind, and emotional stability. Then I can do this." Instead I should have said, "All I need is you."
When God gave Mary the task of bearing his Son, she didn't ask for a supply list. She said, "Behold, I am the servant of the Lord; let it be to me according to your word" (Luke 1:38). The God who knows the number of the hairs on our heads and knows the number of the stars and calls them each by name (see Ps. 147:4; Matt. 10:30)—that same God has planned exactly how much sleep we will get each night, down to the last second. And each moment will put his mercy on display.
In a season of sorrow? This FREE eBook will guide you in biblical lament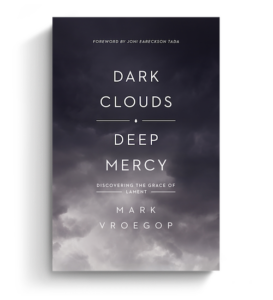 Lament is how we bring our sorrow to God—but it is a neglected dimension of the Christian life for many Christians today. We need to recover the practice of honest spiritual struggle that gives us permission to vocalize our pain and wrestle with our sorrow.
In Dark Clouds, Deep Mercy, pastor and TGC Council member Mark Vroegop explores how the Bible—through the psalms of lament and the book of Lamentations—gives voice to our pain. He invites readers to grieve, struggle, and tap into the rich reservoir of grace and mercy God offers in the darkest moments of our lives.
Click on the link below to get instant access to your FREE Dark Clouds, Deep Mercy eBook now!