Like many others, I've read various forms of critical theory for decades. However, it's only in the last couple of years that the term (under the heading "Critical Race Theory") has burst into popular consciousness. What should Christians' attitudes toward it be?
On the one hand, many denounce it as evil and toxic and say it should be shunned like a virus. On the other hand, some say, "Let's learn from it but not swallow it whole."
In Biblical Critical Theory: How the Bible's Unfolding Story Makes Sense of Modern Life and Culture, Chris Watkin "diagonalizes" these alternatives—taking an approach that doesn't ignore the concerns of either but that's more radical than both.
What Is Critical Theory?
Critical theory aims to make visible the deep structures of a culture in order to expose and change them. Watkin, as a scholar of modern European thought and languages, is thoroughly acquainted with the various forms of critical theory that have arisen over the past century. Most of them are based directly or indirectly on forms of Marxist analysis. Since the middle of the 20th century and especially since the 1990s, a host of "high theories" in this tradition—literary theory, feminist theory, critical race theory, queer theory—have sought to unmask and undermine the oppressive structures of Western society.
But the term critical theory has an older and more basic meaning. It means not just accepting what a culture says about itself but also seeing what's really going on beneath the surface.
'Critical theory' means not just accepting what a culture says about itself but also seeing what's really going on beneath the surface.
Every culture deploys multiple patterns—narratives, pictures and images, vocabulary—to create a "world" (or "worldview" or "social imaginary"). But the Bible has its own narratives, images, and patterns that enable us to analyze any culture at the deepest level and to both critique and appreciate it, while at the same time preventing us from being captured and co-opted by it.
A biblical critical theory, therefore, can and should be developed and used by Christians living and ministering anywhere in the world. It must first expose the main flaws in the dominant culture's narratives, showing how they fit neither human nature nor our most profound intuitions about life—let alone the culture's moral ideals and aspirations. (As Watkin points out, this was the approach Augustine took in the incomparable City of God.) Then Christian theory must point to the beauty and truth of the gospel as the source of numerous fulfilling counternarratives.
Can We Have a Biblical Critical Theory?
The contention of Biblical Critical Theory is that there's a critical theory in the Bible itself. Chris Watkin travels through the Scripture from start to finish, giving us the outlines of a Christian social theory.
I'm especially pleased that Watkin, while exhibiting an extraordinary breadth of learning and reading, wrote this book not only for an academic press or audience but also for educated laypersons and Christian leaders. Certainly I believe that academics, particularly Christian ones, have a responsibility to build on this and speak to peers in their own fields.
A Christian theory must point to the beauty and truth of the gospel as the source of numerous fulfilling counternarratives.
However, I think preachers (especially younger ones in more secular and pluralistic environments) will benefit enormously from this material. Because the book moves diachronically along the story line of the Bible, it's easy for preachers and teachers who are speaking on particular doctrines to find trenchant applications to social and cultural issues of our day.
One last thing to note. For the past several years I've called for a "Christian High Theory," and what Chris Watkin is working on in this book is exactly what I had in mind. He prefers to call it a "Biblical Critical Theory," and he convinces me to adopt his terminology. His reasons for it are good: (1) we shouldn't build our critical theory just from theology in general but in direct contact with the Bible, and (2) our stance toward the culture must take into consideration every major "turn" in biblical redemptive history—not just focusing on one part, which many denominations and Christian traditions tend to do. Using the term "biblical" helps us keep this goal in mind.
My prayer is that Biblical Critical Theory will bear much intellectual and spiritual fruit in many lives over the decades ahead.
In a season of sorrow? This FREE eBook will guide you in biblical lament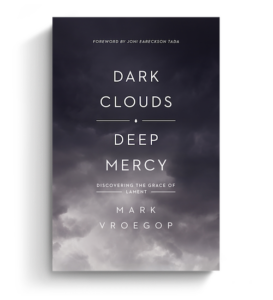 Lament is how we bring our sorrow to God—but it is a neglected dimension of the Christian life for many Christians today. We need to recover the practice of honest spiritual struggle that gives us permission to vocalize our pain and wrestle with our sorrow.
In Dark Clouds, Deep Mercy, pastor and TGC Council member Mark Vroegop explores how the Bible—through the psalms of lament and the book of Lamentations—gives voice to our pain. He invites readers to grieve, struggle, and tap into the rich reservoir of grace and mercy God offers in the darkest moments of our lives.
Click on the link below to get instant access to your FREE Dark Clouds, Deep Mercy eBook now!