About 7:00 p.m. on Monday, three days after the Supreme Court overturned Roe, between 75 and 100 people assembled at a park near the church I pastor in Portland, Oregon. In broad daylight, they marched to our office building two blocks away.
Half of that block is occupied by our building, which in addition to our church offices contains a nonprofit community-oriented coffee shop, an art studio, and offices rented to a variety of Christian ministries. Our largest tenant is First Image, the local crisis pregnancy and post-abortion care ministry. There is no crisis pregnancy center on-site, merely their administrative and executive offices. The other half of the city block comprises church-owned housing, occupied by church members and staff.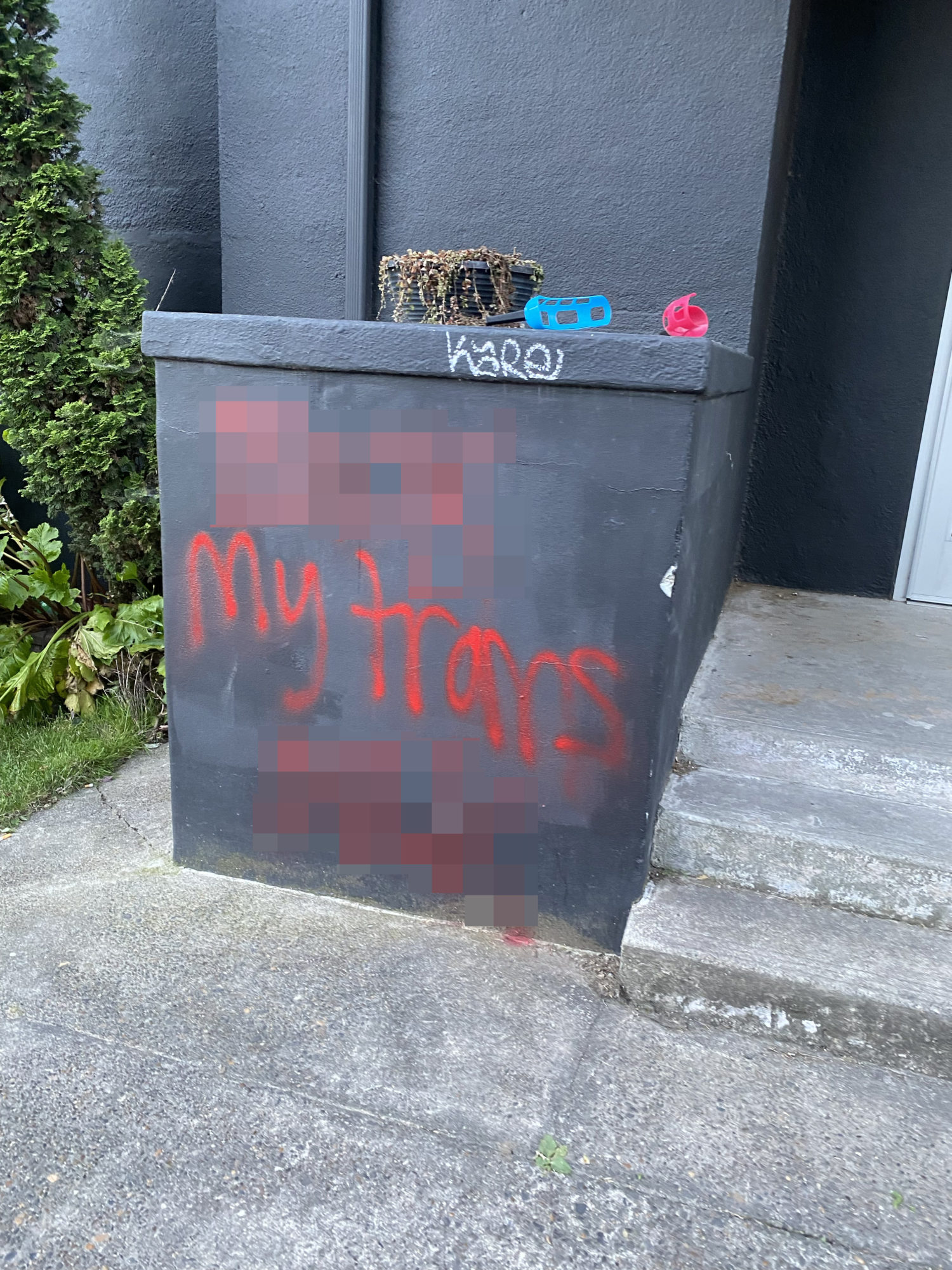 The crowd marched around the entire city block, chanting the sort of slogans you've heard on the news since Roe was overturned. There was a heavy police presence in the neighborhood, as this had been openly organized with calls for violence and "direct action." The authorities had warned us a couple of hours earlier, so most of our ground floor tenants had already removed sensitive or personal belongings.
As the crowd approached, the people contracted to board up the ground floor windows understandably and wisely withdrew, the job only half-finished. After circling the block, a group of well-prepared and fully masked individuals broke off. Using umbrellas and masks to shield their identities from security cameras, they smashed almost every ground-floor window on the side of the building that hadn't yet been boarded up and covered the building in vile graffiti aimed specifically at Christians.
The damage was done in just moments. With the rest of the marchers, whose mass largely shielded the vandals from view, they then marched back to the park, shedding their black Antifa-style clothing on the way. They got in their cars and left, but not before some drove around the block, taunting the police, calling them "pigs," and telling them to solve "real" crimes.
The level of organization and coordination was striking, including sending a "scout" 30 minutes before the rally to photograph the security cameras and note how to avoid being identified.
The Aftermath
One reporter covering the event was assaulted by several in the crowd with umbrellas and mace, but thankfully was not seriously hurt. A few window A/C units were damaged, and there's a lot of glass to replace and graffiti to remove. But in answer to the prayers of many, there was no fire, no serious injuries, and no further attempts to damage the building. We don't take this for granted. A little more than two weeks ago, one of the centers operated by First Image in a nearby suburb was firebombed and declared a total loss.
By 8:00 p.m., police tape cordoned off the entire building, and security guards remained present throughout the night.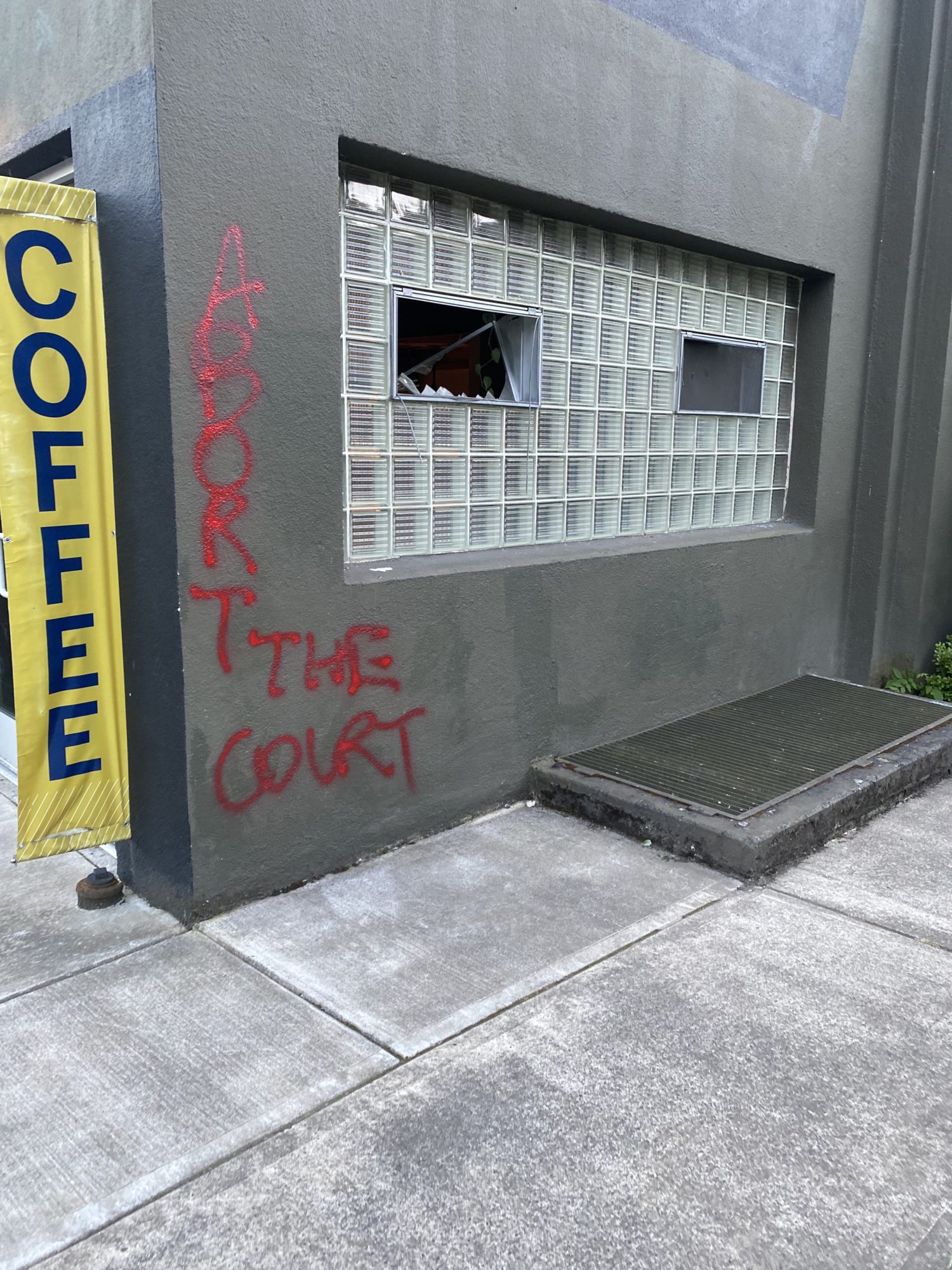 As I stood on the other side of the tape that night, one of my associate pastors who lives on the block walked out of his backyard. It was filled with non-Christian neighbors who were shaken up by the event. He and his wife were comforting them and using the opportunity to explain our hope in Christ.
Then the manager of our coffee shop walked up to me. She told me of all the regulars who would arrive in the morning. Many of them, she said, would express sympathy and concern. We thought together of what she and her staff could say in response that would make clear that while we're not surprised—Jesus warned us of the world's hatred—we're not filled with hatred in return.
We love our city and our neighborhood because Jesus loved us and loves them too. Our neighbors sense this, even if they don't understand it. Why else would several of them show up late that night to offer help, wood, and tools as we boarded up the broken windows? Their distress at our trouble and readiness to help us wasn't because they agree with us. But it could be because they've seen our "good works" and so "give glory to [our] Father who is in heaven" (Matt. 5:16; see also 1 Pet. 2:12).
Gospel Opportunities
This morning, clean-up continues. Thankfully, the offices of the crisis pregnancy ministry were the ones boarded up in time, so their work can continue without interruption. Our community coffee shop was able to open. Just as we expected, many of our non-Christian neighbors and regulars have expressed real sympathy.
Our staff is praying for gospel conversations and gospel opportunities to come out of what can only be described as persecution—especially with our neighbors who do not share our politics, our ethics, or our faith, but who share our sadness at the violation of a shared neighborhood space and the unjust treatment of people they know.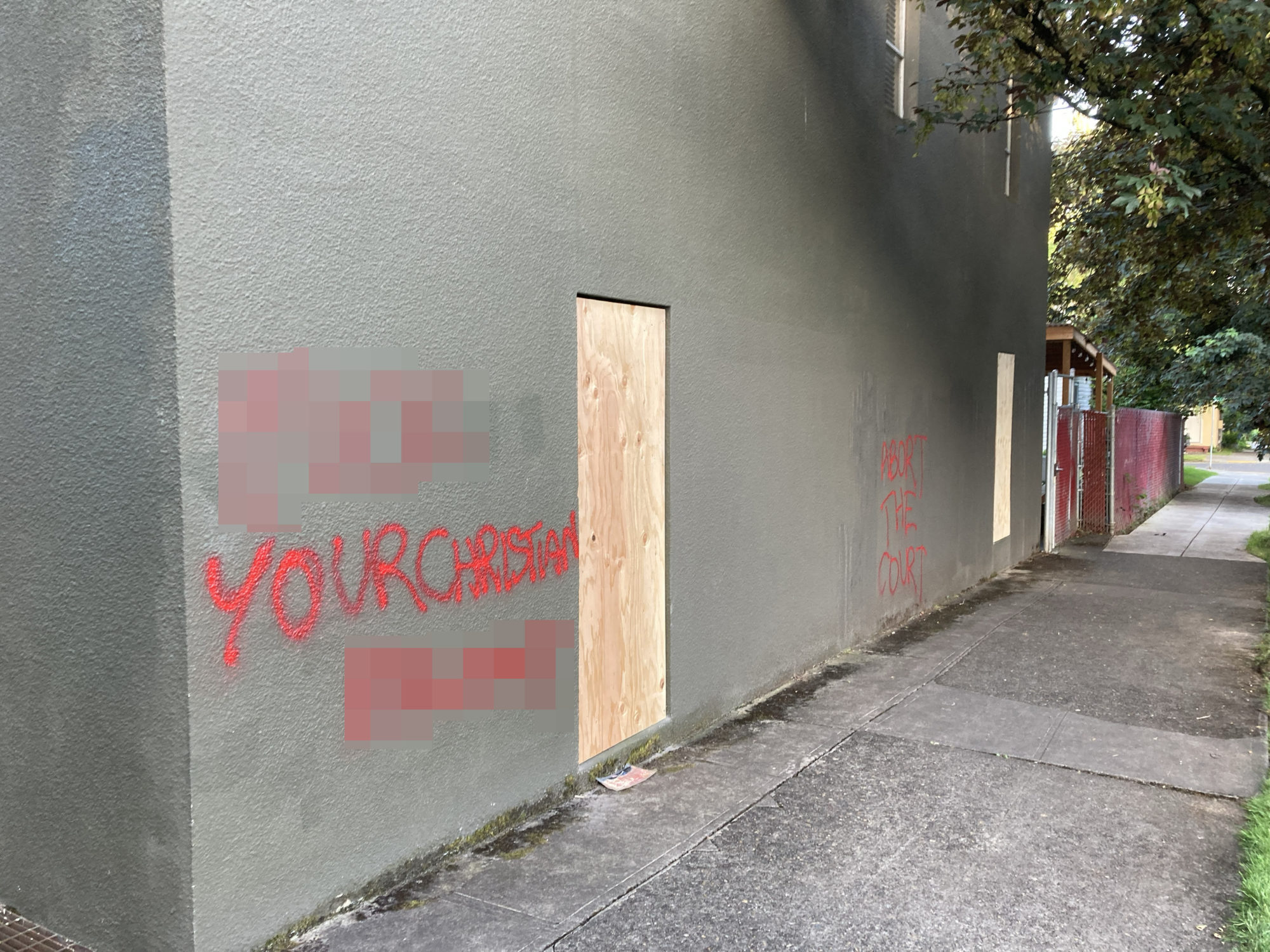 We've been told that this may not be the end; the authorities are unsure how long actions like this will persist. We know we need to stay alert to the possibility of further violence and harassment in the coming weeks and months. As we do, we also pray:
That our staff and members would seize every opportunity for the gospel. Many people are asking us this morning how we're doing, and every one of those conversations is an opportunity to explain our hope in Christ.
For the physical safety of our staff and members, as well as the staff of First Image, who were the primary target of the violence.
That we'd have wisdom as we cooperate with the police in their investigation. The desire for temporal justice and the desire for gospel mercy for the guilty are not incompatible.
That our members and staff, especially our coffee shop workers, would continue to have an open, welcoming, hospitable attitude toward our neighborhood. As persecution goes, this was mild, and we're not surprised because Jesus warned us of it (John 15:20). But we don't want this to be an opportunity for the enemy to sow seeds of fear, bitterness, or suspicion that would cause us to pull back. We want to be those who demonstrate the truth and power of the gospel as we love our enemies and pray for those who persecute us (Matt 5:44).
As relevant as those prayers are this morning, let's remember that they're relevant every morning in a world that is hostile to the hope of the gospel, whether or not the mob shows up.
Get a FREE eBook to strengthen your family discipleship!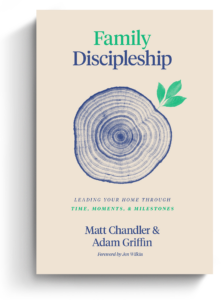 The back-to-school season is stressful for moms and dads. New rhythms of school, sports, and other extracurricular activities can quickly fill up a family's already busy calendar. Where do busy parents look for resources on discipling their family well? Aside from prioritizing church, what else can Christian parents do to instill healthy spiritual habits in their household?
Matt Chandler and Adam Griffin cover these questions and more in Family Discipleship: Leading Your Home through Time, Moments, and Milestones. And we're excited to offer this book to you for FREE as an eBook today.
Click on the link below to get instant access to your FREE Family Discipleship eBook now!