Children's story bibles are not Bibles and, it turns out, neither are they for children.[1] My previous article explores the truth of the first statement.[2] Story bibles are illustrated, abridged, expanded, paraphrased, and fallible versions of the infallible book whose name they bear. They are not Bibles. But nor are they for children, at least, they are not just for children. Several pastors and reviewers recommend both The Big Picture Story Bible and The Jesus Storybook Bible for use among adults.[3]
One reviewer of the latter in Christianity Today says, "I'm hoping to invite my adult friends over for an evening with the Story. It will help some of us (well, me) to retool our theology a bit. We'll pass The Jesus Storybook Bible around and read it aloud, taking time to look at the pictures."[4] Tim Keller goes further: "I would urge not just families with young children to get this book, but every Christian—from pew warmers, to ministry leaders, seminarians and even theologians!"[5] Others make similar claims for The Big Picture Story Bible, which one blog-commenter suggests adding to a list of "Books to Read Before You Start Seminary/Divinity College."[6]
This is a relatively new situation. Prior to these story bibles, it is hard to find any such enthusiastic endorsements. What are we to make of this? On the one hand it could highlight the extent of biblical illiteracy and theological immaturity among Christian adults and, more alarmingly, among seminary students. On the other hand, or perhaps in addition to this, it could speak of the quality of these books, although the lack of any sustained critical engagement with them means that claims of their value are largely untested.
That testing, therefore, is the focus of this article. Although several story bibles have appeared in recent years, the widespread popularity of these two justifies limiting our attention to them.[7] My previous article demonstrates that it is neither an easy nor a quick task to evaluate a story bible. Drawing on the methodology my preceding article develops, this article considers these two popular story bibles with reference to four key relationships:
story bible text and Scripture
story bible images and Scripture
text and image within the story bible
the story bible and the child
Not every review of a story bible need follow this sequence, or do so at such length, but I hope in what follows to build on the previous article in two ways: (1) underline the significance and multifaceted nature of these relationships and (2) demonstrate their usefulness as a framework by which to evaluate story bibles.
1. The Big Picture Story Bible
The Big Picture Story Bible (hereafter BPSB), first published in 2004 by Crossway, now includes a companion audio CD (2010) and an eBook edition (2011), reflecting both the book's success and technological advances within publishing.[8] Intended for ages 2-7, it is divided into 26 chapters, 11 covering the OT (201 pages), 15 the NT (225 pages).
1.1. The Relationship between BPSB Text and Scripture

There are four sides to the relationship between the text of a story bible and Scripture: omission, addition, reformulation, and transposition.[9] In other words, we ask, "What has the author left out, added, changed, or rearranged?"
Continue reading at Themelios, an international evangelical theological journal that expounds and defends the historic Christian faith. It is published three times per year by The Gospel Coalition.
Get a FREE eBook to strengthen your family discipleship!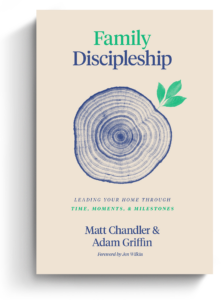 The back-to-school season is stressful for moms and dads. New rhythms of school, sports, and other extracurricular activities can quickly fill up a family's already busy calendar. Where do busy parents look for resources on discipling their family well? Aside from prioritizing church, what else can Christian parents do to instill healthy spiritual habits in their household?
Matt Chandler and Adam Griffin cover these questions and more in Family Discipleship: Leading Your Home through Time, Moments, and Milestones. And we're excited to offer this book to you for FREE as an eBook today.
Click on the link below to get instant access to your FREE Family Discipleship eBook now!