Sufferers often ask, "What lesson is God trying to teach me through this hardship?" Their friends ask them, "What is God trying to teach you?"
Generally, these are helpful questions. Suffering is difficult and confusing, and at times it feels pointless, so it's natural and healthy to look for lessons to learn. It's also true that God graciously uses trials to produce sweet fruit in our lives (James 1:2–4), often using difficult circumstances to teach us some of life's most valuable lessons. Praying, "Lord, teach and grow me through this trial," is always useful for us and precious to God.
Yet, there is a danger in reducing suffering to "a lesson to learn"—in believing (or communicating to others) that God allowed our suffering merely to send us a corrective message. Here are five potential problems with this line of thinking.
1. It's unbiblical.
Consider two famous biblical examples of suffering: Job and Jesus. The opening chapter of Job does not say, "Job was walking in disobedience to God, so God brought suffering to teach him a lesson." Rather, it says Job was "blameless and upright" (1:1), and God allowed suffering (in part) to prove his genuineness (1:8–12). If Job's suffering was initially brought about to teach someone a lesson, the student to be corrected wasn't Job but Satan (1:6–12).
Jesus, meanwhile, experienced the greatest suffering in human history. Yet the purpose of Christ's suffering wasn't to teach him a lesson but to bring sinners to God (1 Pet. 3:18).
In God's kindness, both Job and Jesus learned through their suffering (Job 42:1-6; Heb. 5:8), but in neither case does the Bible reduce the purpose of suffering to a lesson for the sufferer.
2. It can unjustly condemn sufferers.
If we are too quick to ask, "What is God trying to teach you through this suffering?" we can (at times) place an unnecessary yoke on the back of the sufferer. It adds guilt if she hasn't "figured out God's lesson" yet, and it can imply that she's at fault for her suffering:
"Maybe if you didn't idolize being a mother, God wouldn't have allowed your miscarriage."
"Maybe if you didn't idolize your career, God wouldn't have allowed you to lose your job."
"Maybe if you were a better Christian, God wouldn't have to teach you lessons like these."
The Bible teaches that all suffering is a result of sin (Rom. 5:12) but all suffering is not a consequence of personal sin (John 9:2–3). To blame someone's suffering on his sin is often presumptuous, usually unhelpful, and almost always simplistic.
Asking loved ones what God is teaching them through their suffering can be profitable and encouraging. But let's be careful not to fall into the trap of Job's friends by communicating that the only reason they're suffering is that God wanted to correct them for a certain sin. 
3. It teeters on the prosperity gospel.
You've heard the stories:
"I was struggling as a single Christian. But then I realized God was trying to teach me to be content in my singleness. Once I learned my lesson, God brought Jeff into my life! #truelove"
"I always lived paycheck to paycheck. But then I realized God was trying to teach me to tithe more and not idolize money. Once I learned my lesson, God blessed me with my dream job and more money than I ever imagined! #Ephesians3:20"
I praise God for the lessons these people learned. But, "I learned my lesson and then was blessed with stuff" isn't how it works for all people—and it's certainly never promised in Scripture.
The Bible teaches that all suffering is a result of sin but not that all suffering is a direct consequence of one's personal sin.
Whether intentional or not, these stories can communicate a harmful message to hearers: "Have you considered that maybe the reason you are still suffering is that you haven't learned your lesson yet?"
Trained by this subtle prosperity gospel, we can begin putting our hope in learning our lesson rather than looking to Jesus. We throw ourselves onto our own behavior to heal us rather than throwing ourselves onto the grace of God. The lesson rather than the Lord becomes our Savior.
4. It undermines our humanity.
Whenever approaching the topic of suffering, we must remember we're naturally weak and limited, whereas God alone is infinite in his wisdom and understanding (Isa. 55:8–9). In this life, we simply won't understand fully why God allows the hardships he allows. Suffering can't be fully explained, nor can it be boxed up into a nice little lesson.
When we're suffering, our job isn't to figure it all out—that will always be an exercise in futility. The fact that you don't know why God allowed a certain hardship doesn't mean you're doing something wrong; it means you're not God.
When we're walking alongside someone who is suffering, our job isn't to help her figure it all out. Our job is to be present with her, encourage her, and remind her of God's presence and promises.
5. It can misrepresent God.
If we stray from God's means of grace in our suffering, we can start to see God as a cruel father who abandons his child and says, "I'll come back once you learn your lesson." Nothing could be further from the testimony of Scripture.
God isn't playing games with you, throwing you into a dungeon and seeing if you can crack the code to unlock his hidden lesson. He's not holding his presence and goodness hostage until you learn your lesson.
When we're walking alongside someone who is suffering, our job isn't to help her figure it all out. Our job is to be present with her, encourage her, and remind her of God's presence and promises.
Jesus doesn't scoff at sufferers as they flail helplessly in a current of hurt, saying, "Get yourself together!" He, rather, enters into the current of our suffering and says, "Let me be a refuge for you." As Dane Ortlund put it, "There's no minimum bar you need to get over [or lesson you need to learn] to get to him. All you have to do, actually, is collapse in order to get into the heart of Christ."
Christ isn't looking down his nose at your suffering. He isn't disappointed you haven't figured everything out. He isn't waiting for you to submit a report on the lessons you learned from your pain before he grants you his presence. He simply wants you to collapse into his loving arms.
We have a sympathetic Savior who walks with us, grieves with us, and redeems our suffering for good—often teaching us precious lessons through hardships. Let's rejoice in these lessons while also remembering that God's purposes in our suffering are far greater than a lesson—and that one day Christ will return to save us, heal us, and unburden our suffering fully and forever.
Get a FREE eBook to strengthen your family discipleship!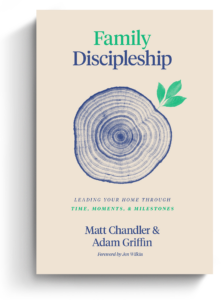 The back-to-school season is stressful for moms and dads. New rhythms of school, sports, and other extracurricular activities can quickly fill up a family's already busy calendar. Where do busy parents look for resources on discipling their family well? Aside from prioritizing church, what else can Christian parents do to instill healthy spiritual habits in their household?
Matt Chandler and Adam Griffin cover these questions and more in Family Discipleship: Leading Your Home through Time, Moments, and Milestones. And we're excited to offer this book to you for FREE as an eBook today.
Click on the link below to get instant access to your FREE Family Discipleship eBook now!