This is hard to write. I don't enjoy disagreeing with those trying to raise awareness for the persecuted church.
We are in the midst of a global upsurge in attacks on Christians. Over the last year we've seen major atrocities in Kenya, Nigeria, Libya, Syria, Iraq, Ethiopia, and many other places. Make no mistake: Radical Islam is responsible for much of this. And even though the majority of Muslims are not violent, astonishingly high percentages are sympathetic to extremist violence.
In the midst of this, we see almost no concern from the leadership of the United States. While Christians are beheaded in dramatically produced videos designed to recruit more extremists and to incite fear, the White House has responded to the targeting of Christians in underwhelming fashion. Their condemnation has been disappointing.
And at a time when we need clear, consistent, and accurate voices, Christians in the West blow a cloud of smoke onto the issue by hanging their hats on a discredited and debunked statistic: There are simply not 100,000 Christian martyrs every year.
Misguided Number 
Edited by William Taylor, Antonio van der Meer, and Reg Reimer, the volume Sorrow & Blood: Christian Mission in Contexts of Suffering, Persecution, and Martyrdom (William Carey Library, 2012) deals with this dubious, misguided, and often quoted number. In it, German Christian researcher Thomas Schirrmacher writes, "I find it difficult to criticize this number on account of its widespread use, particularly due to the fact that it comes from reputable researchers and good friends." This is an interesting quote since his chapter follows the otherwise credible researcher Todd Johnson, who is the primary source of the number. (Johnson himself, incidentally, has more recently been critical of the statistic.) Schirrmacher continues, "However, as an academic I have too often had to answer for such numbers before secular colleagues, politicians around the world, our German parliament, and journalists to just allow our institute [the International Institute for Religious Freedom] simply to assume them."
Indeed, journalists have been understandably wary of the 100,000 figure for some time. Both this article from the BBC and this one from the WorldWatch Monitor illustrate this reality, critiquing how the number is produced. The primary source is Johnson, associate professor of global Christianity at Gordon-Conwell Theological Seminary. He has created the number 100,000 by first estimating the number of Christian martyrs from 2000 to 2010. The estimate for Christian martyrs for this previous decade was one million. Divide that number by 10 and you get a neat 100,000 per year. Then you simply assume this number as an ongoing average for each following year. Several angles of this approach should be critiqued, but the main problem is who Johnson specifically has counted as a martyr: 900,000 of the one million come from the civil war in the Democratic Republic of the Congo—a war in which Christians killed other Christians.
Schirrmacher explains, "The mammoth share of the amount of 10 x 100,000 comes under the civil war in the Democratic Republic of the Congo (DRC). Admittedly there were many Christians who died there, but that they died because they were Christians is not something that is defended by anyone."
More Accurate Numbers  
This begs another question: how do you define martyr? Johnson defines it as follows: "Believers in Christ who have lost their lives prematurely, in situations of witness, as a result of human hostility." In another statement, he adds the phrase: "[This is] defining and enumerating martyrs in the widest possible sense."
It's difficult to see how Christians involved in a civil war against each other counts as a "situation of witness." As Schirrmacher adds, "I see a general contradiction between the definition given by the Status of Global Mission (led by Johnson), that martyrs are 'believers in Christ . . . in situation of Christian witness,' and the statement of 'defining and enumerating martyrs in the widest possible sense.'"
Though it may seem Christians are now getting killed in mass amounts daily, that's not actually the case. Schirrmacher asks us to investigate these killings even if the media doesn't make them a high priority. "No one would say that this happens every day," Schirrmacher writes. "However, even if we assume that there is an event with 50 murdered Christians every day, that would amount to an annual number of only 18,250. Twenty murdered Christians per day would be 7,300—a number which I consider to be more realistic." Open Doors, which raises awareness of persecuted Christians, estimates the verified number of Christian martyrs for 2012 at 1,200.
So why is the number 100,000 so embraced by Christian organizations and leaders? Perhaps Schirrmacher is correct: "In the present media landscape in which we find ourselves, it is natural that someone with even a roughly estimated number has an advantage of an individual who says that the number can't be reliably estimated at the present time." We might add that someone with a higher estimate has more of an advantage in the present media landscape than someone with a lower one.
What the Persecuted Church Needs 
The persecuted church needs our prayers and our advocacy. Whether the number is 1,200, 7,300, or slightly larger, the number is still too big. In the Middle East and other Muslim lands, Christians live as persecuted minorities who require high security when they go to church. Converts to Christianity from Muslim backgrounds do not simply face the threat of death. They are rejected and despised by society, have difficulty maintaining jobs, and may even lose their children to a Muslim spouse. Many pockets of China still experience persecution and discrimination. The new presidency in India has ushered in a new era of Hindu nationalism that has become aggressive in its efforts to "de-convert" Indian Christians. Global persecution of Christians is very real on numerous levels.
Keep in mind the sources I've quoted were written prior to 2014. Since then we've seen an incredible upsurge in Christian persecution as ISIS has aggressively aimed to eradicate Christianity from the land of its birth and beyond. Open Doors estimates that the number of Christians killed for a faith-related reason in 2014 was 4,344. For those who've been exposed to the 100,000 estimate, this is confusing and hard to interpret. It could even give the impression things are dramatically improving!
Our brothers and sisters need us to advocate for them. But advocacy without integrity only discredits our collective voice. What if—maybe even in the near future—the number of Christian martyrs actually totaled 100,000? Would anyone listen to us?
Get a FREE eBook to strengthen your family discipleship!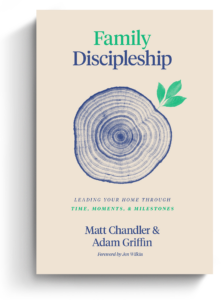 The back-to-school season is stressful for moms and dads. New rhythms of school, sports, and other extracurricular activities can quickly fill up a family's already busy calendar. Where do busy parents look for resources on discipling their family well? Aside from prioritizing church, what else can Christian parents do to instill healthy spiritual habits in their household?
Matt Chandler and Adam Griffin cover these questions and more in Family Discipleship: Leading Your Home through Time, Moments, and Milestones. And we're excited to offer this book to you for FREE as an eBook today.
Click on the link below to get instant access to your FREE Family Discipleship eBook now!