If you spend any time in discussions and debates among complementarians, the question of slippery slopes is bound to arise. Though everyone acknowledges slippery slopes, we often disagree about which slope is most slippery. This is because two people united on paper often still pull in different directions. Their positions are the same, but their suspicions are different. And a chief part of wisdom is learning to not only articulate and defend one's position, but also understand and manage one's suspicions.
So, then, when it comes to complementarianism, everyone acknowledges that biblical truth can be misused and abused. The truth that men are the head of their homes (Eph. 5:25) and that wives should submit to their husbands as is fitting in the Lord (Col. 3:18) can be twisted to justify domestic tyranny, oppression, and even abuse. The truth that "there is no male and female in Christ" (Gal. 3:28) can be used to deny the glorious and complementary differences between men and women and the goodness of male headship in proper contexts.
A chief part of wisdom is learning to not only defend one's position, but also manage one's suspicions.
Both of these are dangers. Indeed, there are frequently two ditches, one on each side of the road. Faithfulness means learning to steer a middle course, to stay on the path.
Different Slopes for Different Folks
While it's true that all ditches are dangerous, not all ditches are equally dangerous for all churches, nor for all groups within churches. The particular danger for a particular church is often influenced by cultural, geographic, and demographic contexts, not to mention the history of that church. Thus, some churches might be in greater danger of sliding down the slippery slope to domestic tyranny and abuse. Others might be in greater danger of sliding down the slippery slope to feminism and egalitarianism. Part of the pastoral task is to learn the dangers of one's congregation.
Which slope is most slippery for you?
At one level, this is not an easy question. Within any congregation, there may be different groups with different tendencies and temptations. And these groups will frequently react to one another in ways that may tilt the whole, one way or another. One group may identify a real tendency and thus react strongly in the opposite direction. This strong reaction then provokes a different group who, seeing the new danger, reacts strongly in the other direction again.
This is one reason why a plurality of wise, godly, and sober-minded elders is so important. Elders may have different intuitions and instincts about the congregation. They may be aware of different dynamics within the church. Bringing these insights and intuitions to the table—and wrestling with them honestly—is of great value in discerning where the actual dangers lie. None of us can see everything, and so evaluating our particular slippery slope is one area where the insights of many can overcome the weaknesses of one.
Simple Question to Ask Yourself
As elders and church leaders attempt to steer between the two ditches, one (though not the only) way to diagnose our particular danger is to ask a simple question: when it comes to preaching and teaching my congregation, which truth am I eager to say out loud and clearly, and which truth am I reluctant to speak, or only speak with layers upon layers of qualification and nuance? Put another way, if you want to know your danger, ask which passage in the Bible you're eager to preach and which one you're reluctant to preach. Which one can you preach straight down the middle, and which one do you feel the need to tread carefully with?
If you want to know your danger, ask which passage in the Bible you're eager to preach and which one you're reluctant to preach.
This question is relevant to all sorts of issues. Its value lies in highlighting our real but unacknowledged reluctance. It's a way of revealing those things that we know, but don't know that we know. We often have an intuitive awareness of which cliff we're closest to; you can tell by how we tiptoe. The above question simply draws attention to the tiptoeing, and forces us to ask where it comes from. It doesn't tell us what to do about it; that too is a question for wise pastors to consider. But it's difficult to consider it wisely if we lack a clear picture of the danger before us.
Applying the Question to the Complementarian Debate
When it comes to in-house complementarian debates, we can make the question more concrete. Ask yourself, Which passage would I rather preach on: "Husbands, love your wives and do not be harsh with them?" (Col. 3:19) or "Wives, submit to your husbands as is fitting in the Lord" (Col. 3:18)?
For my own part, in our present climate, I'm willing to bet that large numbers of complementarians would be eager to preach the first sermon, summoning men to love and sacrifice for their wives like Christ did. They would preach it clearly, straight down the middle. On the other hand, there would be some fear and trepidation about preaching the second one, and everything would be handled with massive amounts of nuance and qualifications.
We are hardwired to worry about the other guy's danger, not our own.
There may be good reasons for those qualifications. And I'm a fan of nuance. What's more, I can imagine churches that would cheerfully preach 1 Peter 3:1–5 straight down the middle ("Wives, submit to your husbands, even if he is an unbeliever"), and yet feel the need to tread carefully in calling men to sacrifice for their wives and families. But in our egalitarian age, I can imagine significantly more churches that are eager to preach Christ-like headship, and tiptoe around Sarah-like submission.
Our reluctance—in either direction—is revealing. It can tell us where our slippery slope is, in our context, as opposed to where the general and generic danger is for our larger theological position. And the specific danger—our danger—is the one that we should be primarily concerned about. We are hardwired to worry about the other guy's danger, not our own. We see it clearly, and we're all too eager to give him advice. It's much, much harder to detect our own slippery slopes. But questions like this can help.
Let's humbly and honestly test ourselves, and try not to slip.
Get a FREE eBook to strengthen your family discipleship!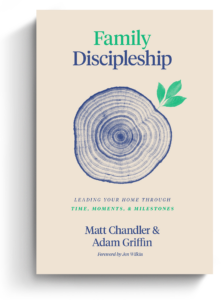 The back-to-school season is stressful for moms and dads. New rhythms of school, sports, and other extracurricular activities can quickly fill up a family's already busy calendar. Where do busy parents look for resources on discipling their family well? Aside from prioritizing church, what else can Christian parents do to instill healthy spiritual habits in their household?
Matt Chandler and Adam Griffin cover these questions and more in Family Discipleship: Leading Your Home through Time, Moments, and Milestones. And we're excited to offer this book to you for FREE as an eBook today.
Click on the link below to get instant access to your FREE Family Discipleship eBook now!