Editors' note:
Take part in TGC's Read the Bible initiative, where we're encouraging Christians and churches to read together through God's Word in a year.
The apostle Paul delivers several stinging rebukes to the believers at Corinth over the course of his first epistle. But perhaps the most interesting comes in 1 Corinthians 6:2–3. There we learn that due to their divisiveness and worldliness, the Corinthians have compromised their Christian identity by pursuing selfish gain through litigation against one another in secular courts. Such conduct betrays values that are no different from their pagan neighbors, so Paul reminds them of their ultimate destiny in Christ in order to expose the absurdity of their conduct.
When one of you has a grievance against another, does he dare go to law before the unrighteous instead of the saints? Or do you not know that the saints will judge the world? And if the world is to be judged by you, are you incompetent to try trivial cases? Do you not know that we are to judge angels? How much more, then, matters pertaining to this life! (1 Cor. 6:2–3)
It's an argument from the greater to the lesser. If they will one day judge the world and the angels, shouldn't they be capable of handling relatively minor disputes among themselves?
What makes the passage so surprising is Paul seems to assume his readers are already aware of their role in the final judgment. He twice asks the rhetorical question, "Do you not know?" And yet, if it weren't for this very passage, how many Christians today would know? What exactly does it mean that we will judge the world and the angels? What else does the Bible have to say about this? And what does this mean for us practically today?
Commentators through the centuries have offered several interpretations of this judgment of the saints. These can be broken down into three major options, followed by a fourth that expands on the third.
1. Judgment by Example
This view goes back to early church fathers like John Chrysostom, as well as a number of early Reformed commentators like Wolfgang Musculus. The idea here is that believers will not actively exercise judgment, since this is believed to be a prerogative of Christ (see John 5:22). Rather, it is the example of their faith that will condemn unbelievers. Jesus makes a similar point when he declares that the Ninevites and the queen of Sheba, who responded with repentance and wisdom in their day, will rise up at the judgment to condemn the wickedness of his contemporary generation (Matt. 12:41–42).
He twice asks the rhetorical question, 'Do you not know?' And yet, if it weren't for this very passage, how many Christians today would know?
While this view may be part of what Paul is getting at, it doesn't seem to be the whole story. The role of the Ninevites and the queen of Sheba at the final judgment will be as witnesses testifying against the wicked, not as judges. On the other hand, Paul suggests a more authoritative role for believers at the final judgment. They must learn to handle their mundane matters now, because they will one day be responsible for handling cosmic matters.
2. Judgment by Proxy
This view is favored by certain contemporary commentators like Anthony Thiselton. It emphasizes Paul's teaching on the believer's union with Christ: just as we share in his death, so will we share in his resurrection power and authority (Rom. 6:3–11; 1 Cor. 15:49). Thus we can say that when Christ returns to judge the world, we who trust him will also share in his judgment—in the derivative sense that we participate spiritually in all his saving acts, since he is our federal head acting on our behalf.
They must learn to handle their mundane matters now, because they will one day be responsible for handling cosmic matters.
This view is perhaps closer to the truth than the first view; but again, it doesn't seem to capture the fullness of Paul's meaning. If Paul had in mind only a future judgment by proxy, that would be a weaker justification for a present responsibility to judge for ourselves.
3. Judgment by Delegated Authority
As jarring as it may sound, it's likely that Paul has in mind an active, delegated role for believers in the final judgment. This interpretation is widely accepted in church history, and it does have biblical support, if we attend carefully to the biblical text.
One of the clearest Old Testament references to believers' role in the final judgment is found in Daniel's vision of the Son of Man: "And judgment was given for the saints of the Most High, and the time came when the saints possessed the kingdom" (Dan. 7:22). In the New Testament, Jesus speaks of a role for his disciples in judging Israel: "Truly, I say to you, in the new world, when the Son of Man will sit on his glorious throne, you who have followed me will also sit on twelve thrones, judging the twelve tribes of Israel" (Matt. 19:28). Further, in the parable of the talents, Jesus alludes to degrees of authority granted to believers at the eschaton: "His master said to him, 'Well done, good and faithful servant. You have been faithful over a little; I will set you over much'" (Matt. 25:21).
To be sure, none of these passages speaks of believers judging angels. However, there are a number of other passages that speak of a future condemnation of fallen angels (Isa. 24:21; Matt. 25:41; 2 Pet. 2:4). While these passages generally depict God himself as the judge, it's at least possible that a delegated role for believers is implied.
4. Kingdom Reversal?
There is a fourth possibility, which builds on the third. This interpretation, suggested by Oscar Cullmann, has recently been advocated by Michael Heiser, author of The Unseen Realm. On this view, God had temporarily allotted jurisdiction of the pagan nations to a ruling class of angels, known as the "sons of God" in the Old Testament.
This idea finds support in Deuteronomy 32:8: "When the Most High gave to the nations their inheritance, when he divided mankind, he fixed the borders of the peoples according to the number of the sons of God" (cf. Dan. 10:13, 20). God then pronounces condemnation on these angels because of their unjust rule: "I said, 'You are gods, sons of the Most High, all of you; nevertheless, like men you shall die, and fall like any prince'" (Ps. 82:6–7).
Part of God's redemptive plan is to overthrow these demonic kingdoms and replace them with the kingdom of his Son, with believers ruling as co-heirs (2 Tim. 2:13; Rev. 2:25–28).
Part of God's redemptive plan is to overthrow these demonic kingdoms and replace them with the kingdom of his Son, with believers ruling as co-heirs.
According to Heiser, "Once the nations are restored to Yahweh through the gospel, believers will displace the divine beings who presently dominate the nations and rule in their place as Yahweh's children and co-rulers" (311).
Putting Present Problems in Perspective
If this is what Paul had in mind, then we can see the tragic irony in the behavior of the Corinthian believers. They would one day judge the very heavenly powers behind their earthly rulers, so why would they appeal to these same earthly rulers to judge their affairs?
Of course, this doesn't mean that Christians can never appeal to secular courts. Sometimes public justice requires holding other professing believers accountable for serious offenses. Nevertheless, in our ordinary, day-to-day disputes with fellow believers, we need to remember our ultimate identity as co-heirs and co-rulers with Christ. We do not use worldly methods to achieve worldly aims. Rather, in all things, we should be set apart as people governed by God's Word and empowered by God's Spirit.
In a season of sorrow? This FREE eBook will guide you in biblical lament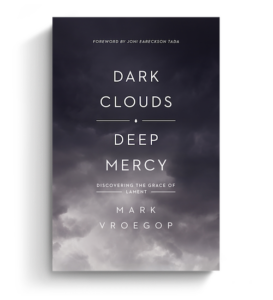 Lament is how we bring our sorrow to God—but it is a neglected dimension of the Christian life for many Christians today. We need to recover the practice of honest spiritual struggle that gives us permission to vocalize our pain and wrestle with our sorrow.
In Dark Clouds, Deep Mercy, pastor and TGC Council member Mark Vroegop explores how the Bible—through the psalms of lament and the book of Lamentations—gives voice to our pain. He invites readers to grieve, struggle, and tap into the rich reservoir of grace and mercy God offers in the darkest moments of our lives.
Click on the link below to get instant access to your FREE Dark Clouds, Deep Mercy eBook now!