You have a half-dozen committed children's ministry teachers, but that's it. Every Sunday, you try to pull in enough extra hands to meet the minimum requirements for two adults in the classroom. You know you need more volunteers, but you're not sure where to begin.
Talk to any coach of a Division I college sports team and you'll hear this: "A program lives or dies by who it recruits." The same holds for children's ministry. If you don't recruit well, you'll eventually run into trouble.
But what does it take to recruit, train, nurture, and retain the people needed to build a vibrant children's ministry? How do you inspire and retain members who will keep the ministry going by their presence, energy, and loving efforts?
Recruiting Gone Wrong
There are a variety of ways to recruit volunteers. We can beg, berate, or shame members into participating. But in our experience, this won't prove fruitful in the long run. If we force members to be involved, we'll have high attrition rates, and that means the recruiting problem never goes away.
Another strategy is sounding the alarm: "We're desperate for more help in the elementary school classes! Unless we have help, we're going to need to shut things down." If we sound panicked every time we ask for help, the church will eventually grow tone-deaf to our pleas, believing that we're only crying wolf.
We could also pay church members to watch the kids. Compensation for childcare is not morally wrong; in fact, it's appropriate if you are babysitting your neighbors' kids while they go out on a date. But if the church's leaders set up a system of compensation in exchange for volunteer time, this can diminish the sense of responsibility members have for one another and for the kids in the church community. The members who show up usually need extra income, but they're not exclusively motivated by gospel sacrifices.
While all these methods can put warm bodies in the classroom, none solve your bigger problem: to give your children the best gospel-motivated care and instruction your church can provide. So, what's left?
Let's Get Practical
The three of us once participated in a monthly conference call (hosted by Deepak). It included a number of children's ministry leaders with a desire to learn from one another. The topic of conversation one particular month was recruiting teachers. Deepak asked, "What have you found to be most successful?" One leader piped up quickly, "I find the most success when I am the most passionate and prayerful." That children's minister was right.
Children's ministry is like any other gospel ministry. If we want folks to be excited and participate, we have to inform them of the need, inspire them to join in the opportunity, and prayerfully depend on God's faithful promises. That is how we lead people to give toward a building fund, evangelize, and invite their neighbors to church. It's how we motivate them to come in early to help set out chairs on Sunday morning as part of the setup crew. Why should children's ministry be any different?
1. Inform
Before your members sign up to serve with children, they will need information. What is the vision of the ministry, the end goal that informs the type of care and instruction you want to provide? What is the need—how many children do you have, and what volunteer roles need to be filled?
Be honest, and don't be afraid to expose your needs. If we're proud and deceptively painting our ministry to look like a well-oiled machine, we shouldn't be surprised when people think, "There's no way they can use me." We're inviting members into serving, because we can envision a place for them. We must ask, "Can they envision it as well?" The aim in informing the congregation is helping members see that staffing the children's ministry is not "someone else's problem." Rather, we want them to see it as an opportunity and calling.
Share updates on Sunday mornings, through quarterly email updates, in your Sunday printed bulletin, or at your members' meetings. Remember to add encouragement and variety to keep people listening. In addition to your ministry's needs, church members should also hear testimonies of what God is doing and how the Lord has provided.
And they should be given clear next steps for how to sign up. It's good to have some formal ways of asking people to serve. You may want to have an interest form and dropbox that sit near your children's ministry check-in desk, embed that same form on a landing page on your church's website, or host a low-commitment information meeting about the ministry for potential volunteers who are considering the possibility of serving. But the best recruiting involves personally inviting people into your ministry, and that brings us to our next point.
2. Inspire
Second, inspire your fellow church members. Help them see ministry to the next generation as a gospel opportunity that God has enabled in them. Many of the children in the church are not Christians. As children come along with their parents, listen, and participate in children's programs, they have the opportunity to hear and respond to the good news. Over the course of many years, this may be the most consistent evangelistic opportunity offered to the church.
It's more likely that people will volunteer to serve when they sense a leader's passion for this evangelistic ministry. It's tempting to look at your children's ministry schedules, see the needs for the next month, and then rush into filling those gaps with anyone available. But it's better to stop and think about why those volunteer roles are important.
Before approaching a prospective worker, meditate on the importance of reaching children with the gospel (Ps. 78:5–8; Matt. 19:13–15), and think about what you need to create welcoming environments (friendly greeters), connect kids to Christ (skilled teachers), and grow alongside kids as they grow in faith (faithful disciple-makers). Remember that each role—from nursery to middle school, from greeter to assembly teacher—is essential to the mission.
Remember that each role—from nursery to middle school, from greeter to assembly teacher—is essential to the mission.
Also know that members thrive when they're entrusted with roles and responsibilities that fit their gifts (Rom 12:4–8). Pray for wisdom and discernment and ask godly advisers—such as other church staff or current volunteers—for recommendations. They may know of people who are looking for ways to serve or who have the skills and passion needed for a particular role in your children's ministry. When you know of someone who has the talents and time to serve in a specific way, you'll be able to communicate the value you see in them and why they'd be a great fit.
3. Pray
Know that God has designed ministry so that it only proceeds when we depend on him, when we trust him through prayer. In Matthew 9:36–38, we see how Jesus's vision moved him to compassion for Israel and then to prayer. He told his disciples, "The harvest is plentiful but the workers are few. Ask the Lord of the harvest, therefore, to send out workers into his harvest field" (NIV). This passage is a reminder for pastors and children's ministry leaders to ask specifically for God to bring to mind the names of individual people who have the gifts for each needed role.
But it's also a reminder that we can ask with the courage and confidence of a patient farmer. You see, there's a promise in Jesus's words: "The harvest is plentiful." Even if we can't see it right now, it's coming. We pray diligently for workers, for children to follow Christ by faith, and for families to grow in their affection for reading and obeying God's Word. And when they do, we give thanks, knowing God has used those workers to plow and plant and water, but ultimately God is the one who has given the growth (1 Cor. 3:5–8).
How about you? Which approach do you most often employ when seeking to mobilize volunteers? Do you trust God with the recruiting, or do you constantly fret? Here's the reality: There is no need to panic, manipulate, or beg for help. If our confidence is in God and we're not fearful, then all that's needed are bold and even-keeled requests for help.
Make the needs clear to the church. Remind the members of their commitment to raise up a new generation in the faith. Pray for God's provision, and trust him to bring adequate workers to meet the needs. Once your church members are informed and inspired, you can believe they will respond to the need.
Get a FREE eBook to strengthen your family discipleship!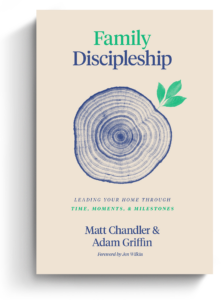 The back-to-school season is stressful for moms and dads. New rhythms of school, sports, and other extracurricular activities can quickly fill up a family's already busy calendar. Where do busy parents look for resources on discipling their family well? Aside from prioritizing church, what else can Christian parents do to instill healthy spiritual habits in their household?
Matt Chandler and Adam Griffin cover these questions and more in Family Discipleship: Leading Your Home through Time, Moments, and Milestones. And we're excited to offer this book to you for FREE as an eBook today.
Click on the link below to get instant access to your FREE Family Discipleship eBook now!