What's going on in your head right now makes sense if you were thought up by a thinking God.
Consider one of the most recognized and parodied paintings of all time: Michelangelo's The Creation of Adam. God's outstretched arm reaches down to Adam's. Their fingertips are an inch apart. It's Michelangelo's creative rendering of the moment just a few seconds before Genesis 1:26: "Then God said, 'Let us make man in our image, after our likeness . . .'"
A nonchalant Adam reaches out, listless and dimwitted. There's no spark, inspiration, or determination like we see in God's face. God is suspended in space by a maroon shroud painted with impressive anatomical precision to resemble a massive brain. God extends his finger to infuse the powers of thought into humanity.
There is theological truth in Michelangelo's most famous fresco. God not only created a rationally structured cosmos—he also had the ingenious idea of populating that cosmos with image-bearers. He thought up (here I'm speaking anthropomorphically) a species gifted with something of his rational consciousness, the power to think meaningful thoughts.
To be an image-bearer of God is to be an image-bearer of the One who thought up the laws of gravity, thermodynamics, and the periodic table. We aren't dead-eyed automatons. We're post-fingertip-touch beings who exhibit the amazing gift of consciousness.
9 Proofs You Were Created by a Rational Creator
At this very moment, you're doing at least nine things that prove you're more than a hunk of mindless matter.
1. Choice Making
We make a thousand choices every day. If you were created in the image of a choice-making Mind, this comes as no surprise. Can meaningful choices be reduced to a natural world that operates by machine-like determinism (or random quantum indeterminism)? If we could so reduce freedom, then no one chooses to believe or disbelieve in God—and the entire debate is reduced to the involuntary buzzing of biological machines.
2. Oughts
Consciousness deals not only with facts (what is) but also with values (what ought to be). Can normative values like good and evil come from the material world of mere descriptive facts? Can nonmaterial realities like ought-ness sprout into existence from the soil of material is-ness? As Don Delillo asks in his novel White Noise,
They can trace everything you say, do, and feel to the number of molecules in a certain region. . . . What happens to good and evil in this system? Passion, envy, and hate? Do they become a tangle of neurons? . . . What about murderous rage? A murderer used to have a certain fearsome size to him. His crime was large. What happens when we reduce it to cells and molecules?
3. Nonphysical Laws
Physical stuff follows physical laws. Your mind, however, can operate by nonphysical laws of logic. Take, for example, the logical law of transitivity: If A = B and B = C then A = C. Is this law physical? If so, what's its chemical makeup? What genetic mutation in our evolutionary past produced the law of transitivity or the law of noncontradiction or any other logical law?
4. Semantics
The physical world is a world of syntax. Take this article, for example. It's loaded with physical syntax—black pixels arranged in certain squiggly shapes on a glowing screen, all with chemical composition and spatial location. Yet you're looking at something more than mere syntax. This article is full of what philosophers call "semantics"—the meaning conveyed through, but not reducible to, the physical syntax.
5. Creativity
Whether it's the dark beauty of Van Gogh's Starry Night or a child's Crayola-orange sun, consciousness exhibits the power of creativity. Is every masterpiece on canvas or construction paper—every song, poem, play, dance, or dinner—merely the mechanistic byproduct of matter in motion? Is the artist no more than a bundle of swirling chemicals?
6. Intentionality
Think again about the Sistine Chapel ceiling. You can do so without the excruciating headache of Michelangelo's masterpiece materializing in your brain matter. You're not thinking the Sistine but thinking about the Sistine. Consciousness has the power to be about things (what philosophers call "intentionality"). Could genetic mutations in the concrete world of matter produce something nonphysical like an abstract thought?
7. Owned Experiences
The physical world can be described in the "It" objective categories of science. But there's not only an it-ness but also an irreducible I-ness to consciousness: a subjectivity, a first-person perspective.
Could genetic mutations in the concrete world of matter produce something nonphysical like an abstract thought?
Imagine, for example, a scientific tome about bats, explaining everything that can be known scientifically about these winged creatures. What's one question such a scientific tome wouldn't answer?
It wouldn't answer Thomas Nagel's famous question: "What is it like to be a bat?" What does it feel like to fly blind through the darkness, sending out sonar shrieks to swoop full speed at an unassuming insect dinner? How do we explore I-ness and what-it's-like-ness from the unconscious "It" of the physical world?
8. Underlying Purposes
The "It" of the physical world is what philosophers call nonteleological. Physical stuff doesn't think about underlying purposes. A beaker of mercury doesn't think, My goal is to boil at 574 degrees. It just does it. Consciousness, however, is teleological. We think purposefully, toward goals, acting for some reason (even if it's often for totally unreasonable reasons). Can the purposeless it-ness of the physical world generate the teleological for-ness of the conscious world?
9. Significance
Consciousness can get in touch with and reflect real meaning. There's something truly significant about people giving and receiving love, something of transcendent value that cannot be reduced to interacting particles or the biological quest for survival. How does the significance dimension of our conscious worlds—the why-ness of our existence—emerge from the physical world of mere is-ness? Is Dawkins right that "at bottom, [the universe has] no design, no purpose, no evil, no good, nothing but pitiless indifference"?
Faith Leaps and Darwin's Doubt
Many faith leaps are required to believe that humans are merely physical. Does it require too much faith to believe the unconscious "It" of the material world somehow spawned this-or-that-ness (choice-making power), ought-ness (moral values), therefore-ness (logical laws), what-ness (semantics), about-ness (intentionality), awe-ness (creativity), I-ness (indexicality), what-it's-like-ness (qualia), for-ness (teleology), and why-ness (significance)?
Darwin himself seemed plagued by such problems when he wrote in a personal letter, "The horrid doubt always arises whether the convictions of man's mind, which has been developed from the mind of the lower animals, are of any value or at all trustworthy. Would anyone trust in the convictions of a monkey's mind, if there are any convictions in such a mind?"
With the Bible's essential Creator-creature distinction, our origin is not traced to unthinking matter but to a thinking Creator. Reason, therefore, isn't eliminated as an untrustworthy, physical survival mechanism but embraced as a truth-knowing mechanism given to us by the transcendent God of truth.
Our origin is not traced to unthinking matter but to a thinking Creator.
In the otherness that separates the Maker from the material world he made, we find a reason to reason. Our freedom, morality, logic, meaning, creativity, individuality, experience, and purpose are no longer explained out of existence, but nourished and expanded as we love God with all our minds (Deut. 6:4–9).
Your reasoning powers are not the product of dumb forces. They come from God.
Don't waste them.
In a season of sorrow? This FREE eBook will guide you in biblical lament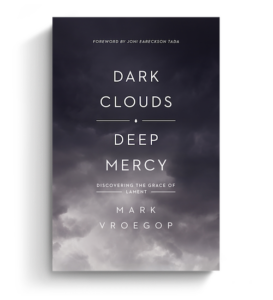 Lament is how we bring our sorrow to God—but it is a neglected dimension of the Christian life for many Christians today. We need to recover the practice of honest spiritual struggle that gives us permission to vocalize our pain and wrestle with our sorrow.
In Dark Clouds, Deep Mercy, pastor and TGC Council member Mark Vroegop explores how the Bible—through the psalms of lament and the book of Lamentations—gives voice to our pain. He invites readers to grieve, struggle, and tap into the rich reservoir of grace and mercy God offers in the darkest moments of our lives.
Click on the link below to get instant access to your FREE Dark Clouds, Deep Mercy eBook now!