Trust in pastors is probably close to an all-time low. Gone are the days of blind trust in the words of the one who carries a ministry title. Too many people have seen lies pastors tell brought out into the light and proven to be falsehoods. But should lying pastors be disqualified from ministry?
Let me burst the bubble for you. All pastors have lied. Every single one of us. Some in greater measure and others in lesser. But there's not a pastor alive who has never told a falsehood. Sometimes we lie by inflating numbers. Other times we lie by telling the people in our churches what we think they want to hear. Sometimes pastors lie to cover up their own or others' sins. How should these lies be addressed? What lies are disqualifying?
Deceit Is Sinful
When I recognize every pastor has lied, I'm not excusing it. Deceit is sinful, and it rises from wicked hearts. Deceit comes from the father of lies, Satan himself (John 8:44). Though there are honorable lies, as in the case of Rahab in Joshua 2, that's not what we practice when we share half-truths, exaggerate, or outright deceive. As we see in the example of Ananias and Sapphira (Acts 5:1–5), when we lie to the church, we're lying to God, and that must be reckoned with.
Lying to the church is a sin so grievous that when pastors deceive, it can disqualify them from ministry. But how do you determine whether a pastor caught in a lie should be removed from his office? We must consider (1) the lie's severity and (2) the pastor's repentance.
Weigh the Lie's Severity
When a pastor is caught in a lie, the natural consequence is, at minimum, an erosion of trust between himself and the congregation he shepherds. Many factors affect the extent of the erosion, but it's often determined by the lie's severity. Did the pastor report slightly inflated attendance numbers, exaggerate a sermon illustration, lie about a contentious situation, or steal money from the church?
Trust in pastors is probably close to an all-time low. Gone are the days of blind trust in the words of the one who carries a ministry title.
If churches are to respond rightly, each of these situations must be weighted correctly. Did the lie cause disrepute to be brought upon Christ's name in the public sphere? Did it wound people, cover up evil, or crush the faith of a church member? Is it part of a pattern of deceit? Such lies require heavier consequences.
Does the lie simply make the pastor look foolish? Would you judge it as out of character, as a sad but unusual error in judgment? Do the natural consequences of the lie seem more minimal? Such lies require accountability but aren't usually disqualifying.
Gauge the Pastor's Repentance
However severe the lie, the pastor must repent. A man who chronically inflates the Sunday attendance record can erode trust to the degree he's no longer considered above reproach. If you'll lie about small things, how will your congregation trust you with big ones?
In Lectures to My Students, Charles Spurgeon quotes John Angell James as saying, "When a preacher of righteousness has stood in the way of sinners, he should never again open his lips in the great congregation until his repentance is as notorious as his sin." We must ask: Does the lying pastor compound his sin by explaining away or justifying his lie, or does he humbly and righteously take responsibility for it, having the courage to repent? If the answer is the former, this is a strong case for disqualification (1 Tim. 5:20).
Provide a Path to Restoration
If the pastor is repentant and the severity of his lies is such that it's judged his congregation's trust can be rebuilt, the church's leadership may provide a process for restoring the pastor to his position. The plan should be clear, and it must be transparent to the church body, not merely to the elders.
Behind every lie is a greater idolatry that drives the motivation to deceive. It's our love of self—our tendency toward self-preservation—that drives the lies. We lie when we forget our standing in Christ and instead choose to puff ourselves up or cover up our sin.
So, the man who was caught in the lie must willingly submit to the called, qualified, and godly local church leaders who are administering his restoration plan. He must also embrace the freedom that comes from repentance by willingly walking in the light. To truly turn from sin to new obedience involves trusting Christ with our reputations and no longer holding on to self.
Hope Despite Failure
Pastoring brings pressure. In a culture that celebrates measurable success and berates any hint of decline, pastors can feel a need to present a picture of our lives, ministries, and churches that always measures up to expectations.
Did the lie cause disrepute to be brought upon Christ's name in the public sphere? Did it wound people, cover up evil, or crush the faith of a church member?
But the good news is the pressure is off with Jesus. When he looks at pastors, he doesn't expect perfectly efficient and ever-increasing ministry. We can be honest even when the picture isn't pretty because we know that we plant gospel seed but it's God who gives the harvest (1 Cor. 3:6–8).
Pastors who are caught in lies shouldn't always be restored to pastoral ministry. Though our sin can't rob us of our salvation, it can rob us of our pastorate. But even if a pastor's lie takes his ministry role from him (for a season or forever), Christ's forgiveness remains free and full. We only need to desire it, turn in faith from our sin, and take hold of our resurrected Lord's glorious promise (1 John 1:9).
Get your FREE 7-day devotional!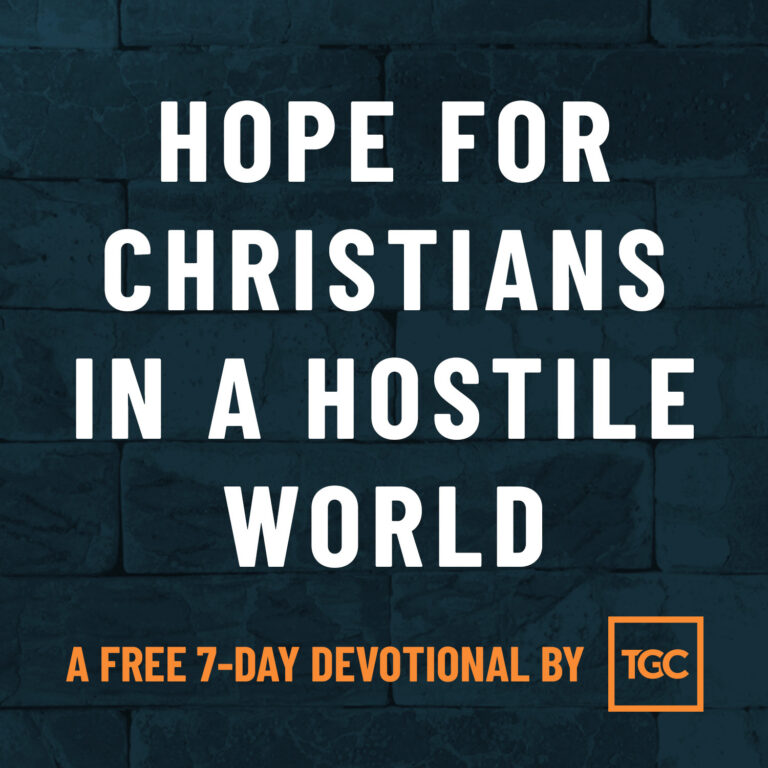 God's people have always been strangers and sojourners in this world. Do you feel that way, too?
You're not alone. Since the church's beginnings, Christians have often felt ostracized. And the Bible offers great encouragement for how to live with hope.
If you're feeling the weight of cultural exile today, our new 7-day devotional, Hope for Christians in a Hostile World, will encourage you.
If you sign up for this FREE resource, we'll send you an email each day for a week with a daily devotional featuring Bible readings and reflections written by TGC staff and friends.