When Eden Chen decided to launch an innovation consultancy company in 2013 with his business partner Charles Hu, his first choice for the company's name—Carpenter's Labs—was taken.
Chen and Hu had met at their Los Angeles church (Reality L.A.) and wanted their new company to reflect their Christian faith. Since the company was all about "building things" like mobile apps, website platforms, games, virtual reality, and augmented reality, "Carpenter Labs" would have been perfect. But the name they ended up going with—Fishermen Labs—also worked.
"I've always had this desire to set up things in my life so that, in the midst of conversation, people would ask about my faith," Chen said. And that is exactly what the name Fishermen Labs is: a conversation starter.
It nods to the vocation of some of Christ's earliest followers, but it also hints at the mission of all Christians: to be "fishers of men" (Matt. 4:19).
This twofold vocation resonates with Chen. Over the last 15 years he has been a worship leader, a college ministry leader, and a church employee. But he has also worked for Lehman Brothers in Manhattan and started a hedge fund.
The two tracks haven't always paired neatly together, Chen admits, as healthy models of faith-finance integration are something of a rarity. But he is determined not to bifurcate them.
Four years after launching Fishermen Labs—whose clients have included Sony, the United Nations, and Walmart—Chen was last year included in the prestigious Forbes 30 Under 30 list.
Meanwhile, his work in inner-city L.A.—Chen and his wife bought a house in gritty South Central and are leaders in a church plant in the Crenshaw neighborhood—may not be showing up in Forbes, but it is just as entrepreneurial.
To Chen, it's all the same mission.
From Shoplifting to Lehman Brothers
Chen knows from experience that an entrepreneur's life can be destructive if it isn't grounded in the mission and ethics of Christ.
Growing up, Chen's "entrepreneurial" instincts led him to cheat in school and shoplift at the mall.
"Me and my brother were crazy kids who were not really interested in God," said Chen, whose top priorities as a child were basketball, video games, and playing music.
It wasn't until high school that he began to take faith seriously. After a mission trip to inner-city Nashville inspired him to read through the Bible (as well as C. S. Lewis), Chen got saved and committed himself to ministry.
In college at Emory University, he got involved in campus ministry and took theology classes. He planned to become a youth pastor or a church planter, and since ministry/theology was not an available major, he decided business would be a helpful alternative. Putting into practice what he was learning in finance classes, Chen began to dabble in trading stocks. Though it started as a way to pay off student loans, extracurricular trading soon became a launchpad for Chen's career.
"I got super lucky and started doing really well trading while I was in college," said Chen, who was profiled by Bloomberg and Reuters before he was 20. He landed a competitive internship at Lehman Brothers when he was a sophomore, and that job redirected Chen's humble ministry aspirations into the extravagant excess of the New York finance world.
During his summer internship at Lehman (where interns were given cruises and paid "like 15k for two months"), Chen realized there were few Christians in the finance industry ("maybe one other Christian in the intern class of 120").
Recognizing the potential mission field and seeing that God was showing him favor in business, Chen moved to New York after graduating from college. His goal was to make a lot of money and then give it all away.
"I always felt I had a gift of not caring that much about material things," Chen said.
But even though he was active in church (Apostles Church in the Lower East Side) and sought to make a difference for Christ in his workplace, Chen got sucked in to the partying and darkness of the finance world.
"I wasn't a light in the darkness," he said. "I was joining the darkness."
'I Was Just Moving Around Money'
Chen left New York in 2011 to start a hedge fund in L.A., Lightmark Capital, with a couple friends he traded with in college. Still in his early 20s, Chen had a penthouse office in upscale Westwood and faced the same temptations and excesses of finance he had in Manhattan.
"I needed Christian community," Chen said. "All my partners were non-Christians. I wanted to make a change."
Chen started attending Reality L.A. in Hollywood, along with his brother Ken, a popular L.A. DJ who goes by the name "Sleeper." He began reading books and thinking about faith and work.
"I started to see there is dignity not just in making money at work to give away, and not just in ministry work, but in what you are actually doing in your work."
I started to see that there is dignity not just in making money at work to give away, and not just in ministry work, but in what you are actually doing in your work.
Chen started feeling uncomfortable with the work of his hedge fund.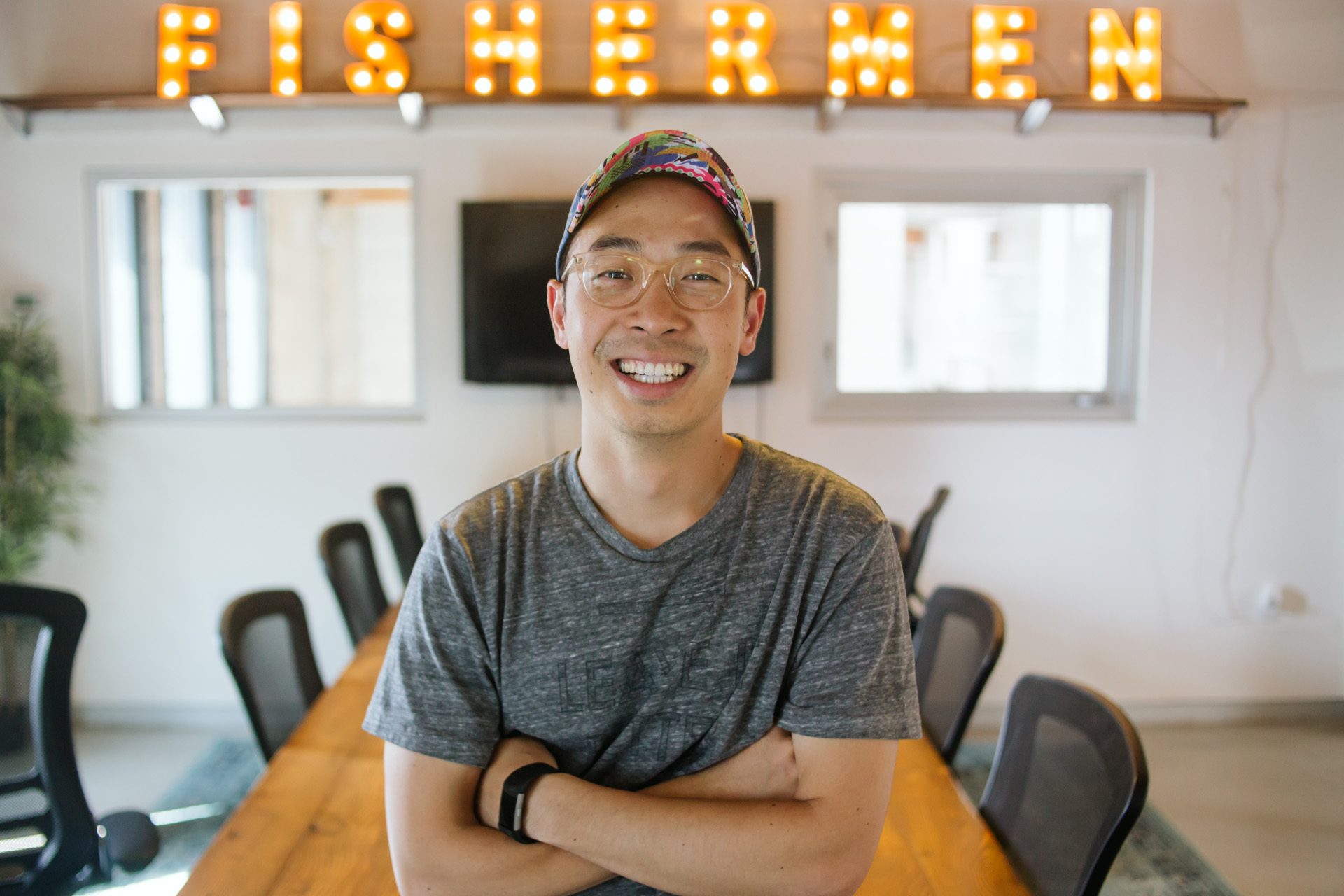 "I was just moving around money. There was no real production happening. So I talked to my partners and said I was done with finance."
One volatile year after forming, the hedge fund shut down, and Chen transitioned to a job at Reality, helping the church with finances and technology.
At church he met current business partner Charles Hu, and the two started collaborating on app development and consulting before launching Fishermen Labs in 2013.
Following Christ as Entrepreneur and Technologist
Initially focused on consulting with startups, Fishermen Labs soon began taking on higher-profile clients like Qualcomm and NBC.
One interaction with NBC—on a 50 Shades of Grey app—showed Chen what the "faith and work" dynamic would mean in this industry.
"Charles and I did not know what 50 Shades was. We thought it was like Twilight," Chen said. "But when we read more about it, we ended up dropping the project. And NBC was fine with it. We had started work on the app, but they just shifted to another company."
Though not a "Christian company" (employees include atheists as well as believers), Fishermen Labs is infused with the Christian ethos of its founders.
Though not a 'Christian company,' Fishermen Labs is infused with the Christian ethos of its founders.
The nature of the work—which can be done anywhere—could bolster mission by opening doors into difficult countries or simply by creating opportunities for interaction with non-Christians in the international business community, Chen said.
Another way Chen's faith informs the work of Fishermen Labs is in how he views technology, as both a tool with great potential and also a danger that can have unintended consequences.
"On one hand, technology has amazing potential to open up new creative outlets," democratizing creativity and creating beautiful new experiences for people, said Chen, whose other enterprises include Glo Bible, a Bible app that integrates media and study resources.
But technology can also become an obsession—especially social media—and Chen worries about tech companies that benefit from getting people hooked on their platforms.
He also worries about how technology is disrupting jobs in a way that disproportionately affects lower classes.
He cites the example of a fast-food restaurant struggling to turn a profit. Presented with self-ordering kiosk technology or hiring employees at rising minimum-wage costs, the new technology makes much more financial sense.
"There is less incentive to give people jobs when you can't economically make it work," Chen said. "Self-ordering technology has to happen for some of these businesses whose margins are getting squeezed."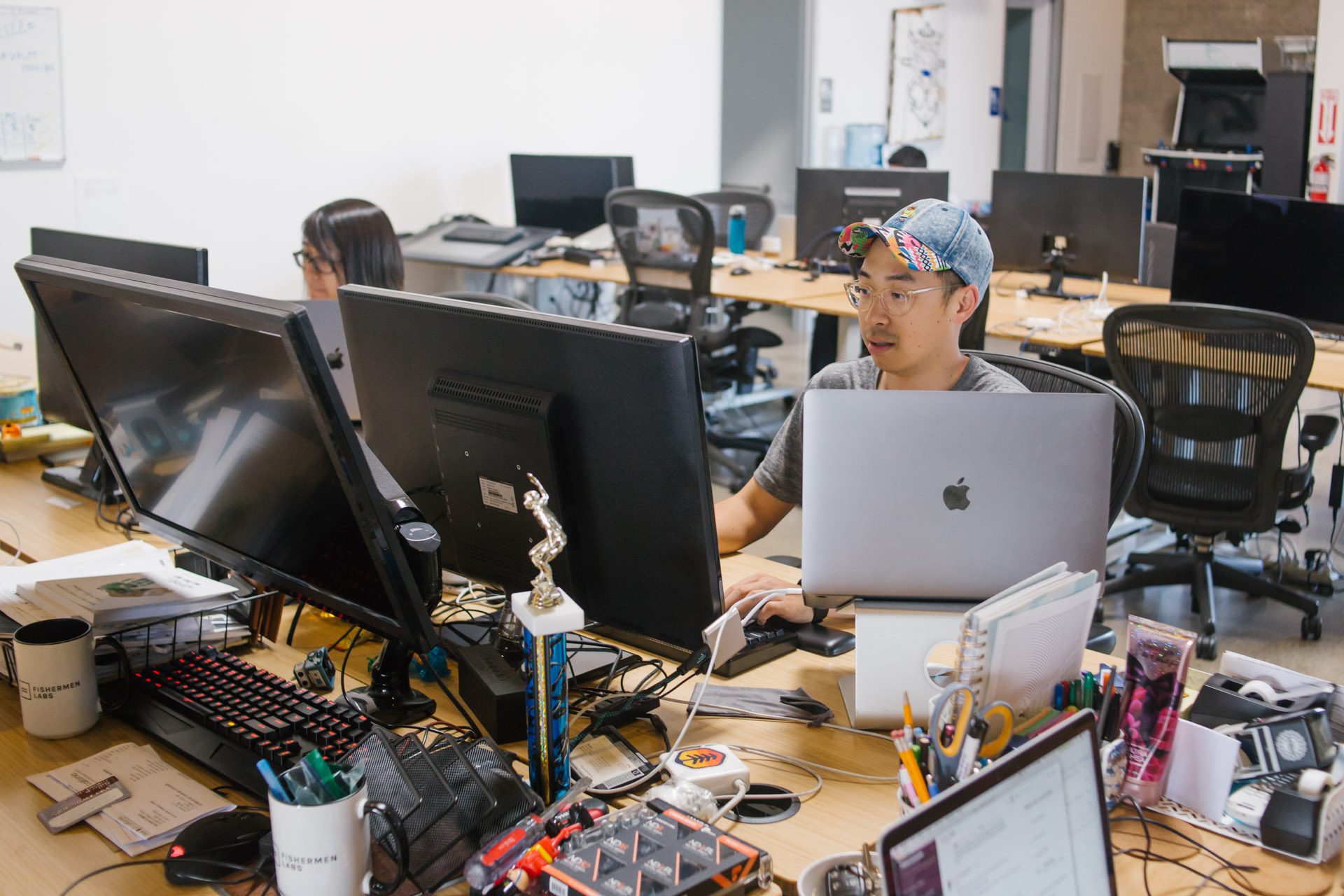 Chen calls himself a "technologist," but one who also has a healthy skepticism about technology. With Hu, Chen is looking to expand his business enterprises beyond technology. For example, they recently launched a food company, Common Foods, focused on bringing a healthy spin to ethnic foods.
"Imagine a cup of noodles that is healthy and affordable, something you can bring anywhere, with no MSG and no preservatives," said Chen, who hopes the company can help make healthy food more accessible for everyone.
South Central and Social Justice
"Andy Warhol has this quote, 'Being good in business is the most fascinating kind of art,'" said Eden's brother Ken. "My brother is such an artist with money, with seeing the value of things."
But it goes beyond money for Eden, Ken said.
"My brother is able to see the world for what it truly is—how fleeting we are, how important people are."
Though his "artistry" in business led to significant success, Chen's down-to-earth demeanor and humble lifestyle does not fit the profile of someone who has been written about in Forbes, U.S. News, and Bloomberg.
Rather than choosing to live in Beverly Hills, Bel Air, Santa Monica, or another one of L.A.'s posh neighborhoods, Eden and his wife, Carolyn, bought a home in the Hyde Park neighborhood in South Central. They didn't move there because the neighborhood is full of good coffee shops and trendy restaurants. They moved because they felt God calling them to do something radical.
"We don't want to be the saviors of the community," Chen is quick to point out. "We are here to learn, to be good neighbors, to listen and empathize with people."
We don't want to be the saviors of the community. We are here to learn, to be good neighbors, to listen and empathize with people.
Eden and Carolyn—who works as a nurse at Los Angeles Christian Health Centers, where she treats the homeless, the undocumented, and other vulnerable populations—are leaders in a church plant in the area, Epiphany Fellowship, a multicultural church led by Tommy Forester.
They lead a weekly small group in their home and help on Sundays with set-up, tear-down, and worship.
"It's the healthiest core team I've been a part of," said Chen of his experience as part of the church, which strives to be theologically sound and biblically faithful, and also engaged in mercy and justice work in the city.
"We are a Bible-centric church, but the Bible pushes us to care for our community and do things outside our comfort zone," Chen said.
Conversation Starters
Like the name of his company, Chen's choice to live in Hyde Park is a natural launchpad for conversations about faith.
"Everyone asks me where I live, and when I say South Central, they ask why. Is it gentrifying? I say, 'No, Jesus spent a lot of time with those who faced injustice, with the sorts of people who made religious leaders uncomfortable. And we are Jesus followers,'" Chen said.
People usually respond with surprise, apparently unaware that Jesus intentionally spent time with the poor and marginalized, he said. People in the entertainment industry are interested and ask him often about his church. Sometimes he invites them to visit.
"When you tell them stories about Christians in the community who are listening and serving," Chen said, "it's hard for people to not want to get on board with that."
This is why Chen is so intent on remaining grounded, even as his business ventures take off. It's why he and Carolyn chose to live where they live. And it's why he named his tech company Fishermen Labs.
It's a way to be surprising and to start conversations—not conversations about Eden Chen, but about the man who called him, and who calls all of us, with the unlikeliest of promises: "Follow me, and I will make you fishers of men."
Editors' note:
Eden Chen will be leading a breakout session on faith and work at the TGC West Coast Conference this October 16 to 18 in Southern California. Speakers will also include Alistair Begg, Ligon Duncan, Kevin DeYoung, Jeremy Treat, Ray Ortlund, D. A. Horton, and more. Register today at TGC.org/West18.