On My Shelf helps you get to know various writers through a behind-the-scenes glimpse into their lives as readers.
I spoke with Karen Ellis—speaker and writer on the theology of human rights, African-American culture, Islam, and the persecuted church—about what's on her nightstand, books that have shaped her, her favorite fiction, and more.
---
What's on your nightstand right now?
Well, my nightstand is a bookcase, as my husband will attest. A better question would be what's in my purse—I always keep something to read in there. Right now, I'm working through a tattered copy of Vaçlav Havel's political essay
The Power of the Powerless
.
What books have most shaped your understanding of racial justice?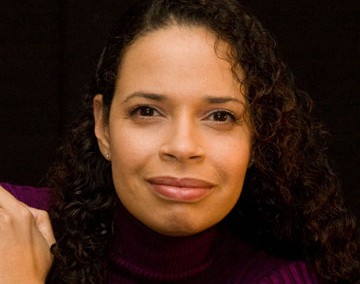 I should probably be a good wife and mention my husband's book,
Free at Last?: The Gospel in the African-American Experience
. His book gave me a biblical perspective on God's agency in the history of people groups like African Americans. Before that, Richard Kluger's
Simple Justice:
The History of Brown v. Board of Education
also had a profound and personal effect. Kluger chronicles the case that ruled segregated U.S. schools unconstitutional. My uncle, Gardner L. Bishop, a Presbyterian elder and barber of humble means, was one of the five litigants that led to the landmark decision and is mentioned in the book.
Simple Justice
sat on our family's bookshelf throughout my childhood, but I only knew the story through our family's oral history. When I was older, I explored the book's contents. It taught me that for Christians facing dehumanization, even the most humble person—like my uncle—can be a great agent for righteousness and change.
What books have most shaped your understanding of persecution and religious freedom?
What biographies or autobiographies have most influenced you and why?
That of Phillis Wheatley, the 18th-century poet, theologian, abolitionist, missionary, savvy businesswoman, and cultural critic. In spite of the unethical praxis of the general religious culture around her, the ethics and epistemology of her little community were in harmony with each other. Vincent Caretta's
Phillis Wheatley: Biography of a Genius in Bondage
gives a well-researched account of the accomplishments of Wheatley and other ethical Europeans and Africans in her community. Stories of their methods and contributions are rarely told as part of church history or missiology, so I developed a short course on her life and religious works. I like to remind people of the rich legacy we share through the underground church in the Revolutionary period, to show the unity they achieved across racial lines, and to highlight contributions of Africans to early American church history. I suggest readers obtain Caretta's biography, and also Wheatley's
Poems on Various Subjects, Religious and Moral
, and place them squarely in your library next to the preachers of the Great Awakening.
What are your favorite fiction books?
Any of Gabriel Garcia Marquez's short stories, novellas, or novels (I love magic realism), as well as Alexander Solzhenytsin's works such as
One Day in the Life of Ivan Denisovitch
. Both authors deal with human solitude, the search for meaning in our circumstances, and the dynamics of government ideologies, albeit in quite different ways.
What are you learning about life and following Jesus?
At the forefront of my current thinking is the relationship between transformative community and Christian endurance. In my work I deal with the whole spectrum: vibrant Christian communities who persevere under pressure, imprisoned Christians forced into solitary confinement, and a wide range in between. Whatever the circumstance, community seems key to strength and perseverance. Whether one is in transformative community with others, or in the transformative triune presence of God when the luxury of human community is absent, the one who belongs to Christ is never alone.
---
Also in the On My Shelf series: Alastair Roberts, Scott Sauls, Karen Swallow Prior, Jackie Hill Perry, Bruce Ashford, Jonathan Leeman, Megan Hill, Marvin Olasky, David Wells, John Frame, Rod Dreher, James K. A. Smith, Randy Alcorn, Tom Schreiner, Trillia Newbell, Jen Wilkin, Joe Carter, Timothy George, Tim Keller, Bryan Chapell, Lauren Chandler, Mike Cosper, Russell Moore, Jared Wilson, Kathy Keller, J. D. Greear, Kevin DeYoung, Kathleen Nielson, Thabiti Anyabwile, Elyse Fitzpatrick, Collin Hansen, Fred Sanders, Rosaria Butterfield, Nancy Guthrie, and Matt Chandler.
Browse dozens of book recommendations from The Gospel Coalition's leaders and sign up your church at Hubworthy.
Get a FREE eBook to strengthen your family discipleship!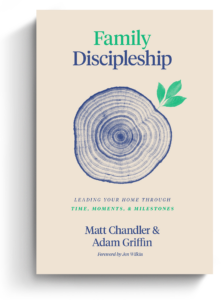 The back-to-school season is stressful for moms and dads. New rhythms of school, sports, and other extracurricular activities can quickly fill up a family's already busy calendar. Where do busy parents look for resources on discipling their family well? Aside from prioritizing church, what else can Christian parents do to instill healthy spiritual habits in their household?
Matt Chandler and Adam Griffin cover these questions and more in Family Discipleship: Leading Your Home through Time, Moments, and Milestones. And we're excited to offer this book to you for FREE as an eBook today.
Click on the link below to get instant access to your FREE Family Discipleship eBook now!