While working on my doctoral research I spent a week at the National Library of Wales in Aberystwyth going through Lloyd-Jones's personal papers. I came across a stack of letters written to Bethan (his wife) from 1937 and 1939. (Several of these letters have been published in D. Martyn Lloyd-Jones: Letters 1919-1981.) My wife's assignment, as my faithful research assistant, was to transcribe the letters while I worked on other projects. Side-by-side, we typed away.
After several hours I sensed a strange silence. She had stopped typing. I looked to see why, and noticed she was tearing up. I asked if she was okay, and, somewhat embarrassed, she answered, "I hope my husband writes me letters like this one day!" She then began to laugh and cry at the same time.
Why Was She So Moved?
The 1937 letters were written during a three-week preaching tour in America. This was a difficult time for Lloyd-Jones. Elizabeth, his daughter, said years later that after that trip, he vowed never to be gone from Bethan that long again. The letters from 1939 were during World War II. The family had been evacuated to the countryside while he remained in London. His love and longing for Bethan comes through on every page. He was affectionate, aware, and attentive. He was specific and lavish in his adoration. Paragraphs like this one are common:
Let us say just this much—thinking of you gives me endless happiness, and I am more certain than ever that there is no one in the world like you, not even approaching you, not in all the world. . . . I have been thinking of eleven years ago tonight, when we went together to Covenant Gardens and there back to Dilyrs's. I thought at that time, that I loved you, but I had to live with you for over 10 years to know you properly and so to love you truly. I know that I am deficient in many things and must at times disappoint you. That really grieves me, and I am trying to improve. But believe me, if you could see my heart you would be amazed at how great is my love. I hope you know, indeed I know that you know, in spite of all my failings. I can do nothing but say again that from the human standpoint I belong entirely to you.
You see why my wife was tearing up?
What Else Did He Write About?
Anything and everything. He told her about the weather. He told her about what he was eating, what he was reading, how he was sleeping, how he was exercising. He gave his opinion, and expected hers, on the speeches made by Churchill, Chamberlain, and Hitler. He discussed with her the merits of writing full sermon manuscripts and which medicines to make sure her mother and father were taking. He was always on the lookout for things that would interest her:
You will be interested to hear that the average per day of the ship is 580 miles. The Olympic average was about 550, wasn't it? I have often thought of the way in which you kept that chart of yours. Indeed, everything you did on the Olympic seems to come back to me and a thousand times have I wanted to turn to you to make some comment or other.
No doubt, the hardest part of the separation were the hundreds of little things that he noticed and wanted to tell her, but couldn't. She was always on his mind. Here is a sample:
It is a crying shame that you are not here with me, it tends to spoil everything.
I can't begin to tell you how I feel about this perpetual moving back and fore, especially since I have no certain hope of seeing you for another month. A kind of paralysis comes over me when I think of the situation. Look after yourselves, eat like horses and keep warm! I will write again tomorrow.
I see time passing terribly slowly, and the absence of your company overpowering. There are dozens of things, that arise from what I notice, or from what I am thinking or reading, that I would like to talk about with you. But you are not here. There is nothing to be done but exercise patience.
Well, my very dear ones, look after yourselves and be as happy as you can. I have a sore longing to see you, but there is over a week to wait.
Proof of God's Goodness
She was tangible proof of God's goodness to him: "God has been marvelously good to me—you, Elizabeth and Ann, and haven't we two been blessed with two exceptionally sweet little girls—you will all be in my thoughts every step of the trip and I shall be daily thanking God for you." And he ended every letter with some variation of, "All, all my love to you, my three beloved ones, and especially to the biggest of them."
My wife sacrificed greatly for me to do my doctoral work. When asked if she minded, my wife replies that it was her joy, and that she loved me spending so much time studying Lloyd-Jones. It doesn't bother her that I will never preach like him (we both know that will not happen), but she does hope that I love my three girls as he loved his (I also have two daughters). One of the best parts of Logic on Fire is the window it opens into Lloyd-Jones's personal life. To hear his daughters talk about how much their father loved their mother is priceless.
There are nearly 100 volumes of sermons by Lloyd-Jones in print and more than 1,600 sermon recordings. But if all you know about him are his sermons, you are missing one of the best parts of the man.
Get a FREE eBook to strengthen your family discipleship!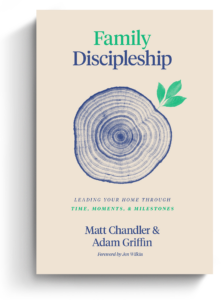 The back-to-school season is stressful for moms and dads. New rhythms of school, sports, and other extracurricular activities can quickly fill up a family's already busy calendar. Where do busy parents look for resources on discipling their family well? Aside from prioritizing church, what else can Christian parents do to instill healthy spiritual habits in their household?
Matt Chandler and Adam Griffin cover these questions and more in Family Discipleship: Leading Your Home through Time, Moments, and Milestones. And we're excited to offer this book to you for FREE as an eBook today.
Click on the link below to get instant access to your FREE Family Discipleship eBook now!