Perhaps somewhere in the world there is a theological oasis where a robust Christian worldview is commonplace. But I don't know of one. And I pastor in Nashville, the rhinestone buckle of the Bible Belt.
More than ever, we need low-speed on-ramps into Christian theology that allow people space to rethink their worldviews in light of the gospel, without pressure or fear. Where is that going to happen if not in our churches and homes? That realization is what motivated us to begin using The New City Catechism (NCC) at Immanuel Nashville.
Now, by "low-speed" I am not at all suggesting that The New City Catechism is shallow. Question three deals with the triunity of God. That's the deep end of the pool! What I am emphasizing is the importance of organized and unhurried thinking about God.
Theology is a world of interconnectivity. What we believe about the triunity of God, for instance, affects how we think about diversity today.[1] So a good catechism not only informs the unfinished spaces in our worldview constructs, but by moving from room to room in an organized and unhurried [2] way, opens up each room to the other so that we experience integration.
I believe we need The New City Catechism today on two vital fronts: the home front and the church front.
Catechizing on the Home Front
I have a responsibility to give my children what I did not receive: culturally relevant [3], organized worldview formation from God's Word. And whatever framework I provide for them needs to be able to withstand what they're going to encounter when they leave my house. "Jesus Jr." of Bible-Belt Christianity will never be able to get our children through freshman philosophy class with their faith intact. That's why my wife and I began teaching The New City Catechism to our children last year.
Our children are going to process the world somehow. And if we do not fill in the blanks for them, who will?
We have three kids younger than 5. On top of that, it is a crazy-busy season of life for us because of my dual role as a PhD researcher and associate pastor. Family rhythms are difficult to maintain. But breakfast is generally "power hour" for us as a family. We try to pack as much worship into that hour as we can. One thing that works well for us is to build catechism songs into our breakfast routine. My wife or I will pull up the NCC app, turn on the song, and start singing. Our 4-year-old and 2-year-old pick up on the songs quickly (our 2-year-old will try anything her older sister does). We try to be super rewarding too—a few M&Ms go a long way!
Some of the questions are so rote for our girls now that we rarely have to revisit them, but my wife and I are always on the lookout for ways to connect the dots from the catechism to the observable world. When we're at the zoo and we see a zebra, it's a chance for us to say, "Isn't that amazing? God created that. Hey, what else did God create?" There are a million ways to make the connections between the theoretical and the material. And we still have a lot of learning to do ourselves!
After just one year (not the most consistent year, I might add) we are already seeing fruit in the life of our 4-year-old. It's not just that she's learning facts about God. More profoundly, she is learning to process the world theologically. Jesus is never far from her mind. (The songs really help with that.) The concept of God as spirit is already intriguing to her. And she talks regularly about heaven.
Here is the scary thing. Our children are going to process the world somehow. And if we do not fill in the blanks for them, who will?
Catechizing on the Church Front
Our responsibility doesn't end at home. We as Christians also have a responsibility on the church front to create spaces for our neighbors to rethink their worldviews in light of the gospel. There is no greater seismic shift than for a person to move from unbelief in Jesus to belief in Jesus; it's a work of the Spirit, it's totalizing, and maturation is often slow. Christianity is nothing less than "Christ formed in [us]" (Gal. 4:19) at the deepest substratum of our beings. So spiritual formation in this world is not simple, because we are not simple. We all need gospel + safety + time.
At Immanuel, we want our church to be a safe place to rethink everything in light of the gospel. The New City Catechism is helping us do that. We've used the NCC as the backbone of our teaching during the 9 a.m. hour (when we do seminars, prayer groups, and so on) for both the children's ministry and our flagship adult gathering, Life Together.
Each week in Life Together we springboard off of that week's question and commentary into further exploration of the question and the key biblical text associated with it. The goal is always to arrive at the practical, take-home value of the question. A well-thought-through Q&A time usually helps that practice. I learned, for instance, that "What are your questions about the Trinity?" is not a good starter question. "How does the Trinity change the way we think about workplace relationships?" is a better question to get the ball rolling.
Although we didn't test for memorization with adults, we encouraged retention by reading the question and answer aloud as a group at the beginning and end of each session. It was a little awkward at first. But I think the awkwardness actually helps to "break up the fallow ground" (Hos. 10:12) and make room for new growth. Some of the people who attended our adult group also had kids who were being taught the NCC at the same time in our kids ministry. Our hope was that the alignment between the groups would be a practical help for parents as they led their children through the questions at home.
Our kids ministry incorporated the NCC by focusing the last 15 minutes of their time together on memorization, explaining difficult words as they went along. They used several memorization techniques to aid retention, such as writing out the answer on the board and erasing one word at a time while calling on kids to recite the answer. After all the words were erased, each child had an opportunity to recite the answer in full. Treats abounded!
Urgent Responsibility
The Gospels show us that discipleship is as much about un-learning as it is about learning. None of us occupies a place of neutrality toward God. For every true idea we receive from Scripture, we discard a false one from the world.
My experience in teaching through The New City Catechism has shown me that people need safe places to change their minds. If organized and unhurried theological inquiry is not accompanied by an atmosphere of gentleness and protection, then the gospel loses plausibility. There is no more vulnerable place today than to be caught between ideological camps. Perhaps now more than ever, we have a responsibility to carve out in this brutal and divisive world places of shalom, where the gentle patience of Jesus is apparent for all who are open to him.
Related: 
---
[1] See Kevin DeYoung's commentary on question three of The New City Catechism, "How many persons are there in God?"
[2] A good example of the unhurriedness of The New City Catechism is the time it spends (four questions) on prayer. In a catechism limited to 52 questions, four questions represent a significant time commitment. The emphasis on prayer, I would suggest, reflects the importance of prayer for the Christian life.
[3] The basic issues we face in this world are perennial. However, the issues emphasized in every generation tend to change. A relevant catechism will reflect that change in emphasis.
Editors' note:
Now available: The New City Catechism Curriculum, 52 lessons designed to help children ages 8–11 learn the core doctrines of the Christian faith in a Sunday school, classroom, or homeschool setting. Order yours today!
Get a FREE eBook to strengthen your family discipleship!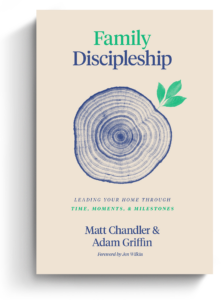 The back-to-school season is stressful for moms and dads. New rhythms of school, sports, and other extracurricular activities can quickly fill up a family's already busy calendar. Where do busy parents look for resources on discipling their family well? Aside from prioritizing church, what else can Christian parents do to instill healthy spiritual habits in their household?
Matt Chandler and Adam Griffin cover these questions and more in Family Discipleship: Leading Your Home through Time, Moments, and Milestones. And we're excited to offer this book to you for FREE as an eBook today.
Click on the link below to get instant access to your FREE Family Discipleship eBook now!