In its place, screen time can be a welcome way to keep kids occupied. But when we don't set limits on screen time, kids can quickly lose their enjoyment of everything else. Proverbs 25:28 says "A man without self-control is like a city broken into and left without walls." Both kids (and adults) need "walls" or boundaries to keep technology in its proper place.
Most Christian parents I know would like their children to spend less time in front of a screen, and we realize there are better ways to occupy our kids. But wanting something is a lot easier than making it happen!
When my son has reached his limit of screen time for the day but is begging to watch a show, it's so easy to give in. If I relent, both he and I get what we want in the short term—he gets effortless entertainment, and I get 20 minutes to respond to emails. But giving more screen time works against my long-term hopes for my son. I want him to develop creativity and a healthy attention span, to learn how to entertain himself, and to be physically active.
It's easier to respond to screen time whining with a cheerful "no" when I can think of alternatives to suggest. Since ideas can be hard to come up with in the moment, here's a list of 44 activities that don't involve screens.
Minimal Parental Involvement
No Prep Required
Physical Activities
Table Activities
Requires Supplies or Toys
As you divert your kids away from screens to other activities, talk to them about why you limit screen time. Help them see that while technology can be a gift from God, if we don't keep it within limits, it'll keep us from better things that God gave us to enjoy.
I'm thankful that our worth as parents—and children of God—doesn't stand or fall on how much time our kids spend in front of screens. But parents have the God-given privilege of making choices on behalf of their kids. One day they will be making their own decisions, and we want them to make wise choices. We can start them on that path by making good choices on their behalf today.
Editors' note:
Check out Polly and the Screen Time Overload by Betsy Childs Howard, now available from Crossway and TGC Kids. With easy-to-understand language and engaging illustrations, Polly's story will help families start an ongoing conversation about self-control and how to enjoy technology within boundaries. (A version of this article also appears on Crossway.org.)
In a season of sorrow? This FREE eBook will guide you in biblical lament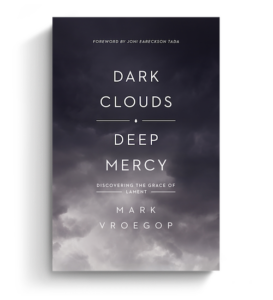 Lament is how we bring our sorrow to God—but it is a neglected dimension of the Christian life for many Christians today. We need to recover the practice of honest spiritual struggle that gives us permission to vocalize our pain and wrestle with our sorrow.
In Dark Clouds, Deep Mercy, pastor and TGC Council member Mark Vroegop explores how the Bible—through the psalms of lament and the book of Lamentations—gives voice to our pain. He invites readers to grieve, struggle, and tap into the rich reservoir of grace and mercy God offers in the darkest moments of our lives.
Click on the link below to get instant access to your FREE Dark Clouds, Deep Mercy eBook now!