One of my favorite scenes in the Lord of the Rings movies appears early in the Fellowship of the Ring when Frodo and company first encounter Aragorn. Frodo and his adventure mates were putting the happy in happy hour at the Prancing Pony Inn, frolicking, tipping mugs of ale, and generally making a public hash of themselves—foolhardy behavior for a party of hobbits and dwarves embarking on a dangerous clandestine mission. Frodo slipped the ring on his finger and instantly became invisible, took it off, and reappeared to an astonished audience of merrymakers. Aragorn appeared from a dark corner of the pub, grabbed him by the collar and slung him into a side room as if he were a side of beef. "Are you frightened?" Aragorn asked the wide-eyed hobbit. Frodo answered a breathless, "Yes." Aragorn's counter line is unforgettable, "Not frightened enough. I know what hunts you."
Ring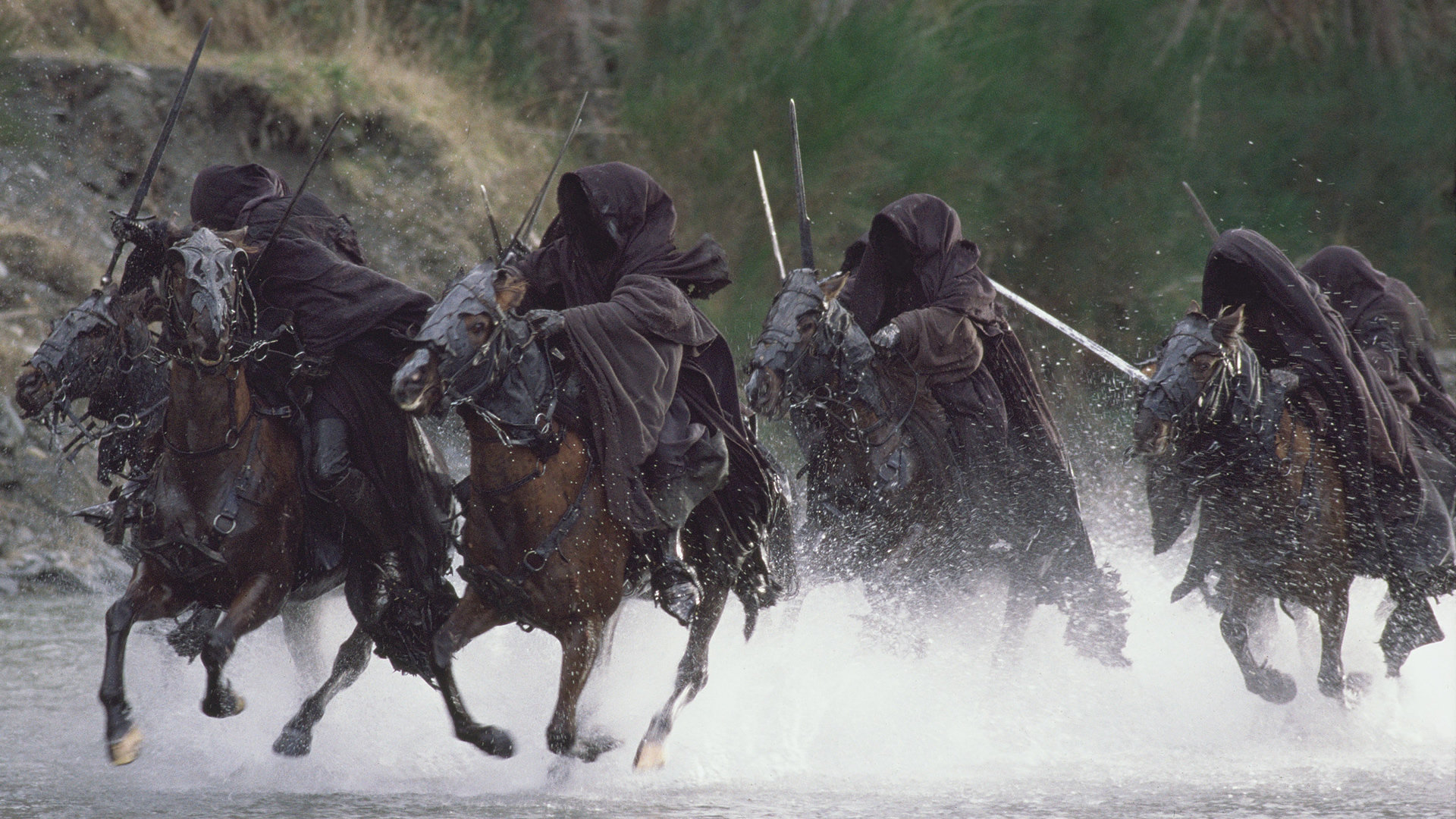 wraiths. That's what hunted Frodo. The evil emissaries of the dark lord Sauron were searching meticulously for the ring bearer; they wanted to destroy him and capture the one ring that ruled them all. Indeed, Aragorn was spot-on: the naïve little hobbit did not know what hunted him. And his naïveté was anything but humorous: the future of Middle Earth hung in the balance.
That scene came to mind Thursday night as I watched the sad news about Los Angeles Angels of Anaheim outfielder Josh Hamilton scroll across the screen: Relapsed, again. Drugs and alcohol, again. The sin that has hunted Hamilton since he was a teenager found him, again. I whispered a prayer under my breath: "Father, lavish your mercy on Josh Hamilton and his family. And have mercy on us. Let us never forget what hunts us." I'm a big fan of our national pastime. I'm a big fan of Josh Hamilton. And like Josh Hamilton and Frodo Baggins, I, too, am hunted. I'm well aware that something hunts me, something deadly, an enemy I can only shake by unilateral grace: sin.
All-World Talent
Hamilton's story is deeply compelling. At 18 years old, he was an all-world talent with a powerful bat that reminded some of Mickey Mantle and a howitzer arm that conjured memories of Roberto Clemente. He was the top overall pick in the 1999 draft, chosen out of high school in Raleigh, North Carolina, but Hamilton's path to greatness was blocked by the twin demons of alcohol and drug addiction. Twice he failed drug tests, and on another occasion he was arrested after smashing the windshield of a friend's car. Major League Baseball suspended him for most of three seasons from 2003 to 2005. His star appeared to have fallen.
But the effectual grace of God found Hamilton after this tumultuous period. God gave Hamilton new life through the death and resurrection of Jesus Christ. His conversion also breathed new life into his baseball career. Hamilton made his Major League debut in 2007 with my beloved Cincinnati Reds. He was an instant star. During the past seven years he has become what scouts expected him to be from the beginning: one of the best players in the game. He led the perennially mediocre Texas Rangers to consecutive World Series appearances in 2010 and 2011 and was named American League MVP in 2010. There were hiccups along the way, like a time in 2009 when he was photographed in a bar in a compromising position. And there was a seemingly small slipup 2012 when he admitted to drinking three beers. But Hamilton has mostly kept a strong witness for Christ. His family has helped build an orphanage in Uganda and established an outreach called Triple Play Ministries. Hamilton chronicled his fall and redemption in a 2008 book, Beyond Belief: Finding the Strength to Come Back (FaithWords).
Hamilton has kept accountability partners constantly at his side while away from home. He travels with only a small amount of cash and carries no credit cards. His wife, Katie, shuttles him to and from the ballpark during home games. After the Rangers won the American League pennant in 2010, Hamilton celebrated with ginger ale rather than champagne. I once heard Hamilton quote the apostle Paul, saying that he does not want sin to have mastery over him. No follower of Christ does.
Core Disease
Despite all that, sin continues to want to rule over Josh Hamilton. It wants to rule over us all. As a follower of Christ, Hamilton no doubt knows and agrees. Paul Tripp puts it memorably:
Sin is every human being's core disease. It is completely beyond the power of any human being to escape it. It separates you from God, for whom you were created. It damages every aspect of your personhood. It makes it impossible for you to be what God created you to be and to do what God designed you to do. It robs you of inner contentment and peace, and it puts you at war with other human beings. It renders you blind, weak, self-oriented, and rebellious. It reduces all of us to fools, and ultimately it leads to death. Sin is an unmitigated, almost incalculable disaster. You can run from a certain situation, you can get yourself out of a relationship, and you can move to another location and choose not to go back again. But you and I have no ability whatsoever to escape from the hold that sin has on us. It is the moral Vise-Grip that has held the heart of every person who has ever lived.
Hamilton's story could be my story or your story. The world, the flesh, the Devil is an unholy trinity that hunts us all. His story is in the news because of his profession; ours is not. What should we take home from Josh Hamilton's sad brush with sin?
Life between the times is brutal war. We face enemies within and without that relentlessly wage battle against us. We will not defeat them fully in this life, but in the next. Thankfully, Christ has defeated them for us. My own pastor, Tom Schreiner, preached a powerful sermon from 2 Corinthians 10 this past Sunday on this reality. Even Paul, in Romans 7, continued to be hunted by indwelling sin.
Sin is subtle and sneaky. It is not always obvious. Satan operates as an angel of light. I don't know what happened to Josh Hamilton, but no doubt he never planned for a relapse. Temptation never takes a day off. We are all recovering sinners.
Killing sin is a daily vocation for believers. So serious is sin, Jesus spoke of plucking out the eye and cutting off the hands and feet that tempt us (Matt. 5:27-30). As the Puritan John Owen put it, we must be daily killing sin or it will kill us (Rom. 8:13).
Humility is not optional for believers. Paul warns in 1 Corinthians 10:12, "Beware you stand, lest you fall." Sin is always crouching at the door. We need to let the Savior answer the door, for he is our only hope. And when famous believers like Josh Hamilton fall, we should fight for them on our knees, knowing that but for the grace of God, it might be us. Self-righteousness should die a thousand deaths in the face of such news.
Preaching the gospel to ourselves daily must include seeking the result of a gospel-entranced life: holiness. We need to know that we are in Christ and that we are not saved by works. And the fruit demonstrates the health of the root. Hebrews 12:14 is far scarier than Tolkien's ring wraiths: "Strive . . . for holiness without which no one will see the Lord."
Let us pray for Josh Hamilton and for Katie and their three daughters. I wrote about big league baseball before surrendering to ministry, and a Christian player once told me that the daily opportunities to sin for a professional athlete are almost beyond comprehension. "Take your temptation to sin and your opportunities and multiply them by 10,000," he said. "A lot of people want a piece of you because of who you are, and many of them are emissaries of Satan sent to destroy you."
May we as followers of Christ, though redeemed and set free from slavery to sin (Rom. 6:12-14), never forget the monster that hunts us.