Iain H. Murray, one of the world's best-loved historians of evangelicalism, marks his 90th birthday on April 19.
In a writing career stretching back more than six and a half decades, his contribution to the evangelical movement, especially as a popular biographer, has been phenomenal.
Why Do We Need History?
Iain Murray's principal aim as an author is always to edify and strengthen Christian readers with lessons from the past. "The study of history," he explains in Heroes, "is vital to the health of the church." Murray then quotes the great 17th-century historian Thomas Fuller, who wrote in the preface to his History of the Holy War (1639): "History maketh a young man to be old, without either wrinkles or grey hairs; privileging him with the experience of age, without either the infirmities or inconveniences thereof."
In The Holy State (1642), Fuller alludes to the aged King Nestor, who according to Homer's Iliad ruled for three lifetimes and was thus noted for his great wisdom. "But the historian may make himself wise by living as many ages as have passed since the beginning of the world," Fuller observes. "Without history a man's soul is purblind, seeing only the things which almost touch his eyes."
History provides not only lessons from the past but also likely patterns for the future. As Fuller again puts it, history "not only maketh things past, present; but enableth one to make a rational conjecture of things to come." Where others are startled by the strangeness of modern events, the historian has already seen precedents. Where others make shipwreck, because they sail without a map or compass and so perpetually repeat the mistakes of their ancestors, the historian "makes the shipwrecks of others sea-marks to himself."
Murray is a brilliant exponent of this philosophy of history. As an accomplished guide through the annals of evangelicalism, he distills many vital lessons the contemporary church urgently needs to hear and act on. "To confine our view of the church to a few short and passing years," Murray argues, would be "a serious mistake. We need to see and remember the big picture."
Tracing God's Hand
Iain Murray's books are multitudinous, the fruit of voracious reading and apparently boundless energies, ranging across the English-speaking world in Britain, the United States, and Australia. Unlike historians writing for a secular audience, he is unembarrassed to speak directly about the actions of God, tracing the hand of providence and divine intervention down the centuries.
He distills many vital lessons that the contemporary church urgently needs to hear and act on.
In the intense debate among evangelical historians on the best ways to combine faith and scholarship, Murray has been a firm critic of history in the academy that leaves God out of the picture. His delightful biographies are not just accounts of former worthies, but are thick with application, offering godly models to emulate and pointing us through these evangelical saints to Jesus Christ. This is history designed to build up the church, closely aligned to the duties of a pastor.
Beginning in his mid-20s, as editor of The Banner of Truth magazine (from 1955) and cofounder and director of the Banner of Truth Trust (from 1957), Murray's infectious love for unearthing the buried gospel jewels of former ages has always been apparent. His theological outlook is explicitly Reformed, and he gravitates to Calvinist subjects from across the denominational spectrum like Jonathan Edwards, Charles Haddon Spurgeon, and J. C. Ryle. His two-volume magnum opus on Martyn Lloyd-Jones, totaling nearly 1,200 pages, remains one of the most significant evangelical biographies of the last generation. Despite all that has since been written on Lloyd-Jones, Murray still dominates the field. But he also demonstrates a remarkable capacity to write sympathetically of evangelicals from outside the Reformed world, such as John Wesley and Amy Carmichael. His style is winsome and heartwarming.
My Debt to Iain Murray
Many of Murray's readers can testify how his books have been important in our Christian stories. It is impossible to read his biographies and histories without being spiritually invigorated, and being driven to action or to our knees in prayer.
I owe a great debt of gratitude to Murray for the ways in which his books have fundamentally shaped my ministry outlook since I was 20 years old. For example, as a penniless undergraduate in the mid-1990s, I was thrilled to find his two volumes on Lloyd-Jones on the secondhand shelf at the back of a little Sussex bookshop. It was like stumbling across golden treasure.
The first volume in particular was key in my call toward ordained ministry (albeit in the Church of England), as my spirit leaped at reading Murray's account of God's call upon Lloyd-Jones's life and his early days as a preacher and pastor in south Wales.
It is impossible to read his biographies and histories without being spiritually invigorated, and being driven to action or to our knees in prayer.
A few years later, I devoured Evangelicalism Divided, hot off the press, which radically reshaped my understanding of British evangelicalism. I had inherited a blinkered narrative, particularly popular among Anglican evangelicals, of being part of a resurgent dynamic biblical movement—a tale of continual success, vibrancy, and church growth, as evangelicals in the school of my heroes John Stott and Jim Packer carried all before them within the Church of England.
Evangelical colleges were full, evangelical bishops were increasingly numerous, the defeat of liberal Catholicism was inevitable. Murray's volume blew those myths out of the water and entirely reconstructed my ecclesial worldview. Reading Evangelicalism Divided on the eve of my Anglican ordination provoked an existential crisis, but has been crucial for my subsequent research and interpretations in British evangelical history. Other Murray volumes have also been firm favorites. When my wife and I made our first visit to the United States as a young couple, traveling the length of New England in the footsteps of Jonathan Edwards, from Yale via Northampton to Princeton, it was Murray's biography we took as our companion and guide.
Service to the Church
Murray's writing, vigorously evangelical and practically applied, never disappoints. This is not history for its own sake, but history in the service of the church, bursting with biblical wisdom.
Just as his biographies offer many godly exemplars to imitate, so Iain Murray has become a model of accessible Christ-centered scholarship, and a much-needed spur to a younger generation of budding historians to pick up their pens and write.
Get your FREE 7-day devotional!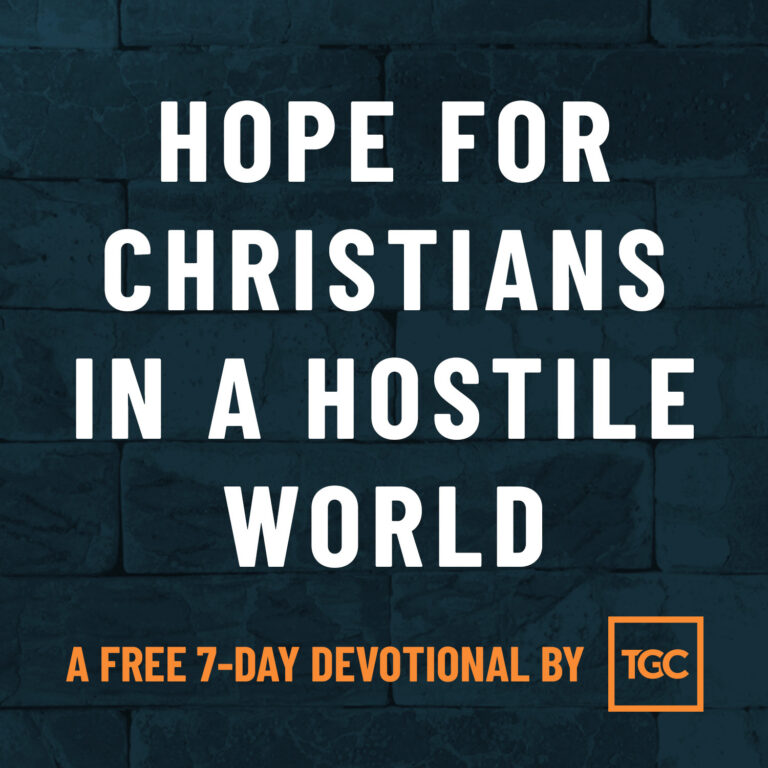 God's people have always been strangers and sojourners in this world. Do you feel that way, too?
You're not alone. Since the church's beginnings, Christians have often felt ostracized. And the Bible offers great encouragement for how to live with hope.
If you're feeling the weight of cultural exile today, our new 7-day devotional, Hope for Christians in a Hostile World, will encourage you.
If you sign up for this FREE resource, we'll send you an email each day for a week with a daily devotional featuring Bible readings and reflections written by TGC staff and friends.