I was a pastor who loved God and my church, all while hiding my secret sin. I soon learned that God knows how to discipline the hypocrites he loves.
I became a Christian when I was 21 and a pastor when I was 25. At times I wonder if I should have become a pastor so quickly. Thankfully we serve a Father who's never thwarted by our questionable choices.
The Town
At the end of a dusty highway two hours west of Dallas, Texas, you'll find a small town I called home for seven years. The fields surrounding Graham are littered with oil pumps that keep the community's economy alive. The townspeople are friendly, and visitors feel they've walked into the 1950s. It's a place where doors are unlocked and pastors still get discounts for meals.
Graham didn't lack churches; there were around 40 when I first arrived. This wasn't the kind of ministry I envisioned for myself. I wanted a city with 10 million people with no churches and no knowledge of God. Instead I found myself in a town with 10,000 people, 40 churches, and most everyone said they knew God.
But it became evident I was supposed to be in Graham.
The Church
Graham Bible Church was born in 2003 out of a prayer meeting. I was asked to preach by 13 new friends who wanted to see God change their tiny town. I loved that group with all my heart. The fondness of those early days still brings tears to my eyes.
Our music was usually brutal, but we sang with fervor, and I trust God was pleased. I was an inexperienced preacher, but I taught the Bible as clearly as I could. We laughed and cried together.
Immaturity led to foolish decisions in preaching and leadership, but God blessed us in spite of them. Our storefront gathering grew from 13 to a fire-code-violating 120 in about nine months. The growth was encouraging, but also disillusioning.
Things were going so well in those early years that I began to think God was willing to overlook the sin I was hiding.
The Sin Within
Though ministry was going "well," it was not well with my soul. I was deeply discontent. My life wasn't going according to my plans.
At the time I was long-distance-dating my college girlfriend. She wasn't ready for marriage, and I was unwilling to let her go, even though deep down I knew God didn't want me to marry her. Our six-year relationship was entangled with sin, which made dying seem easier than breaking up. We were engaged twice and got 50 days away from marriage before we finally ended things for good.
My unwillingness to fully surrender to God—along with my insecurity, discontentment, fear of man, and desire for a strong reputation—created an environment in my heart that allowed pornography to thrive. For my first three years of pastoral ministry, I secretly struggled with this sin.
I knew my sin grieved God, but my confessions were aimed more at hushing my guilt than getting the help I needed. Every two or three months I would indulge in a binge of pornography. This was followed by grief, private confessions of how much I hated sin and how much I loved Jesus, and personal resolutions to never do it again. I remember feeling like the Israelites on spin cycle in the book of Judges. Sin. Grief. Weeping. Peace. Over and over and over again.
During this time I shared vague confessions with an assortment of friends. I confessed I was "struggling with purity stuff" without being specific about how much or how often. Each time I confessed, I really thought this would be the last time and that I could get past this struggle on my own. Instead, the deception only grew darker. No one had a clear view of what was actually happening in my life.
Living a lie is tiresome.
What made matters more difficult was the abundance of fruit God was producing through me. Our church had several hundred people coming. Lives were being changed. So I assumed God was overlooking my sin. I assumed I was somehow exempt from the destruction so many others had known.
The Letter
Near the end of 2006, I began dating the woman who is now my wife. Carrie was aware of my past struggles with sexual sin and was encouraged by the progress I'd made. About the same time, a friend named Reid Monaghan and I started making plans to plant a church in New Jersey.
On the eve of flying to Jersey to film a promo video for the new church, I wrote "the letter." I felt that if Reid and I were to work together, I needed to be honest about my past. So I composed an account detailing my sexual sins from the time I'd become a Christian up to that day.
That trip to Jersey began an intervention that I believe saved my soul, my marriage, and my ministry. Carrie and I met Reid at a coffee shop and through tears he said, "I love you, brother, but after reading your letter, I don't feel like we can move forward as partners. And to be honest, I don't think you should be a pastor right now."
No one had ever gotten in my face like that—or at least I had never listened. Most people were willing to overlook my struggles because of my perceived giftedness or personality. But Reid didn't care about any of that. He loved God, and he loved me.
Carrie and I returned home, met with a few trusted friends outside our church, and then set up a meeting with our elders. As I handed them a copy of the letter, I said, "My life and ministry are in your hands. Tell me what to do."
The Anvil
An anvil is a hard surface on which an object is laid to be struck. 2007 was the anvil on which I was struck by God's gracious hand. It was the most brutal year of my life, and I trust many of those elders' lives as well. My sin put those brothers through great anguish. They were good men who loved Christ and only wanted to see him magnified in their town. But I thrust a mess into their hands that neither they nor I knew how to navigate.
Somehow, the content of the letter was passed on to another person in our church. That person shared with others, and, well, if you've ever lived in a small town, you know what happened next. Rumors spread quickly, with speculations about every kind of darkness imaginable.
The elders suggested we hold a meeting for me to publicly confess my sin. We didn't have meaningful membership at the time, which left the meeting open to anyone who'd like to attend. As you can imagine, all sorts of people—some who had never even visited our church before—showed up.
Time moved slowly as I sat on stage that evening. My greatest fears were coming true, yet I was thankful for it. Living a lie is tiresome: the ever-present fear of someone finding my search history, the Devil blackmailing my heart with shameful reminders, and me pretending to be okay when I wasn't.
For the next hour I chronicled my sin for everyone in attendance. Another elder facilitated questions. Some people wept. Some yelled. Some stared with eyes that pierced more deeply than a sword. Some hugged afterward. Some walked away and never spoke to me again.
The following day, the church received calls from people who couldn't attend and asked if we could do it again. We did. Months of private meetings, interventions, counseling sessions, and tearful conversations followed. I often felt "done" with the process, but God assured me he would determine when we were done.
During those months my dog died, multiple elders resigned, and at least a dozen families left the church. On top of that, I had a near-fatal accident 50 days before my wedding. I was doing yard work when gasoline exploded, covering 12 percent of my body with severe second- and third-degree burns. While I was being prepped for a care flight, Carrie called the hospital to ask how I was. The person replied, "Yeah, he got burned real bad; he'll be okay. God sure knows how to give us what we deserve, doesn't he?"
Nothing was more painful than seeing my sinful choices shipwreck the faith of people I loved. My soul is still haunted by it.
Burns and barb-sharp words hurt, but nothing was more painful than seeing my sinful choices shipwreck the faith of people I loved. Many were able to forgive and move forward. But not all. Some felt unable to sit under the preached Word since they feared the preacher might be a fraud like me. I won't share details of their struggles and straying here, but my soul is still haunted by the devastating way my sin affected so many.
The Light
There's something freeing about the light, even if it makes you wince because you've been in the dark for so long. That year God reached into the darkness of my image-protecting hypocrisy, and pulled me into his liberating light. It was through this deliverance that I learned to trust him in ways that had only been theoretical before.
Coming into the light was scary. I handed over the reins of control to God, and other people. For so long I tried to control my world by covering up my sin, but God summoned me to surrender. I could do nothing in those days but open my hands and allow him to work through imperfect people and an imperfect process, in his perfect way.
I became convinced God could be trusted with the consequences of my disobedience. I also learned he wasn't just working on me in the process; my sin and confession became the conduit through which he worked in many other people. Their self-righteousness, unforgiveness, and unbelief were exposed as well. Swirling around so many of us were feelings of betrayal, shame, grief, confusion, anger, and fear. Yet in all the swirling, Jesus remained steady. He proved to be my Good Shepherd, and theirs.
A few months into the process, several beloved mentors encouraged me to leave and begin afresh elsewhere. But deep down, I knew that unless my church fired me, I should stay, no matter how awful the process. God convinced me through his Word that my sin had made this mess, and I needed to remain and endure its effects.
At one point, I remember lying face down on my bedroom carpet. I cried out, "I've confessed every sin I have ever committed, God. I don't know what else to do!" He didn't speak audibly to me, but I sensed him saying, "Now, I will begin to use you." The Lord had crushed me because he loved me, and because he wasn't finished with me yet.
The Restoration
After about a year, God closed that chapter of our church's life. Behind us were lessons learned and more collateral damage than I can bear to consider at times. The next chapter brought a new day with a new atmosphere in our congregation.
Many began confessing their own hidden sins. Self-righteousness was expelled, and supernatural healing came for me and for the church family that remained. I stayed on as the pastor for another two years before God led me away from that flock.
I shudder to think what would have happened had God never exposed my sin and crushed me as he did. It was the worst and best year of my life. I would never want to go through it again, but I wouldn't trade the nearness to God I gained from it for anything.
I shudder to think what would have happened had God never exposed my sin and crushed me as he did. It was the worst and best year of my life.
Here are five lessons I learned that can help others struggling with secret sin.
1. The pressures to pretend are real.
You don't need to be a pastor to know the pull to pretend you have it all together. None of us likes to be exposed. Our shame always seeks asylum in the dark. Our first parents knew this when they scurried into the shadows of Eden (Gen. 3:8).
If you're a pastor, remember that the pressure you feel to look capable and impeccable is not from the Father. It's Satan who disguises himself as an angel of light (2 Cor. 11:14). Don't fall for his call to conceal who you really are.
2. Hypocrisy must die.
Following my confession, a dear friend delivered a pointed message. With a firm yet gentle tone he said, "Jesus was very patient with sexual sinners, but he was very hard on hypocrites. You can't follow Jesus while pretending you don't really need him."
He was right. I preached sermons about needing Jesus, while only pretending to be living what I was preaching. If you don't take off the mask of hypocrisy and breathe the air of honesty, your soul will shrivel. The deception grows darker. You will begin to believe you are safe in your sin. Jesus died for our hypocrisies and rose to empower us to put them away.
If you don't take off the mask of hypocrisy and breathe the air of honesty, your soul will shrivel.
3. The time for honesty is now.
If you're hiding sin, you can come up with reasonable-sounding excuses to wait until next time to be honest. Your flesh will freak out, reassuring you it will never happen again. Don't fall for that trick. Today is the day to confess everything.
Jesus promised that everything done in the darkness will come into the light of God's judgment (Luke 12:2). Yet there's mercy for those who bring it into the light on their own before that great day. If you have unconfessed sin, will you resolve to be honest about it with God and another close, trusted Christian friend? If not, why not? What hinders you from honoring God by doing this? Whatever reasons you come up with will reveal the idols you're trying to draw life from instead of Jesus.
4. You can't do this alone.
You need someone in your life who knows you—who really knows you. Not who generally understands how you struggle, but who has a pulse on the state of your affections and sin struggles today. We all need someone along with whom we're constantly confessing and repenting and trusting in Jesus.
5. Jesus will never leave you.
No matter what honesty might cost you, Jesus will be with you (Matt. 28:20). He promises to never leave you or forsake you (Heb. 13:5). He promises you are complete in him (Col. 2:10). He promises nothing will separate you from his love (Rom. 8:31–39). He promises to complete the good work he began in you (Phil. 1:6). He promises to walk with you through whatever dark days accompany your honesty (Ps. 23:4).
Jesus has been so kind to you, hasn't he? Dear friend, his kindness is designed to lead you to repentance (Rom. 2:4). Today is the day to lay it all down.
And churches who may be left in the wake of a fall, don't despair. The Lord will care for you as you care for your pastor and for one another. Labor in prayer, seek wise counsel, and rely on Jesus, who remains the same yesterday, today, and forever (Heb. 13:8).
Get a FREE eBook to strengthen your family discipleship!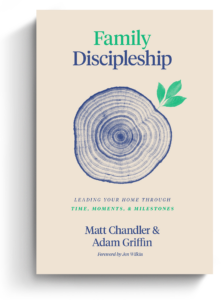 The back-to-school season is stressful for moms and dads. New rhythms of school, sports, and other extracurricular activities can quickly fill up a family's already busy calendar. Where do busy parents look for resources on discipling their family well? Aside from prioritizing church, what else can Christian parents do to instill healthy spiritual habits in their household?
Matt Chandler and Adam Griffin cover these questions and more in Family Discipleship: Leading Your Home through Time, Moments, and Milestones. And we're excited to offer this book to you for FREE as an eBook today.
Click on the link below to get instant access to your FREE Family Discipleship eBook now!