It's devastating for a wife to discover her husband pursuing sexual experiences outside of their marriage. Pornography, and the sexual fantasies that fuel its use, are unfaithful behaviors that break the sacred promise: I am devoted and faithful to you alone.
How should a wife respond when her husband continues to struggle with pornography, confessing yet another slip or fall? Should she keep forgiving when he keeps failing to kill this sin? Should she resign herself to live with it, because, well, isn't this just what men do, even Christian men? Or should she separate, even consider divorce, to end the pain of her troubled marriage?
Three Godly Responses
Let me suggest three ways to address your pain.
1. Grieve
God invites you to grieve the hurt, the broken trust, and the deep disappointment caused by your husband's pursuit of pornography. Grieving acknowledges the damage of sin and is a pathway toward the profound comfort God gives: "The LORD is near to the brokenhearted and saves the crushed in spirit" (Ps. 34:18).
Again and again in Scripture, God reminds you that you matter deeply to him.
2. Be Angry
It is not wrong to experience anger in the face of sins and temptations that remain this side of heaven. Sexual immorality in marriage robs both spouses of Christ-centered oneness and the joy of marital intimacy.
3. Seek Community
You need a trusted friend or spiritual leader walking with you. Many wives wrongly believe that submission and respect mean keeping their husband's sin private. Though it would be dishonoring to broadcast your husband's sins to everyone in earshot, a small group of godly and trustworthy friends are a precious comfort and help to your soul. A healthy church will look at you and say, "I am my sister's keeper."
Two Ways Forward
As you address your pain, the Lord calls you to seek out avenues of further redemption, not just for yourself but also for your marriage. Here are two additional responses to your husband's sin.
1. Learn
If your husband continues to struggle, learn more about this particular issue. Two trustworthy websites regarding sex addiction (including the effect on spouses) are the blogs of Harvest USA and Covenant Eyes.
2. Discern
As you learn more about his struggle with porn, do you see a positive trajectory of overcoming this sin, even if there are failures at points? Or is he stuck? Worse, is he giving up? Discerning whether he is really trying, with humility, to overcome his sin—or is just playing around with it—will help you know if you need to reach out to a pastor or elder who can come alongside you in confronting your husband, as Matthew 18:15–20 instructs.
This, my sister, is not betrayal of trust but a demonstration of courageous love.
This, my sister, is not betrayal of trust but a demonstration of courageous love.
One Primary Goal
Jesus-enabled love gives courage in marriage. You need boldness to address sin, helping your husband to ruthlessly engage the battle to starve the flesh and feed the Spirit (Gal. 6:7–9).
What might active love for Christ and your husband look like? Here are a few ideas.
Consistently pray for him and your marriage.
Communicate honestly about how he can best confess to you. What helps build trust without triggering fear in your heart or images in your mind?
Pursue holiness in your own life. Pain and fear might be tempting occasions to gossip, to be bitter, or even to pursue your own idols of sinful comfort. Beware of those sins and plead for the Holy Spirit's help to continue walking in godliness, even amid this excruciating trial.
Expect your husband to find, and maintain, effective accountability. Who are the men with whom he is completely honest? Who exhorts and encourages him in his battle with lust? Accountability enables you to rest, knowing others will take the more ugly hits of his confessions but will also hold him to being honest with you. It's his responsibility to establish accountability, not yours. If he refuses, remember that a godly response is for you to seek the guidance and oversight of trusted church community.
Ask your husband how you can assist him to flee temptation. We're told in 1 Corinthians 10:14 to flee idolatry, and that means no secret windows to climb through toward sin. Have you set up roadblocks with technology (filters on devices and TVs)? Smartphones and other devices may seem necessary, but they aren't. "If your hand causes you to sin, cut it off" entails a radical commitment to eradicate all inroads to sin (Matt. 5:30).
Sister, hoping in your trustworthy God, your Rock, will steady you in the weariness and pain of your situation. Jesus Christ has power to bring radical transformation to anyone mired in sin.
Through robust accountability and Spirit-enabled self-control, husbands can battle wisely, doing whatever it takes to starve out this sin. Brains can be rewired at the level of neural pathways. Behavioral habits can be retrained. Miracles can occur.
So don't lose heart or give up. The wounds you're experiencing are real, but they are not in vain, and they don't have to ultimately end in tragedy. Your hope-infused dependence on Christ's love and strength—and on a healthy church—can shape the way you move forward alongside your husband.
Get a FREE eBook to strengthen your family discipleship!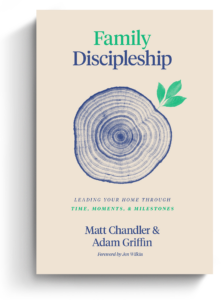 The back-to-school season is stressful for moms and dads. New rhythms of school, sports, and other extracurricular activities can quickly fill up a family's already busy calendar. Where do busy parents look for resources on discipling their family well? Aside from prioritizing church, what else can Christian parents do to instill healthy spiritual habits in their household?
Matt Chandler and Adam Griffin cover these questions and more in Family Discipleship: Leading Your Home through Time, Moments, and Milestones. And we're excited to offer this book to you for FREE as an eBook today.
Click on the link below to get instant access to your FREE Family Discipleship eBook now!