John Aiello was worried about his father.
Seventy-three years old and suffering from renal cancer, John Aiello Sr. didn't have much time left. And his son knew that even though Aiello Sr. said he believed in Jesus, his faith was missing something crucial.
"He'd say, 'I'm trying to live a better life,' but never anything about grace," said Aiello, executive director of Unlocking the Bible, a media ministry affiliated with Orchard Evangelical Free Church in Arlington Heights, Illinois. "And there was incredible uncertainty about facing his own death. He'd ask me, 'What do you think is going to happen when I die?'"
And then, one week before Easter 2011, Aiello Sr. accepted God's grace through faith in Jesus's death on the cross. The Bible story that finally brought it home is a short one—"it only takes up about three inches of text," Aiello said—but it has a long tail. More than 2,000 years after the thief was crucified next to Jesus, Aiello heard the story again from his pastor, Colin Smith.
Aiello told it to his dad, and the idea of grace finally clicked. And like the thief, the short conversion story of John Aiello Sr. has a long tail.
Through a book, a radio drama, and a Stephen Baldwin one-man play, the story of God's grace to the thief on the cross has reached millions in the last two years.
"You're always surprised by what the Lord does," Smith said. "It's essentially something very simple, but at the end of the day sometimes the things that are the simplest are the most useful. Here is a very familiar story, but placed in a fresh way. And God in his kindness has seen fit to use it."
The Sermon
Smith's sermon was part of an Easter series on the seven last sayings of Christ on the cross—not an unusual path for pastors to take around the holiday.
"I felt for a long time that the story of the thief on the cross was probably the clearest and simplest story for explaining the heart of the gospel," he said. Especially for those who believe Christianity is a tally of right and wrong, "this story just blows that out of the water."
"A week later, I went to visit John's father, and he told me the story of the thief on the cross," Smith said. "It was unusual because he was telling me the story like I'd never heard it before. I said to him, 'Are you telling me that you've come to believe in the Lord Jesus like the thief on the cross believed in the Lord Jesus?'"
"Yeah, I have," Aiello Sr. said.
"When did that happen?"
"Last week, when John told me the story," he said.
Impressed with the power of the story, Smith and Aiello wondered how they could get it in front of other nominal Christians like Aiello Sr.
It's not hard to find them. Of the 84 million adults who self-report as evangelical Christians in the United States, just 18 million meet the Barna Group definition, which includes making a personal commitment to Jesus Christ, believing when they die they'll go to heaven because they confessed their sins and accepted Christ as their Savior, and believing eternal salvation is only possible through grace, not works.
In other words, 38 percent of the American population in 2006 said they were evangelical Christians, while probably 8 percent actually were. And that total doesn't even include non-practicing Roman Catholics and mainline Protestants, among others.
To reach a wider swath of them, Smith decided to write a book.
The Book
Fleshing out the story of the thief on the cross isn't easy; the biblical account doesn't give much to go on. So Smith did some research, trying to imagine his most likely background.
The man gives himself away a little bit, asking his fellow criminal, "Don't you fear God?"
Using the language of "fearing God" implies he was familiar with the Torah, which is liberally sprinkled with that phrase. Therefore, "it's a safe assumption he would have been Jewish, so let's assume he had a traditional Jewish upbringing," Smith said. "For some reason he pushed against that, and gave himself to a life of crime. It must have been aggravated or even violent burglary for him to have been condemned to death."
Smith put on a "fictional front-end" and told the story in first person.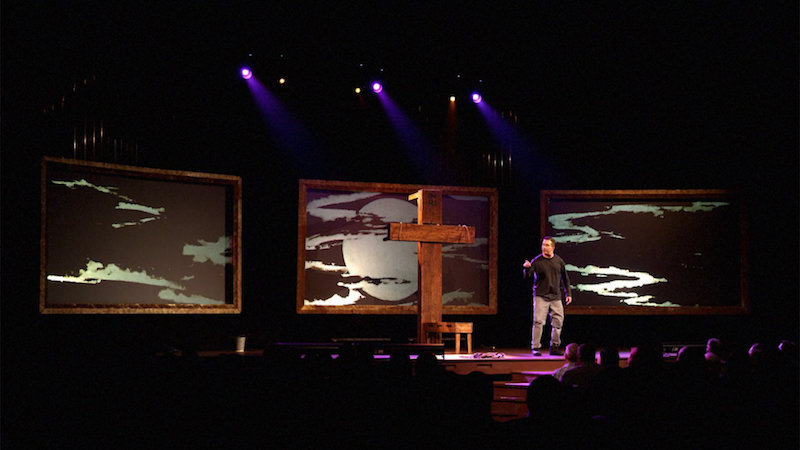 "The aha moment for me was realizing that the thief on the cross died after Jesus, and we know that because when they came to break the legs of the criminals, our Lord was already dead," Smith said. "So that means that the thief on the cross heard not only, 'You will be with me in paradise,' but 'I thirst' and 'Into thy hands in commit my spirit' and all the rest. He was a witness to the entire range of the words of Jesus spoken from the cross."
"Here's the thief, who puts his trust in Jesus, and he hears 'You will be with me in paradise.' And then he hears Jesus say, 'My God, why have you forsaken me?' and the world goes dark," Smith said. "It gave us a way to explore the reason Jesus was forsaken—that he was bearing the sins of others."
But it's asking a lot to expect the thief to understand all that theology while gasping for breath, minutes from death, and with a brand-new faith. So Smith moved the timeline ahead a little, imagining the thief telling the story from heaven.
At less than 100 pages, Heaven, How I Got Here is meant to be a quick read on the train to work in the morning, or an easy thing to pass out to friends and family. (See TGC's review here.)
One man bought 100 copies to hand out at his brother's funeral. A few more stuck a handful in their cars to pass out to whomever they run across. Some bought copies to give as gifts or to loan out. Over the last two years, the book has sold 50,000 copies.
"Having read this book I realized fully that one could be at the gates of hell and still receive the promise by just asking Jesus for his help and [giving] your life to him," one man wrote on Amazon.
The book is dedicated to Aiello and his wife, "in grateful memory of John, Sr., who also believed."
Audio Book and One-Man Play
Before the manuscript had even made it all the way through the editing process, Aiello took it to Tony, his brother-in-law's 84-year-old father.
"I read it out loud to him," Aiello said. "He was captivated."
So Aiello went back to Smith and suggested an audio book.
The two pulled together a team and brainstormed possible readers. They considered using Smith himself—who has a distinctive Scottish accent—or Unlocking the Bible's Steve Hiller.
"Then we thought, 'Could we think bigger?'" Aiello said. "We thought if we could cast a wider net and bring in somebody to do it, radio stations might pick it up."
Someone suggested turning it into a one-man play, and the team started looking for someone who could do both the audio and stage version. They did a Google search for Christian actors, and hit on names like Kirk Cameron, Jim Caviezel, and Kevin Sorbo.
But Caviezel's face made them think of Jesus, and Sorbo looks like Hercules. None of them felt right; all were too "squeaky clean."
Then Hiller said he knew a guy who knew Stephen Baldwin.
"I read part of his testimony, and it took me about 30 seconds to think, This is the guy," Aiello said. "This guy was made for the role."
"It needs a roughness of character," Smith said. "He has the background life that fits. . . . He indicated he could see something of his own self in the character."
Baldwin
The youngest of the acting Baldwin brothers, Stephen popped up in movies like Born on the Fourth of July, The Usual Suspects, and Bio-Dome in the late '80s and '90s.
"You can't be 21, 22, 23, living in New York City, Alec Baldwin's little brother, making a couple $100,000 a year, and not get sucked into the fast lane," he told CBN.
His Catholic parents took him to church, but "once I got old enough to choose for myself I never went back," he wrote in his autobiography, The Unusual Suspect. Baldwin "partied too much, drank too much, and snorted enough cocaine to throw the entire population of a small South American country into anaphylactic shock." He got kicked out of college, looked at enough Playboy magazines "that I should be blind," and would tear down the interstate on his motorcycle at well upwards of 100 miles an hour.
Then his wife Kennya hired a Christian housekeeper, and through her came to faith. Kennya prayed for Baldwin, face to the floor, for two hours every day. For a year.
Baldwin became curious, and dabbled around in Bible reading and church attendance. But he didn't take it seriously until the terrorist attacks of 9-11 drove home that "hey, anything's possible."
If anything's possible, Baldwin thought, Jesus could come back tomorrow. "And if that's true, where am I in my walk and in my understanding about God and the Bible and Jesus?"
He gave his life to Jesus and was baptized about a month later.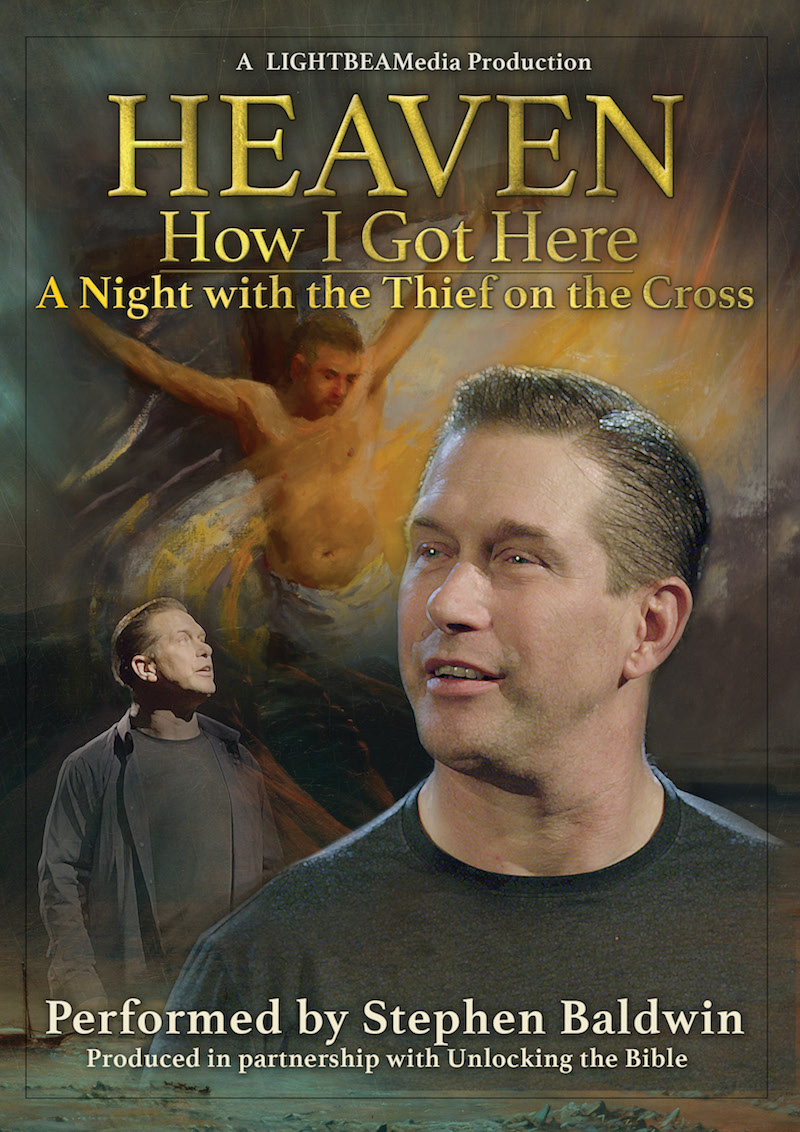 But even his conversion was a little rough around the edges. He immediately challenged God to a fight, telling him that "if all this turns out to be nothing but a lie I will spend the rest of my life waging war against you. But if this is all real, and it better be real, I will serve you with everything I've got."
Baldwin went from making movies like The Sex Monster and Half Baked to titles like I'm in Love With a Church Girl and Faith of Our Fathers. He partnered with the Luis Palau Evangelistic Association to create a skateboard ministry called Livin' It, and has shared his Christianity many times through interviews or speeches.
But his faith didn't smooth everything out. In 2009 he filed for bankruptcy. Three years later he was arrested for failing to pay taxes; he owed the state of New York more than $350,000. ("Unfortunately, I got some really bad suggestions and advice . . . from lawyers and accountants," he told reporters then, saying he didn't mean to avoid the taxes.)
He hasn't been shy about sharing his conservative political opinions, which clash with his Trump-spoofing brother Alec and liberal-leaning brother Billy.
He's not quiet about his faith either. He often read his Bible on Celebrity Big Brother, and baptized Hills star Spencer Pratt in a Costa Rican river while on I'm a Celebrity . . . Get Me Out of Here! Baldwin's Twitter is stuffed with Bible verses and references to his faith.
"He's so sold out for Jesus Christ," Aiello said. "He was pulled out of a life of disaster by the Holy Spirit, and that's the story we're telling. He was No. 1, 2, and 3 on our list."
The team asked Baldwin to be their thief.
Baldwin loved the character. But his gut reaction to the play was, "You gotta be nuts."
Baldwin hadn't done live theater since he was young. "I know what it takes, and it's not organically for me," he said. But the request gnawed at him.
"I'm one of those guys that doesn't take long to figure out when God is opening doors, so I agreed to do it," he said.
The audio book first aired as a radio drama in 2015 during Easter week. Heard on 250 stations around the country, the story reached about 1 million listeners. It aired again in 2016, this time also reaching into the secular market. Heard in eight of the top 10 largest U.S. markets, the story reached about 3 million, Aiello said.
"It was very clear early on, with the radio production we did of the audio book reaching millions of people around the world, that God's hand was on the opportunity," Baldwin said.
He first performed the one-man play, which was adapted Timothy Gregory, in 2015. (Gregory is the artistic director of Chicago's Provision Theater, which has producedThe Hiding Place, Shadowlands, and C.S. Lewis on Stage.) Gregory's script added a few more characters—a mother, a brother, a priest. The main character also picked up a first name—Stephen. ("Hey, we don't know his name wasn't Stephen," Aiello said.)
Coming off an international flight, with just five days to learn the entire hour-long script, and with barely any previous theater experience to draw from, Baldwin asked God to give him what he needed.
"With this particular artistic piece, I had nothing else to count on," he said. "It was a full-blown Spirit-filled performance."
According to Baldwin, that's the best kind. "If naturally actors seek truth, and as a Christian I know what the truth is, then what you really seek is the Spirit. There is no more pure form of acting than born-again acting."
Playing the thief gave Baldwin a "soul punch" when God allowed him to see the thief's humility. "What the thief experienced while he was hanging there was the humility of his revelation. He finally got to the place where he says to himself, If this guy really is who he says he is, I'm just going to say, 'Remember me.' That tiny little measure of faith was all he needed."
Getting the audience to see that is the entire goal, Aiello said. "How do you get a reader or listener or viewer to say, 'I see some of myself in here'? . . . Those people saying, 'I'm living a good life.' How do you strike a chord with them?"
Baldwin found a way. In 2015, Orchard sold out its 800-seat auditorium six times in less than a week.
Sold Out
"About 5,000 attended," Aiello said. "Seventy percent didn't go to our church. We heard numerous stories of atheists, Muslims, Catholics coming to see it. . . . Stephen nailed it. It was very powerful."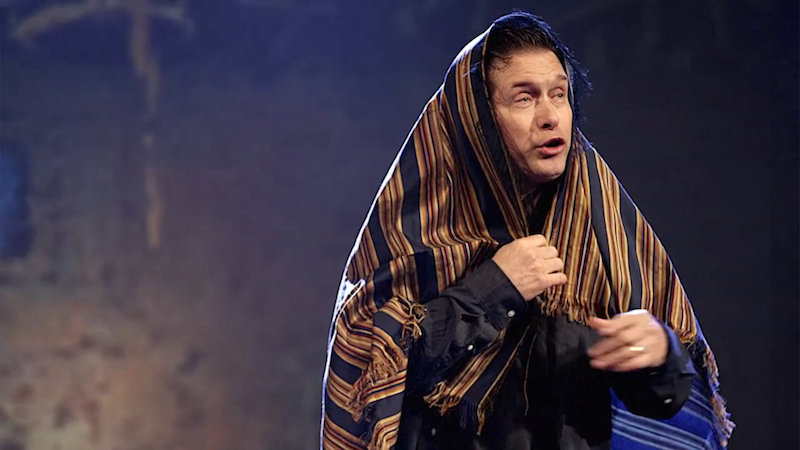 They did it again in 2016, but this time Baldwin brought a Hollywood film crew with him. The filmed performance will be available on DVD on April 8.
"It was by far the most successful evangelistic effort the church has done in 60 years," Aiello said.
One of Baldwin's favorite lines: "I had breakfast with the Devil, and supper with the Savior."
Smith liked it too. It was the name of his original sermon.
What's Next
This week, the filmed one-man play was released on DVD and digital download. The audio performance will hit airwaves around the world again next week, reaching a potential audience of more than 100 million English- and Spanish-speakers over Christian and secular radio. A Spanish-speaking actor watched Baldwin's performance last year and will perform it this Easter for Willow Creek Community Church's Spanish-speaking congregation, Casa De Luz.
The book has been translated into Spanish, Hungarian, Polish, and Dutch.
"We have yet to scratch the tip of the iceberg here when you look at the number of people who fit the profile of my dad or don't know Jesus," Aiello said. "There are millions of them in our own country. We're following the Lord's lead on this."
Tony is 87 now, and has spent the last two months in a Veterans Affairs hospital. He got to watch the play last year, and last month Aiello brought his Bible and his copy of Heaven, How I Got Here when he visited.
Aiello asked to pray with him, and Tony started, "Jesus, please forgive me. I'll try to do better."
"I stopped him, and told him it wasn't about doing better. Look at the thief on the cross—he didn't have a chance to do better," Aiello said. Tony finally got it, and gave himself over to Christ.
"It was an unbelievably cool exclamation point," Aiello said. "Without him, there would be no audio book. And now the Lord used it to bring [Tony] to himself."