For James Winans, the message to the public about how to deal with the COVID-19 outbreak is clear, but troubling: "'Stock up at home, stay at home, work from home'—as if everyone has a home."
As interim CEO of The Bowery Mission in New York City, Winans knows how unreachable many of these guidelines are for those in homelessness, and this poses serious dangers, not only to those he and his staff serve, but to the greater public.
As the outbreak upends our daily lives, many believers likely haven't realized how this crisis is playing out for their neighbors on the streets—or that there are ways they can help.
The Reality
Some reasoned that Italy's older-than-average population made them especially vulnerable to the virus. But as Newt Gingrich pointed out in Newsweek on March 13:
America has a uniquely vulnerable population, too. There are tens of thousands of homeless people in Los Angeles, San Francisco, Portland, and Seattle. If the coronavirus ever began spreading among those folks, who already suffer from malnutrition and other health problems, the losses could be catastrophic.
Regardless of age, individuals struggling with homelessness are often considered medically geriatric, and many have significant underlying health conditions. Even before this outbreak, the average age expectancy of homeless people in the United States was about 50 years old.
Many believers likely haven't realized how this crisis is playing out for their neighbors on the streets—or that there are ways they can help.
Not only is it difficult for this population to self-quarantine, but they often depend on community settings for basic needs like food, shelter, showers, bathrooms, and the ability to wash their hands. This is a crisis in the making, not only for the homeless population, but also for the communities in which they live.
The Response
Homeless-service providers qualify as "essential businesses," much like hospitals. Across the country, as cities are shutting down, homeless missions and shelters are ramping up. There are few alternatives. As Michelle LeBeau, director of church partnerships of San Diego Rescue Mission, puts it, "We have to be Jesus to these people right now."
Amid rapidly changing and increasingly challenging circumstances, many homeless-service providers are retooling their processes to maintain life-sustaining services and add extra practices for hygiene.
We have to be Jesus to these people right now.
They have cut non-essential programs, adopted rigorous and labor-intensive cleaning practices, and modified their services to provide safe distances between people. Meals previously served in dining halls are now served in to-go containers out of doorways and windows. Service providers are "de-intensifying shelters" and, where space allows, designating areas of their shelters as quarantine zones.
"We've also called on our staff to dig deep," says Nicole Tschetter, public relations and media specialist at Denver Rescue Mission. When direct service staff fall ill, often non-direct-service staff step in.
All this is happening amid shrinking resources. As high-risk and cautious volunteers bow out, staff are stretched between their usual duties, new cleaning schedules, and volunteer roles. The closing of libraries, restaurants, and rec centers removes vital public bathrooms, "severely degraded the hygiene capacity of people on the street at exactly the wrong time," Winans says. And food donations that make up the backbone of meals programs will soon be threatened as food banks are stressed, restaurants are closed, and grocers are at max capacity.
Rescue missions cannot do it alone.
What You Can Do
"The body of Christ is uniquely equipped to serve our neighbors in difficult times," said Erin Holcomb, director of staff ministry at Portland Rescue Mission. "Throughout the epidemics of history, God's people have shown up to care for those in need, understanding that our hope is in the King of the universe, including the microscopic parts of it."
Homeless-service providers throughout the country consistently report that they need help in key areas—prayer, volunteers, donations, supplies, and advocacy.
Pray. Pray for government leaders to have wisdom and discernment. Pray for the safety and healing of all who are medically vulnerable, for shelter staff and volunteers, and for first responders and frontline medical workers. Consider calling your local mission or shelter to ask how you can pray specifically for your area.
Volunteer. This seems counterintuitive amid cries for social distancing. But this is a vital—if not risk-free—ministry opportunity for Christians who are low-risk, don't live with anyone in who is high-risk (older than 60 and/or with underlying health conditions), and in good health. Contact your local shelter to ask. Some have all but cut all volunteers, while others are not able to function without them—or may need support and time to adjust their practices to go without.
Donate funds. Shelters and missions are incurring new costs as they purchase protective equipment, cleaning supplies, and to-go containers. Staffing costs are growing as employees accrue overtime and temporary staff are hired to fill gaps.
Donate goods and supplies. Shelters depend on donations such as blankets, socks, and hygiene items. Call or email your local shelter to ask about their needs. Donate any goods you have at your disposal, or have them shipped directly to the shelters from Amazon.
Advocate. Contact your local shelter or check their social-media page for any issues you might be able to address with local officials. Does your city need quarantine shelters for those with symptoms? Is there a need for hand-washing stations in your area? Are you able to respectfully bring those to the attention of your city officials?
Rescue missions and shelters are beacons to "the least, the last, the lost, people dealing with addiction, people who fell through the cracks," says Ivan Klassen, executive director of Los Angeles Mission Foundation.
To get through this trying time, Holcomb adds, "One of the things we're counting on is the support of Christians. We can't go on without it."
Get your FREE 7-day devotional!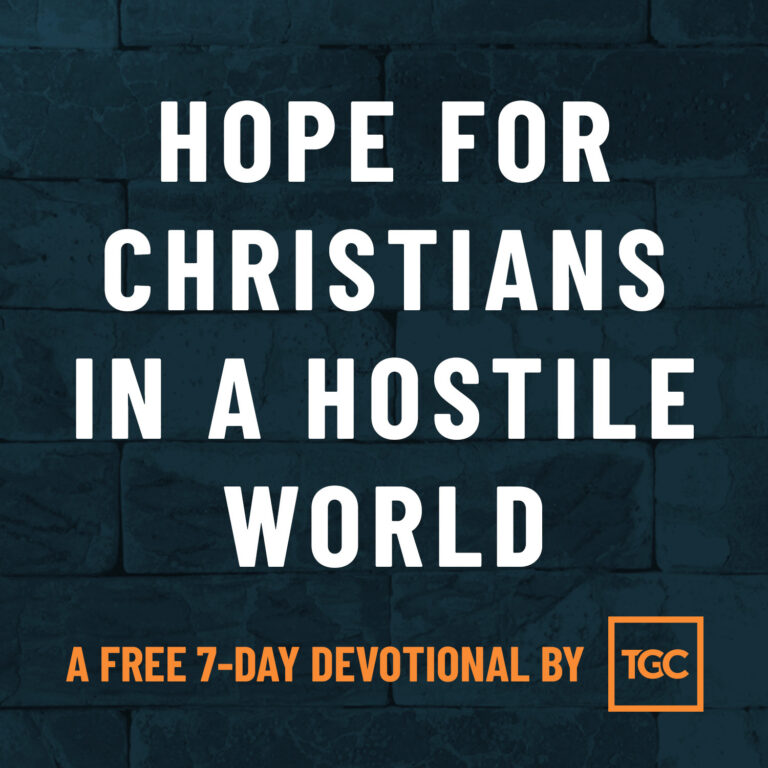 God's people have always been strangers and sojourners in this world. Do you feel that way, too?
You're not alone. Since the church's beginnings, Christians have often felt ostracized. And the Bible offers great encouragement for how to live with hope.
If you're feeling the weight of cultural exile today, our new 7-day devotional, Hope for Christians in a Hostile World, will encourage you.
If you sign up for this FREE resource, we'll send you an email each day for a week with a daily devotional featuring Bible readings and reflections written by TGC staff and friends.