How did the obscure, marginal, Jesus movement become the dominant religious force in the Western world in a few centuries?
That is the subtitle of Rodney Stark's The Rise of Christianity, a book that explores a number of key factors—one of which is plagues. Indeed, to understand the rise of this "obscure, marginal Jesus movement," we need to understand its remarkable response to plagues. 
Here I'll briefly mention four pandemics in history and how the church has responded in the way of Christ. As we note their examples, let's be inspired by their faith—even if we might make some adjustments for our own time and circumstances. Their impulse to move toward the needy, displayed in heroic sacrifice, is entirely Christlike; we dare not be less sacrificial in the love we seek to embody. At the same time, the wisdom of such moves in our own day, when we may ourselves be carriers of the infection, needs careful thought. As we look to these historic examples, let the Spirit lead us in our application. But let our own spirits be stirred toward faith, hope, and love. And may we—with our own pandemic—live out the wisdom and way of Jesus before a watching world.
1. Dionysius, Bishop of Alexandria
The Plague of Cyprian (249–262 AD) was a lethal pandemic that, at its height, caused upwards of 5,000 deaths a day in Rome. While the plague severely weakened the Roman empire, the Christian response to it won admiration and a greater following.
May we—with our own pandemic—live out the wisdom and way of Jesus before a watching world.
Dionysius, bishop of Alexandria, reported: 
Most of our brother Christians showed unbounded love and loyalty, never sparing themselves and thinking only of one another. Heedless of danger, they took charge of the sick, attending to their every need and ministering to them in Christ, and with them departed this life serenely happy; for they were infected by others with the disease, drawing on themselves the sickness of their neighbors and cheerfully accepting their pains. Many, in nursing and curing others, transferred their death to themselves and died in their stead.
This evident Christlikeness—taking death in order to give life—stood in stark contrast to those outside the church. Dionysius continues:
But with the heathen everything was quite otherwise. They deserted those who began to be sick, and fled from their dearest friends. They shunned any participation or fellowship with death; which yet, with all their precautions, it was not easy for them to escape. (Eusebius, Eccl. Hist. 7.22.7–10)
Plagues intensify the natural course of life. They intensify our own sense of mortality and frailty. They also intensify opportunities to display countercultural, counterconditional love. The church rose to the challenge in the second century, winning both admirers and also converts. A similar dynamic was at play a century later. 
2. Cyprian, Bishop of Carthage
Stark reckons the Christian population in AD 251 to have been just shy of 1.2 million—that's 1.9 percent of the empire. It's an incredible increase from the second century, though the church still represented only a tiny minority within the empire. Counterintuitively, though, another plague contributed to the church's onward march.
This plague was different (perhaps measles, though we're unsure), but the mortality rates were just as high as those a century earlier. Towns in Italy were abandoned, some of them forever. The military and Roman infrastructure were massively weakened. Once again, though, Christians shone in the midst of the trial. 
Cyprian, bishop of Carthage, put it like this:
How suitable, how necessary it is that this plague and pestilence, which seems horrible and deadly, searches out the justice of each and every one and examines the mind of the human race; whether the [healthy] care for the sick, whether relatives dutifully love kinsmen as they should . . . whether physicians do not desert the afflicted.
The plagues "search" us. They discover in us either the way of the flesh (self-preservation) or the way of the Spirit (self-giving sacrifice). The third-century plague found in the church a Spirit-filled people, willing to walk the way of their Master. 
Plagues intensify the natural course of life. They intensify our own sense of mortality and frailty. They also intensify opportunities to display countercultural, counterconditional love.
Christian death rates were significantly lower than those of the general population (perhaps only 10 percent, though the word "only" is a fearful qualifier). The mutual love of brothers and sisters in Christ meant that, on the one hand, those who provided care were at a higher risk of infection, but on the other, those who were infected had better survival rates. As these Christians made themselves vulnerable to death, they actually found life. Once the plague had swept through, Christians were stronger. They were stronger as a proportion of society, since more of them survived. They had more resilience because they had a robust hope in the face of death. And they were stronger as communities, forging even closer bonds through the sufferings they'd faced. 
If you want to know how Christianity went from an obscure and marginal movement to representing around 6 million believers by AD 300, Rodney Stark will tell you: plagues were a huge factor.
3. Martin Luther, Wittenberg
From the 14th century onward, the Black Death haunted Europe. In just five years it wiped out as much as half the population, with urban areas particularly affected. Outbreaks continued recurring in the following centuries, including the plague that struck Wittenberg in 1527. Many fled, yet Luther and his pregnant wife, Katharina, remained to care for the sick, citing Matthew 25:41–46 as their guide:
We must respect the word of Christ, "I was sick and you did not visit me." According to this passage we are bound to each other in such a way that no one may forsake the other in his distress but is obliged to assist and help him as he himself would like to be helped.
Luther spoke of circumstances where fleeing was permitted and, ever conscious of our propensity toward self-righteousness, he warned Christians not to judge one another for different decisions. But in writing of his own commitment, he remarked: 
We are here alone with the deacons, but Christ is present too, that we may not be alone, and he will triumph in us over that old serpent, murderer, and author of sin, however much he may bruise Christ's heel. Pray for us, and farewell. (Letter dated August 19, 1527)
Notice how both Satan and also Christ loom large in Luther's thinking. Satan is a murderer from the beginning (Luther has in mind Genesis 3:15), and he stands behind the plague.
The early Christians had more resilience because they had a robust hope in the face of death. And they were stronger as communities, forging even closer bonds through the sufferings they'd faced.
Yet Christ is far stronger, and far more involved. He is in those providing care, he is (per Matt. 25) in the sick, and he is in the victory the church will experience over Satan—a victory that includes even the smaller "deliverance" of recovery from the plague. Luther and Katharina survived, and the way of Jesus was vindicated in this intense trial. 
4. Charles Spurgeon, London
By the 1850s, London was the most powerful and wealthiest city in the world, with a population of more than 2 million. A cholera outbreak in 1854 struck fear into the hearts of Londoners.
Charles Spurgeon, only 20 years old at the time, came to the capital to pastor New Park Street Chapel. He would look back to this plague as a key time of learning both for himself and also for the city.
If there ever be a time when the mind is sensitive, it is when death is abroad. I recollect, when first I came to London, how anxiously people listened to the gospel, for the cholera was raging terribly. There was little scoffing then.
He tells the story of visiting a dying man who had previously opposed him:
That man, in his lifetime, had been wont to jeer at me. In strong language, he had often denounced me as a hypocrite. Yet he was no sooner smitten by the darts of death than he sought my presence and counsel, no doubt feeling in his heart that I was a servant of God, though he did not care to own it with his lips.
The sinking sand of this world is a constant reality—but it often takes the storms of this life to reveal it. Spurgeon saw the plagues of his day as a storm that led many to seek refuge in Christ the Rock.
What About Today?
There are many factors that set our age apart from others. Before modern hospitals there was no specialized, professional health care. What's more, previous generations ministered to the sick with little knowledge of how their diseases were transmitted. Carers can be carriers, even when asymptomatic. In such scenarios, self-isolation can be the most loving thing to do, rather than infecting the ones we're seeking to love. While the outworking of love may look different in different ages, love must still be the aim—a love directed by the Holy Spirit, not our self-centered flesh.
So may we:
Point to the sinking sand of the world—the weakness of our flesh, the uncertainty of the markets, the mortality of us all.
Preach and prize Christ the Rock—knowing that he alone can, and he alone will, weather the storms. 
Love our neighbors—moving, in Christ, toward those in need.
And may God be pleased to work again through this trial to glorify Christ's name and extend his kingdom.
Editors' note:
These four lessons come from a video produced by Glen Scrivener, which features three additional examples from church history about Christians persevering in the face of pandemics.
Get a FREE eBook to strengthen your family discipleship!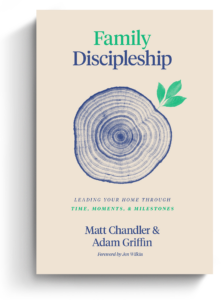 The back-to-school season is stressful for moms and dads. New rhythms of school, sports, and other extracurricular activities can quickly fill up a family's already busy calendar. Where do busy parents look for resources on discipling their family well? Aside from prioritizing church, what else can Christian parents do to instill healthy spiritual habits in their household?
Matt Chandler and Adam Griffin cover these questions and more in Family Discipleship: Leading Your Home through Time, Moments, and Milestones. And we're excited to offer this book to you for FREE as an eBook today.
Click on the link below to get instant access to your FREE Family Discipleship eBook now!