A few months ago, the Lord gave me a gift I wasn't expecting. After a sudden and difficult resignation from my church, I was out of pastoral ministry. For years my wife and I had dreamed about taking a sabbatical, and now we had one.
Of course, it was under circumstances much different than we'd hoped, but it has been a fruitful and productive time. Initially I thought I was fine and ready to move on, but as the weeks passed, I realized I was more broken than I first thought. There were areas of sin, and a general unhealthiness, that needed addressing. If it hadn't been for this unplanned sabbatical, I wouldn't have had opportunity to think through these vital matters.
One thing I've come to understand is my need for rest—not just preaching it to others, but embracing it myself. Here are five lessons I'm learning.
1. Prioritize Holiness
A big part of pastoral ministry is the pursuit of God (2 Pet. 3:18). Pastors, of all people, should know that, but our lives often betray us. Sometimes we're better at pointing others to Christ than running to him ourselves. Robert Murray M'Cheyne put it memorably: "My people's greatest need is my personal holiness." Preaching holiness without pursuing holiness is a lethal endeavor (James 1:22–25).
In many ways, my sabbatical has been about returning to the basics. I've enjoyed a renewed emphasis on things like Bible study, prayer, worship, fasting, silence and solitude, and Scripture memorization. If your ministry is about pointing others to God, but your own heart isn't inclined toward him, something is wrong. The spiritual disciplines remind us that our own relationship with the Lord must be prioritized.
If your ministry is about pointing others to God, but your own heart isn't inclined toward him, something is wrong.
Pastor, don't keep driving on empty. Slow down and allow yourself the time to pursue a life of holiness and godliness (1 Tim. 4:8; Heb. 12:14).
2. Take a Day Off
Regardless of your theology of the Sabbath, I can say with certainty that you need rest. If you burn the candle at both ends, don't expect to function and shepherd well. Even the strongest men eventually crash and burn out (Isa. 40:30–31).
For years it was a family tradition for Friday to be our off day. With me pastoring and my wife homeschooling our kids, we had that freedom, and it worked well. The kids looked forward to Friday, and we tried to make it a balance of fun and relaxation. Keep in mind, however, that a day off is not just a day to do as you please (Isa. 58:13). It's a day to rest, recharge, and, above all, to seek the Lord.
3. Watch Your Tech Intake
One of the unhealthy patterns I've identified during my sabbatical is a tendency to check email far too much. I need to stop during this time of rest. Much has been written on the dangers of tech gluttony; it's impossible to deny how harmful it is to the soul. One danger is it tends to orient us in an earthly direction, rather than a heavenly one (Col. 3:2).
Some pastors spend too much time on social media. Others have an unhealthy obsession with politics and current events. Perhaps it's something else for you. If such habits are keeping you from prayer and the ministry of the Word (Acts 6:4), then change is in order.
4. Don't Underestimate Exercise
My body craves exercise. I grew up on a farm, I was heavily involved in sports, and the jobs I had before pastoring were all labor-intensive. Every pastor is different, of course, but we all need to carve out time for "temple maintenance." There were times I neglected exercise due to ministry's stressful demands. This was a dangerous compromise with a negative outcome.
Figure out what works for you, but I would commend hiking. Not only do you get in some exercise, but it's a great time to pray and worship and enjoy the beauty of God's creation.
5. Lean into the Body of Christ
After my resignation from the pastorate, the Lord led our family to a faithful church in the area. This was new territory for me, because for 11 years I'd been the one leading the worship service. But now I've had the opportunity to sit under excellent expository preaching, to be fed by God's Word, and be ministered to by leaders and fellow members alike.
This was a unique gift from God. I realize not every pastor will have this kind of opportunity, but it reinforced to me the value of Christian community. Don't fight the good fight alone. God has placed godly men and women around you who can speak truth you need to hear. Be open. Be humble. Expect Christ to use his church in your life.
Not Above Rest
I'm thankful for this unplanned sabbatical. My resignation was difficult and painful, but God has used it in many ways, including to help me better understand rest.
Wherever you're at in ministry, strive to prioritize rest in your life. It is a gift from God for your good.
Get a FREE eBook to strengthen your family discipleship!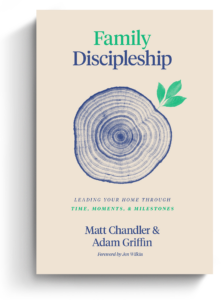 The back-to-school season is stressful for moms and dads. New rhythms of school, sports, and other extracurricular activities can quickly fill up a family's already busy calendar. Where do busy parents look for resources on discipling their family well? Aside from prioritizing church, what else can Christian parents do to instill healthy spiritual habits in their household?
Matt Chandler and Adam Griffin cover these questions and more in Family Discipleship: Leading Your Home through Time, Moments, and Milestones. And we're excited to offer this book to you for FREE as an eBook today.
Click on the link below to get instant access to your FREE Family Discipleship eBook now!