Editors' note:
The NIV Zondervan Study Bible was re-released in 2018 under the title NIV Biblical Theology Study Bible. Some links below and the video above have been updated accordingly.
Today marks official release of the NIV Zondervan Study Bible (NIVZSB) edited by Don Carson. The NIVZSB centers on biblical theology—the "ways in which many important themes work their way through Scripture and come to a focus in Jesus Christ." With this focus on God's unfolding revelation in the storyline of Scripture, the NIVZSB unpacks his redemptive work in Christ book by book.
In the next few weeks TGC will be featuring NIVZSB articles by Tim Keller (on the story of the Bible), Kevin DeYoung (on sin), and Sam Storms (on prophets and prophecy). In the meantime, watch the video above as Carson joins Mark Mellinger to discuss the NIVZSB, the NIV translation, the 66-person team of contributors, and more. Then take a look at this 50-page sample as well as an overview of the features and endorsements below.
---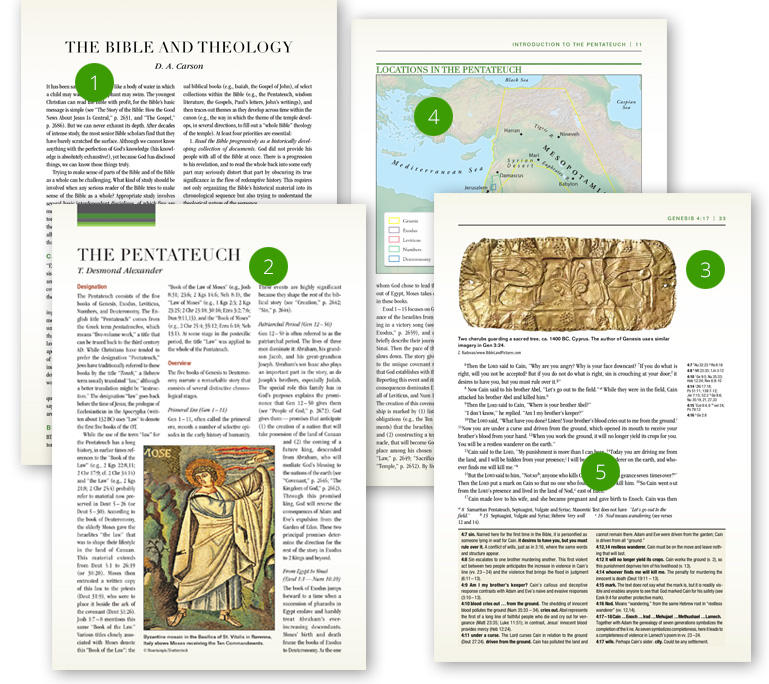 Features
(1) 28 articles by biblical experts on theological topics such as "The Covenant," "The Glory of God," and "Love and Grace."
(2) Section introductions to the Bible's literary genres as well as comprehensive book introductions including purpose, theme, outlines, and photos.
(3) Hundreds of color photos (e.g., biblical artifacts) are placed within the Scripture text.
(4) More than 90 color maps with explanatory notes placed near relevant passages.
(5) One-column NIV text for easy reading.
---
Endorsements
"A magnificent achievement. The illustrations are stunning and the maps are expertly done. Most important, the content in both the articles and the commentary is superb. Every Bible reader and person in ministry should turn to it often for help."
— Thomas R. Schreiner, professor of New Testament interpretation and associate dean, The Southern Baptist Theological Seminary
"This is a study Bible like no other! It's not every study Bible that brings a layman-accessible seminary education with it, but this one surely does."
— Fred Zaspel, pastor, Reformed Baptist Church in Franconia, Pennsylvania, and adjunct professor, Calvary Baptist Seminary
"It has precisely the kinds of helps a Bible reader would hope to find to aid one's understanding and appreciation for what the Bible teaches. This study Bible has all the marks of greatness about it, both in its introductory articles and the accompanying notes, pictures, and graphs."
— Walter C. Kaiser Jr., president emeritus, Gordon-Conwell Theological Seminary
"This NIV Zondervan Study Bible is a tremendous tool for informed Bible reading and study. The notes are written by the best assembly I've seen of faithful, international scholars. I highly recommend this publication."
— Tim Keller, senior minister, Redeemer Presbyterian Church in New York City
"With brand-new notes and maps, pictures of the land and artifacts, and more thorough introductions to the biblical books, this interactive Bible will serve a new generation of serious Bible readers in a whole new way."
— Michael Wittmer, professor of systematic theology, Grand Rapids Theological Seminary