Following a one-year delay and massive skepticism about whether the Olympics should be played in a city that was placed under a COVID-19 state of emergency, the Tokyo Games are underway. No fans are in the stands, but millions are watching from around the world.
More than 11,000 athletes from 206 countries are competing in 339 events. Six new sports were added to the Olympic program for the Tokyo Games, with four making their Olympic debut. Baseball and softball have returned for the first time since 2008, while skateboarding, surfing, sport climbing, and karate are all making their first appearance.
If you're looking for a few athletes in particular to cheer along, we recommend following these six Christ-following competitors.
Sydney McLaughlin, Track and Field, United States
Only 21, Sydney McLaughlin is already competing in her second Olympics, and she's favored to win gold. The New Jersey native broke the world record in the women's 400-meter hurdles at the U.S. Olympic Track and Field Trials in June, becoming the first woman to go under 52 seconds when she posted a time of 51.90.
After setting the mark, McLaughlin was quick to praise God. "I think the biggest difference this year is my faith, trusting God and trusting that process, and knowing that he's in control of everything. As long as I put the hard work in, he's going to carry me through." McLaughlin simply states in her Instagram bio, "Jesus saved me."
Kyle Snyder, Wrestling, United States
He won gold in the 97kg/213 lb. freestyle wrestling class at the 2016 Rio Games as a 20 year old, becoming the youngest Olympic wrestling gold medalist in U.S. history. Kyle Snyder is now 25 and a favorite to defend that title. It won't be easy, though, as he's likely to face Russia's Abdulrashid Sadulaev, who won 2016 Olympic gold at 86kg before moving up in weight.
When the foes met at the 2018 World Championships, Sadulaev pinned Snyder just 70 seconds in, marking Snyder's first loss on the global championship stage. Afterward he was asked by a reporter, "Champions are often defined not by wins but by losses. How is this loss going to define you?" He responded, "Wins or losses don't define me. I mean, I love wrestling; it's a big part of my life; but I'm not defined by the sport. I'm defined by my faith in Jesus."
Helen Maroulis, Wrestling, United States
When Helen Maroulis became the first U.S. female wrestler to win Olympic gold, she did so by taking down arguably the greatest women's freestyle wrestler in history. Maroulis stunned Japan's Saori Yoshida, the three-time defending Olympic champion, to win the 53kg/116.5 lb. event at the 2016 Games. What kept her calm while on her sport's biggest stage? The refrain "Christ is in me; I am enough." Reflecting on the win, she told Sports Spectrum magazine this summer, "I just remember thinking, 'Wow, God, not many people win the Olympics. This is so cool because it was a goal for so long and it felt so out of reach for so long that I just assumed you needed to be pretty much superhuman in order to win.'"
Maroulis, 29, briefly retired in 2019 following severe concussion symptoms and suffered another injury—a torn MCL—just two and a half weeks before the U.S. Olympic Wrestling Trials in April. Yet she battled through to earn a shot at defending her Olympic gold.
Micah Christenson, Volleyball, United States
Born and raised in Honolulu, Micah Christenson's middle name is Makanamaikjalani, which means "gift from heaven." His parents gave him the name because they had trouble conceiving, and then his mother needed an abdominal surgery while in her third trimester with Micah in the womb. "I had a high possibility of dying, and so for me to continue to be alive, basically, and be born, was their little gift from heaven," he told Sports Spectrum magazine in 2020.
Now 28, Christenson describes himself as a "servant of the King" and is the setter for the U.S. men's volleyball team—its "quarterback," because the offense flows through him. The Americans entered Tokyo ranked No. 4 in the world, seeking their first gold since 2008. Christenson and the U.S. men won bronze at the 2016 Games.
Michael Andrew, Swimming, United States
He turned pro at 14, the youngest U.S. swimmer to do so. Now 22, Michael Andrew is competing in his first Olympics. He already placed fourth in the 100m breaststroke, but will seek his first Olympic medal in the 200m individual medley and the 50m freestyle. Every time he swims, people like to mention his unorthodox methods, including USRPT (ultra-short race-based training).
After qualifying for the Tokyo Games, Andrew made sure to mention Jesus: "This outcome is today, where we are now, and it's amazing, but it's perishable. And I think I can stand up on the blocks today and tomorrow and the rest of my life with a lot of freedom, knowing that it doesn't increase my worth and my value to my friends, my relationships, my family, and ultimately, with Jesus Christ."
Melissa Gonzalez, Track and Field, Colombia
Melissa Gonzalez is the Colombian national record-holder in the women's 400m hurdles, and gearing up to compete in her first Olympics. The 27 year old was born and raised in Texas, where she met her husband, David Blough—a backup quarterback for the Detroit Lions—in high school. Gonzalez competed at the University of Texas, but she holds dual citizenship because her father, Hector, was born in Colombia.
Wherever she's living, she aims to make a stance for Christ. "I'm not willing to compromise my beliefs," Gonzalez told SportGoMag.com. "Yes, it may be easier, and much more comfortable, to go along with whatever my teammates are doing, but it's not what we're called to do as Christ followers. We're not promised a comfortable life. In fact, if we choose to follow Christ, we are promised to face opposition and persecution."
Editors' note:
For a daily resource for sports news, covering athletes and other sports figures who are expressing their faith in Jesus, check out the multimedia work of Sports Spectrum.
Get your FREE 7-day devotional!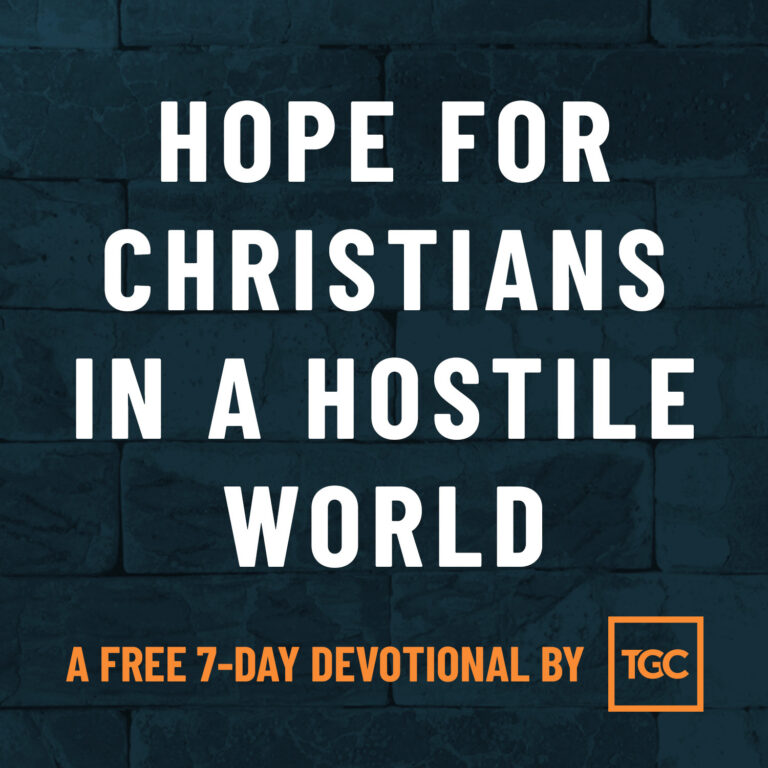 God's people have always been strangers and sojourners in this world. Do you feel that way, too?
You're not alone. Since the church's beginnings, Christians have often felt ostracized. And the Bible offers great encouragement for how to live with hope.
If you're feeling the weight of cultural exile today, our new 7-day devotional, Hope for Christians in a Hostile World, will encourage you.
If you sign up for this FREE resource, we'll send you an email each day for a week with a daily devotional featuring Bible readings and reflections written by TGC staff and friends.