The Story: After having his website shut down by federal authorities, the CEO of Backpage.com has pled guilty to money laundering and facilitating prostitution.
The Background: Last month I reported that Congress passed new legislation to limit online sex trafficking. The legislation closed a loophole in a two-decades-old federal law that exempted websites from being subjected to civil action or criminal prosecution relating to either sex trafficking of children or sex trafficking by force, fraud, or coercion.
Even before President Trump signed the bill into law it began to have an effect. Reddit—known as the "front page" of the internet—barred several prostitution-related forums hours after the Senate passed the bill, and Craigslist shut down the portion of its website that allows individuals to seek encounters with strangers.
However, there remained one prominent holdout. It initially appeared that Backpage.com—America's largest website for prostitution-related classified ads—was not going to changes its practices. But on April 7, U.S. law enforcement agencies seized and shut down the website as part of an enforcement action by the Federal Bureau of Investigation. And yesterday Carl Ferrer, CEO and co-founder of Backpage, cut a plea deal with state and federal prosecutors. As part of the deal, Ferrer admitted he knew the site had become a massive online marketplace for prostitution.
In his plea agreement, Ferrer admits that over the 14 years the website has been in business, the "great majority of its revenues" came from advertising prostitution services. The CEO also admitted to a practice that has long been claimed by groups protecting women and children from sex trafficking: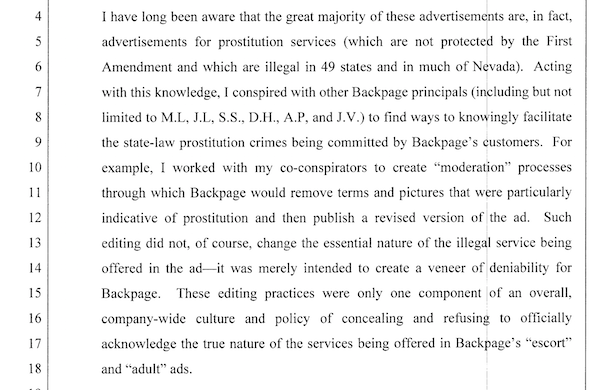 Ferrer also admitted to conspiring to engage in money laundering. He would "find ways to fool credit-card companies" so that those companies would think Backpage was not engaged in illegal activity.
Why It Matters: Last year the Women's March on Washington— the largest single-day protest in U.S. history—was held to send the message that "women's rights are human rights" But on the day Backpage was shut down, the organization behind the march sent out this tweet:
. The shutting down of #Backpage is an absolute crisis for sex workers who rely on the site to safely get in touch with clients. Sex workers rights are women's rights. Follow @SafeSpacesDC @melissagira @swopusa @KateDAdamo @supporthosechi @anaorsomething for more info. https://t.co/S3Orx3aM8Z
— Women's March (@womensmarch) April 7, 2018
This is a prime example of the attitude that allowed a company as exploitative as Backpage to flourish for more than a decade. Many mainstream groups supported the site even when it became obvious the website was exploiting women and children.
For example, on July 30, 2012, three children victimized by child sex trafficking filed a lawsuit against Backpage.com alleging the website participated in their exploitation by creating an online marketplace of escort ads where children are sold and bought for sex. The suit was settled in 2017, but it helped expose the complicity of the website in sex trafficking. The National Center for Missing and Exploited Children (NCMEC) submitted a friend of the court brief that reveals how Backpage not only knew it was facilitating prostitution, but that they were helping to expose children to rape and exploitation.
Recent cases handled by NCMEC tell similarly grim stories of children sold repeatedly for sex on Backpage. In one case, a child was reported missing 13 times before she was 15 years old. The trafficker forced the child to get a large "Daddy's Princess" tattoo on her stomach. A member of the public reported a Backpage ad to NCMEC that was visually matched to the missing child. She was recovered by local law enforcement, but went missing again. A year later, a Backpage moderator reported another ad for the same child because she "appeared young." NCMEC ran a basic Google search of the telephone number in the reported ad and identified more than 50 active Backpage ads using the same telephone contact number and depicting the same child. Backpage did not report any of these other active ads to NCMEC, even though the one ad it did report contained the same telephone number and showed the same child being sold for sex. When law enforcement again recovered the child, she disclosed being sold and raped at least five times every night for three years.
Many groups admit Backpage was problematic, but argued that shutting down sites like Backpage merely push sex trafficking further in the shadows. That's the argument made by people like Alexandra F. Levy, a professor at the University of Notre Dame who specializes in anti-trafficking. As Levy says, it will "force sites like Backpage to censor their content, taking the crimes underground and making it harder to find victims."
Yet even when Backpage knew about the victims, the company often took no action. As NCMEC notes, when a user clicked the "Report Ad" button, Backpage would deliver the following message: "If you accidentally reported this ad, do not worry. It takes multiple reports from multiple people for an ad to be removed." The result was that the ads would not be removed, even when family members were able to identify their own children.
As NCMEC reports, while Backpage refused to consistently remove ads reported for suspected child sex trafficking, it regularly removed "sting ads" placed by law enforcement to investigate traffickers and recover trafficked minors. Backpage said that "sting ads" violated its terms of use, but did not apply these terms of use consistently to also remove ads on its site reported by parents whose children were being bought and sold for sex.
The claim women and children are better off when sites like Backspace operate in the open is bizarre. We would not allow thousands of rats to have free rein in our public spaces simply because it helped us know where to set out a few mousetraps. For the same reason, we should not allow sex traffickers to operate with impunity simply in the hopes that a few women and children will be rescued in a sting operation.
Like anything bought and sold, the "market" for exploited women and children responds to supply and demand. The easier it is to find and purchase the vulnerable, the more demand rises, encouraging traffickers to increase the "supply." Shutting down sites like Backpage may make it marginally more difficult for law enforcement to identify the exploited. But it also makes it exponentially more difficult for casual sexual predators to find women and children to rape.
The shuttering of Backpage is no small victory. Many dedicated advocates for justice have fought for years to see this day. While there remains a lot of darkness on the internet, the closing of prostitution-promoting websites is a ray of hope and shows that change is possible. We should offer a prayer of thanks that the Lord has brought down this evil operation and exposed its leaders for their long-overdue punishment.
Get a FREE eBook to strengthen your family discipleship!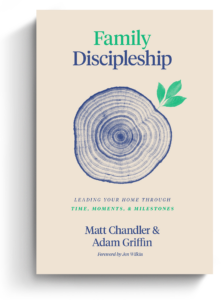 The back-to-school season is stressful for moms and dads. New rhythms of school, sports, and other extracurricular activities can quickly fill up a family's already busy calendar. Where do busy parents look for resources on discipling their family well? Aside from prioritizing church, what else can Christian parents do to instill healthy spiritual habits in their household?
Matt Chandler and Adam Griffin cover these questions and more in Family Discipleship: Leading Your Home through Time, Moments, and Milestones. And we're excited to offer this book to you for FREE as an eBook today.
Click on the link below to get instant access to your FREE Family Discipleship eBook now!