Next week, 6,000 people from all 50 states and 50 different countries will be coming together for the TGC National Conference. Whether a regular reader or first time visitor to the site, here are nine things you should know about TGC:
TGC serves Christians and the local church by promoting gospel-centered ministry and providing gospel-centered resources for the global church. TGC attempts to do this in 5 ways: (1) Centering the Church in the gospel of Jesus Christ, (2) gathering a fellowship of likeminded believers who want to do gospel-centered ministry, (3) equipping Christians with thoughtful, relevant content for life and study, (4) providing biblical materials and training for the global church, and (5) innovating through initiatives that integrate the gospel into daily life.
The ministry of TGC consists of a council of pastors, a website (in English, Spanish, and French), a biennial National Conference, a biennial Women's Conference, various publications, a theological journal (Themelios), a dozen Regional Chapters, an International Outreach initiative dedicated to relieving theological famine around the globe, and much more.
The original idea for TGC came about during a meeting at a Manhattan sidewalk cafe in 2001 between the co-founders, Don Carson and Tim Keller. In 2005 the pair started a Pastors' Colloquium, which formed the basis of TGC. This colloquium produced foundational documents—doctrinal confessions and a theological vision for ministry—which remains the banner over all TGC does. The organization was officially created in 2007.
The TGC website was originally launched in 2007. Modeled after the Arts & Letters Daily website, the TGC site was set up to provide resources on gospel-centered ministry. In 2008, Justin Taylor moved his blog to TGC and Kevin DeYoung started a new blog. (They were later joined by TGC's other bloggers: Trevin Wax, Thabiti Anyabwile, Jared C. Wilson, Ray Ortlund, and Scotty Smith.) The pastors on the Council also provided their sermons from the last ten years to be posted on the site (approximately 45,000 expository sermons).
Since 2009, 35 million people have visited the TGC website 92 million times and have viewed more than 168 million pages. The site currently contains over 80,000 audio, video, and text resources.
In print, TGC partners with several publishers around the world to produce book series and group studies that champion the gospel on topics as diverse as preaching to parenting, theology to generosity.
TGC partners with translators, publishers, and missions networks to resource local pastors worldwide with training and content in their languages. In 2013 alone, 83,000 books were translated into 10 languages (Albanian, Arabic, Burmese, Chinese, English, Italian, Khmer, Oriya, Portuguese, and Spanish). In 2014, through TGC's international initiative, 385 partners distributed 92,308 resources to 79 Countries. (Resources are available by the case at no charge to any person, church, or mission team who requests them for leaders overseas.)
Several related, though independent, groups modeled on TGC have sprung up around the globe. As Don Carson has explained, when it comes to TGC's international vision, "We've been clear from the beginning that we don't want [overseas groups] to be American-controlled." Tim Keller adds that it's vital for such TGC-inspired partnerships to be and remain indigenous. In 2014, The Gospel Coalition Australia launched with a planned conference for the summer of 2015.
From free mobile apps to free music downloads to story galleries, TGC champions projects that spread gospel-centered perspectives in fresh ways. With a commitment to innovation, TGC operates like a think tank to guide the church and champion projects serving a single goal: to mobilize people to live, teach, sing, work, and serve as ones reborn and regenerated by Jesus.
---
Recent posts in this series:
Church Architecture • Auschwitz and Nazi Extermination Camps • Boko Haram • Adoption • Military Chaplains • Atheism • Intimate Partner Violence • Rabbinic Judaism • Hamas • Male Body Image Issues • Mormonism • Islam • Independence Day and the Declaration of Independence • Anglicanism • Transgenderism • Southern Baptist Convention • Surrogacy • John Calvin • Prayer in the Bible • The Rwandan Genocide • The Chronicles of Narnia • The Story of Noah • Fred Phelps and Westboro Baptist Church • Pimps and Sex Traffickers • Marriage in America • Black History Month • The Holocaust • Roe v. Wade • Poverty in America • Christmas • The Hobbit • Council of Trent • C.S. Lewis • Orphans • Halloween and Reformation Day • World Hunger • Casinos and Gambling • Prison Rape • 6th Street Baptist Church Bombing • 9/11 Attack Aftermath • Chemical Weapons • March on Washington • Duck Dynasty • Child Brides • Human Trafficking • Scopes Monkey Trial • Social Media • Supreme Court's Same-Sex Marriage Cases • The Bible • Human Cloning • Pornography and the Brain • Planned Parenthood • Boston Marathon Bombing • Female Body Image Issues
Get a FREE eBook to strengthen your family discipleship!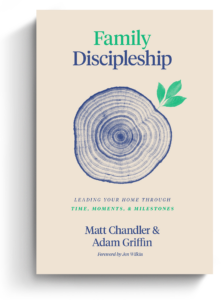 The back-to-school season is stressful for moms and dads. New rhythms of school, sports, and other extracurricular activities can quickly fill up a family's already busy calendar. Where do busy parents look for resources on discipling their family well? Aside from prioritizing church, what else can Christian parents do to instill healthy spiritual habits in their household?
Matt Chandler and Adam Griffin cover these questions and more in Family Discipleship: Leading Your Home through Time, Moments, and Milestones. And we're excited to offer this book to you for FREE as an eBook today.
Click on the link below to get instant access to your FREE Family Discipleship eBook now!