Editors' note:
Take part in TGC's Read the Bible initiative, where we're encouraging Christians and churches to read together through God's Word in a year.
Catch us off guard? Yes. Expose fear, anxiety, anger, and self-pity? For sure. Bring sorrow and pain? Absolutely. Trials do a lot of things, but what good do they do?  
In his letter to dispersed Jewish Christians, James gives this imperative: "Count it all joy, my brothers, when you meet trials of various kinds, for you know that the testing of your faith produces steadfastness" (James 1:2–3).
These are great memory verses for a Sunday school class—but what about when we lose a job and can't pay the mortgage? What good do chemotherapy, a NICU stay, a car accident, or persecution for our faith actually accomplish?
What good do chemotherapy, a NICU stay, a car accident, or persecution for our faith actually accomplish?
There's a reason James unashamedly tells us to count it all joy when we encounter trials like these. He knows that when true faith survives their refining heat, the fruit is sweeter than the cost is painful. Here are eight ways trials help produce steadfastness.
1. Trials deepen our prayer lives.
When overwhelmed, we can pray like Jehoshaphat: "We do not know what to do, but our eyes are on you" (2 Chron. 20:12). In response to devastating news, we weep, fast, and pray as Nehemiah did (Neh. 1:3–4). In the throes of worry, we "let our requests be made known to God" and cast all our "anxieties on him, because he cares for us" (Phil. 4:6; 1 Pet. 5:7). When we lack words to pray, "the Spirit helps us in our weakness," interceding for us "with groanings too deep for words" (Rom. 8:26). Humble prayer cultivates dependence on God, attacks our pride, and positions us to delight in the Lord who hears and answers in accordance with his wisdom.
2. Trials grow our knowledge of God's Word and character.
A wilderness season invites us to internalize God's promises, to learn as the wandering Israelites did that we don't "live by bread alone" but by "every word that comes from the mouth of the LORD" (Deut. 8:3). The psalmist says, "It is good for me that I was afflicted, that I might learn your statutes" (Ps. 119:71), and Job confesses, "I had heard of [God] by the hearing of the ear, but now my eye sees you" (Job 42:5). God often uses suffering to grow our knowledge of his Word and his true character.
3. Trials increase gratitude for our Savior.
When we taste sorrow, it reminds us that Jesus drank the full cup of God's wrath on our behalf. He prayed, "Father, if you are willing, remove this cup from me. Nevertheless, not my will, but yours, be done" (Luke 22:42), and then he was "wounded for our transgressions; he was crushed for our iniquities" (Isa. 53:5).
Humble prayer cultivates dependence on God, attacks our pride, and positions us to delight in God who hears and answers in accordance with his wisdom.
Our pain makes us more aware of Jesus's pain, increasing our gratitude for the agony he suffered on the cross. We also rejoice because through his sacrifice, our sin is forgiven and our salvation secured. We remember and cry, "Thank you, Jesus, for suffering in our place!"
4. Trials make us more like Jesus.
When Joseph's brothers intended evil toward him, "God meant it for good," to keep many people alive in famine (Gen. 50:20). Our redeeming God—who worked out our salvation through Jesus's painful sacrifice on the cross—continues to work all things, including our trials, for the "good of those who love him" (Rom. 8:28–29). One good thing God does through hardship is make us more like Jesus, who "learned obedience through what he suffered" (Heb. 5:8).
5. Trials equip us to comfort others.
In our trials, God means to comfort us so abundantly that we overflow with compassionate care for others. Paul writes that God "comforts us in all our affliction, so that we may be able to comfort those who are in affliction" (2 Cor. 1:4). God intends that we be conduits of his comfort to suffering family, friends, and neighbors. Our experience of trials helps us understand what others might feel and need, and our experience of God's comfort equips us to come alongside them to pray and serve in a gentle manner.
6. Trials prepare an eternal weight of glory.
Maybe we can't see what our trials are doing, but they're working. Each "light momentary affliction is preparing for us an eternal weight of glory beyond all comparison" when we look to what is unseen (2 Cor. 4:17–18). Each car ride to the treatment center. Each pile of paperwork and signed check. Each sleepless night spent caring for sick children. Given to him, it's all significant in the kingdom of heaven.
7. Trials remind us that earth isn't our true home.
In loneliness, we yearn for God's presence. Tears stir our hearts for a place with no "mourning, nor crying, nor pain anymore" (Rev. 21:4). Sick bodies wait eagerly for new ones. Death makes us long for resurrection. These trials remind us that earth isn't our true home. They increase our hunger for heaven.
8. Trials test and strengthen our faith.
Trials prove the genuineness of our faith, which fills our hearts with joyful assurance of salvation and results "in praise and glory and honor at the revelation of Jesus Christ" (1 Pet. 1:7). This strengthening of faith motivates us to "lay aside every weight, and sin which clings so closely, and . . . run with endurance the race that is set before us, looking to Jesus, . . . who for the joy set before him endured the cross" (Heb. 12:1–2). 
God Is Doing Something Through Your Trials
Even knowing the good that comes through trials, I doubt we would intentionally choose suffering for ourselves or our loved ones. But God is wiser than we are. His ways are higher than our ways (Isa. 55:9), and he uses trials for both his seen and unseen purposes in our lives.
You may not know what God is doing in a particular trial, but given the many options presented in Scripture, you can know he's doing something. Given how much he loves you, you can know it's for your eternal good. That is a reason for great rejoicing.
Get a FREE eBook to strengthen your family discipleship!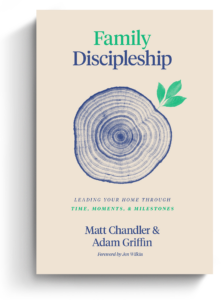 The back-to-school season is stressful for moms and dads. New rhythms of school, sports, and other extracurricular activities can quickly fill up a family's already busy calendar. Where do busy parents look for resources on discipling their family well? Aside from prioritizing church, what else can Christian parents do to instill healthy spiritual habits in their household?
Matt Chandler and Adam Griffin cover these questions and more in Family Discipleship: Leading Your Home through Time, Moments, and Milestones. And we're excited to offer this book to you for FREE as an eBook today.
Click on the link below to get instant access to your FREE Family Discipleship eBook now!