Like an earthquake, coronavirus has shaken the ground beneath our feet. Things we assumed we could count on (meals together with friends, graduation ceremonies, the Major League Baseball season) have been canceled or postponed.
We're doing some things we could never have imagined (washing the packaging on the groceries we bring home, standing six feet from friends), and we're not doing many things we expected always to be doing (gathering in person for church, visiting our grandmothers, commuting to work). Soaring retirement accounts have plummeted. Secure jobs have disappeared. Education has shifted to homes. Loved ones have been hospitalized, and some have died.
Earthquakes are scary and dangerous because they shake what we assumed was strong and stable. Coronavirus has shaken our assumptions, and many of us are struggling to find our feet. We're off-balance, disoriented, uncertain, lonely, grieving.
So, in this time, it's particularly important and especially precious to consider and celebrate the things coronavirus can't touch; the unchanging, unshakeable realities that haven't changed, because, according to the Bible, they cannot and will never change.
These things were true before coronavirus and will remain true long after (and forever). They are massive pillars sunk deep down into eternal bedrock, and we can stand on them when much else we relied on has been shaken.
Consider seven things that haven't changed.
1. God
The triune God (Father, Son, and Holy Spirit) is unchanging in holiness, righteousness, and glory. God declares, "I am the Alpha and the Omega . . . who is and who was and who is to come, the Almighty" (Rev. 1:8), and James tells us, "Every good gift and every perfect gift is from above, coming down from the Father of lights, with whom there is no variation or shadow due to change" (James 1:17). That's true for God the Son as well: "Jesus Christ is the same yesterday and today and forever" (Heb. 13:8). And the Holy Spirit is called "the eternal Spirit" (Heb. 9:14).
Our God will outlast the heavens: "Of old you laid the foundation of the earth, and the heavens are the work of your hands. They will perish, but you will remain; they will all wear out like a garment" (Ps. 102:26).
2. God's Word
Coronavirus doesn't call into question God's truthfulness or trustworthiness. His Word is as sure and firm now as it has ever been. "The grass withers, the flower fades, but the word of our God will stand forever" (Isa. 40:8). "Forever, O LORD, your word is firmly fixed in the heavens" (Ps. 119:89). God's Word is living and abiding and imperishable (1 Pet. 1:23).
3. God's Love
God's unchanging covenant love for us is the ground of our joyful praise of him:
Oh give thanks to the LORD, for he is good; for his steadfast love endures forever! (1 Chron. 16:34)
Know therefore that the LORD your God is God, the faithful God who keeps covenant and steadfast love with those who love him and keep his commandments, to a thousand generations. (Deut. 7:9)
Wonder of wonders, God is unchanging in his merciful disposition toward us: "For I the LORD do not change; therefore you, O children of Jacob, are not consumed" (Mal. 3:6). God's love for us (a love which he also produces within us by his Spirit) is one of those unchanging, imperishable realities that persist from this life into the next.
4. God's Purpose
Because God's love for us hasn't changed, neither has his good purpose for us. And because his good purpose remains constant, we have a certain hope—a strong, confident expectation that holds us securely through life the way an anchor holds a ship in a storm:
So when God desired to show more convincingly to the heirs of the promise the unchangeable character of his purpose, he guaranteed it with an oath, so that by two unchangeable things, in which it is impossible for God to lie, we who have fled for refuge might have strong encouragement to hold fast to the hope set before us. We have this as a sure and steadfast anchor of the soul. (Heb. 6:17–19)
5. Jesus's Intercession for Us
Jesus was interceding to the Father on our behalf before coronavirus, and the current pandemic hasn't stopped or slowed him. He is pleading his death for us now:
But this one was made a priest with an oath by the one who said to him: "The Lord has sworn and will not change his mind, 'You are a priest forever'" . . . Consequently, he is able to save to the uttermost those who draw near to God through him, since he always lives to make intercession for them. (Heb. 7:21, 25)
6. Judgment Day
This one is sobering. Coronavirus has canceled or postponed lots of meetings and forced many others online. But there's a coming appointment that won't be delayed, and won't occur on Zoom:
The times of ignorance God overlooked, but now he commands all people everywhere to repent, because he has fixed a day on which he will judge the world in righteousness by a man whom he has appointed; and of this he has given assurance to all by raising him from the dead. (Acts 17:30–31)
Each of us will keep this appointment in person (2 Cor. 5:10).
7. Our Final Destination 
Coronavirus is reshaping our journey, but not its end. When we get where we're going, we'll enter a future city that'll last forever. "For here we have no lasting city, but we seek the city that is to come" (Heb. 13:14). The servants of God in that new Jerusalem "will reign forever and ever" (Rev. 22:1–5).
That future, final destination hasn't been diminished in the least by coronavirus. It can't be, because it's not here—it's in heaven. We have "an inheritance that is imperishable, undefiled, and unfading, kept in heaven for you" (1 Pet. 1:4).
Unshakable Believers
Unchanging realities produce unshakable Christians. Yes, we're scrambling and adjusting and hurting. But we have some precious truths to hold us steady in a topsy-turvy time.
Let's absorb them. Let's live with a steady balance that magnifies Christ in a crazy world.
In a season of sorrow? This FREE eBook will guide you in biblical lament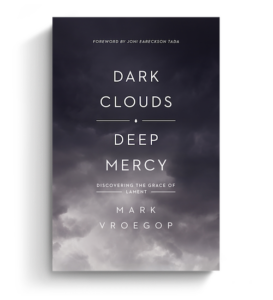 Lament is how we bring our sorrow to God—but it is a neglected dimension of the Christian life for many Christians today. We need to recover the practice of honest spiritual struggle that gives us permission to vocalize our pain and wrestle with our sorrow.
In Dark Clouds, Deep Mercy, pastor and TGC Council member Mark Vroegop explores how the Bible—through the psalms of lament and the book of Lamentations—gives voice to our pain. He invites readers to grieve, struggle, and tap into the rich reservoir of grace and mercy God offers in the darkest moments of our lives.
Click on the link below to get instant access to your FREE Dark Clouds, Deep Mercy eBook now!