No bell will ring, no clock will sound, no time sheet will be checked. We pastors schedule our own days.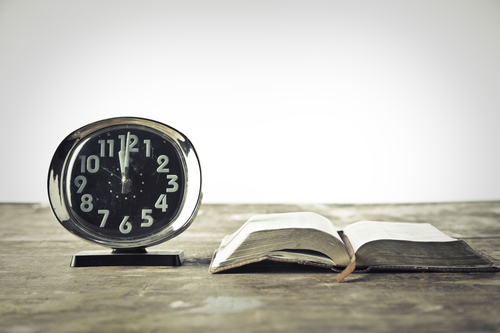 For most pastors, no one will formally supervise, monitor, or look over their shoulder. This means a pastor must learn manage his own time well for the glory of God and the good of the church.
Here are six suggestions.
1. Divide your days.
Divide your day into three segments: morning, afternoon, and evening. Determine the number of segments appropriate for you to spend in recreation, at rest, and with your family each week. Then allot the remaining segments for study, sermon prep, visitations, reading, counseling, administration, and other ministry tasks.
2. Schedule the important things.
Some things should appear on your calendar every single week, such as time to pray, study, and be at home with your family. These three areas are non-negotiable. Set these times aside first before filling in the rest of your week. Safeguard these segments to the best of your ability.
3. Determine your best hours.
Some pastors are at their freshest in the morning, others in the afternoon, and still others in the evening. Schedule your study and sermon prep for your "prime time"—when your mind is alert, your thoughts collected, and your body awake.
Ministering God's Word is your highest calling, so give it your best hours. Arrange your appointments, administration, and meetings at other times.
4. Be flexible.
A pastor with no flexibility in his schedule is doomed to anxiety, frustration, and stress—and so is his church and family. Your schedule should be full, but not so full you can't respond to an emergency phone call, an urgent hospital visit, a visitor who stops by, or a staff member who desires counsel.
A good way to gauge whether your schedule is flexible is to ask your congregation, staff, and family members whether they feel like you're approachable or like they're routinely interrupting something more important.
5. Expect long hours.
Most full-time pastors should expect to work a minimum of 50 hours per week. It's likely this number will be higher. Our time is valuable, so nights not set aside for family or rest—which are imperative—should be used for study, reading, or visitation.
We are caring for the souls of God's people; we should expect the work to be demanding.
6. Be sure to rest.
Some pastors struggle to be diligent in work since no one's looking over their shoulder; others struggle to get enough rest since no one's holding them accountable to take a break. You will burn out, your church will suffer, your body will deteriorate, and your family will disintegrate if you don't adequately rest. Take at least one day off a week—a day during which you refrain from thinking about the church, the next week's agenda, the members in need of a call, or that struggling marriage. Also, ensure that your salary and benefits package includes vacation time and study leave. Use every vacation day the church affords you. Don't feel guilty! Enjoy them so that you can return refreshed and ready to give your entire body and soul—your best self—to the flock for yet another season.
The One Looking Over Your Shoulder
As John Piper reminds us in his helpfully titled book Brothers, We Are Not Professionals, we don't punch a clock, put our time in, and go home. We never cease to be pastors, and as pastors we labor for eternal fruit. We're entrusted with a unique calling that involves our entire person and our whole life.
So give all you have for the good of Christ's people and for the glory of his name. No one is looking over your shoulder except the One who matters. In the end you want to hear, "Well done, good and faithful servant" (Matt. 25:21).
---
Editors' note: This excerpt is adapted from Jason Helopoulos's book The New Pastor's Handbook: Help and Encouragement for the First Years of Ministry (Baker, 2015). Used by permission from Baker Publishing Group.