Editors' note:
University Reformed Church of East Lansing, Michigan, offered a prayer in opposition to a constitutional amendment extending abortion rights in the state. Abortion is on the ballot in several states this week. To serve readers, we are publishing this as a representative sample of how pastors can lead their churches in prayer.
This morning, we're going to pray about Ballot Proposal 3 in Michigan, the proposed amendment to our state's constitution. Your elders have wrestled with how to address this and feel the best thing we can do as a church is to pray. This is a house of prayer, and we are to be a people of prayer.
Before I do so, let me offer a preface that the elders of our church have approved. As a church, an institution, we seek to honor Christ by focusing on the spiritual. This keeps us from becoming a political platform, a social club, or a Sunday rally.
So why pray about this? Because we care about life, human dignity, and righteousness. With this proposal, we have before us an objective issue. We, the citizens, must answer yes or no regarding this constitutional amendment. Up or down. There's a clear right and wrong here. This isn't a cultural issue, a matter of discerning the best path or what would most helpfully solve a problem, nor the promotion of a certain politician or political agenda.
Why pray about abortion initiatives? Because we care about life, human dignity, and righteousness.
As leaders in the church, we have to be careful in pronouncing too exactly and too confidently matters not explicitly stated in Scripture. As the Lutheran Peter Berger has written, neither the left's nor the right's political agenda "belongs in the pulpit, in the liturgy, or in any statements that claim to have the authority of the Gospel." As Charles Hodge, the 19th-century Presbyterian said, "The church can only exercise her power in enforcing the word of God, in approving what it commands, and condemning what it forbids."
We're praying this morning because a clear, objective disregard for the sixth commandment is before us. As the citizens of this state, we are being asked to decide whether we are going to legalize, legitimize, and propagate taking the lives of the most vulnerable members of our state. This is our backyard. These are our children. Thus, our elders want to pray for our state and the welfare of our children this morning.
Hear Us, O Lord
Our God, we praise you that you are a God of life.
You are the Alpha,
All things have their beginning in you.
And so, this morning,
We unite our voices in a cry,
Like that which was heard in Ramah,
Weeping with loud lamentation,
Rachel weeping for her children,
Refusing to be comforted because they are no more.
We lift our voices to you and say, "Oh Lord, hear our cry."
We Lament the Loss of Life
Hear our cry for the loss of life in this country.
More than 63 million babies have been aborted in this country since Roe.
What a stain upon our nation!
It's a number that is hard for us to wrap our minds around.
We are overwhelmed by thinking of that much lost life, in just a generation.
It's such a great number that we confess it can feel like just a number,
And yet we know that you formed every one of those children.
You knitted them together in their mother's womb.
You know their blood type, their chromosomes, their very DNA,
Because they are from you.
And yet, they are no more in this world.
Our hearts sink.
Have Mercy on Our State
We pray for our state.
We are thankful that there's the possibility of seeing no more abortions in this state.
May we uphold your law, given for our good,
"Thou shall not murder."
May your divine command echo through
the halls of justice,
the minds of doctors,
the hearts of mothers,
the souls of fathers,
conversations around water coolers,
and today, we pray especially, in voting booths.
Bring Justice
We pray for the purveyors of this wickedness.
May their funding dry up,
Their arguments fall on deaf ears,
Their laws be spurned,
Their clinics be closed.
We pray, most of all, that they would be convicted,
That they would repent, and a life lived in pursuing death would find the blessing of life.
We long to hear story after story of this abortion doctor, that Planned Parenthood worker,
That nurse, this politician,
Who has come to know you, to know life and know it abundantly.
Come Alongside Parents
We pray this morning for mothers struggling with unexpected pregnancies,
A child in her womb that maybe she didn't plan for,
But you did.
She may be struggling this morning,
Thinking how her life will change,
Perhaps the embarrassment, the sacrifice, or the responsibility that will fall upon her.
Help these mothers to be courageous.
Grant them grace to be merciful.
Give them love for the children that are in their wombs.
Quiet their anxieties.
Still their fears.
Provide for them.
We pray for the fathers who maybe even this day are
Pressuring, persuading, demanding, funding
An end to life in the womb of their wife, girlfriend, or lover.
Under your mighty power, humble them.
Rather than playing god, help them to play the man,
Bearing their responsibility, leading in righteousness, and caring for the weak.
Forgive Us
Finally, for those of us who have aborted a child in the past,
Forgive us.
We are thankful that Christ came into the world to save and grant forgiveness.
Let us never doubt that.
May our adversary find no foothold there.
For those of us who continue to grieve over our past sins, comfort us.
May we not be like Rachel, who refused to be comforted.
May you hear our cry, respond with your mercy, and wrap us in your eternal love.
May we know that peace which surpasses understanding,
And rejoice in your forgiveness this day.
Hear our prayers for the children of our state.
Please, O Father, ensure that Michigan upholds life, human dignity, and righteousness as it goes to the polls this week.
We unite our hearts before your throne, O Father,
for those who have not only the least of voices among us but no voice among us.
We pray all of this in the name of Christ, your only begotten Son.
Get your FREE 7-day devotional!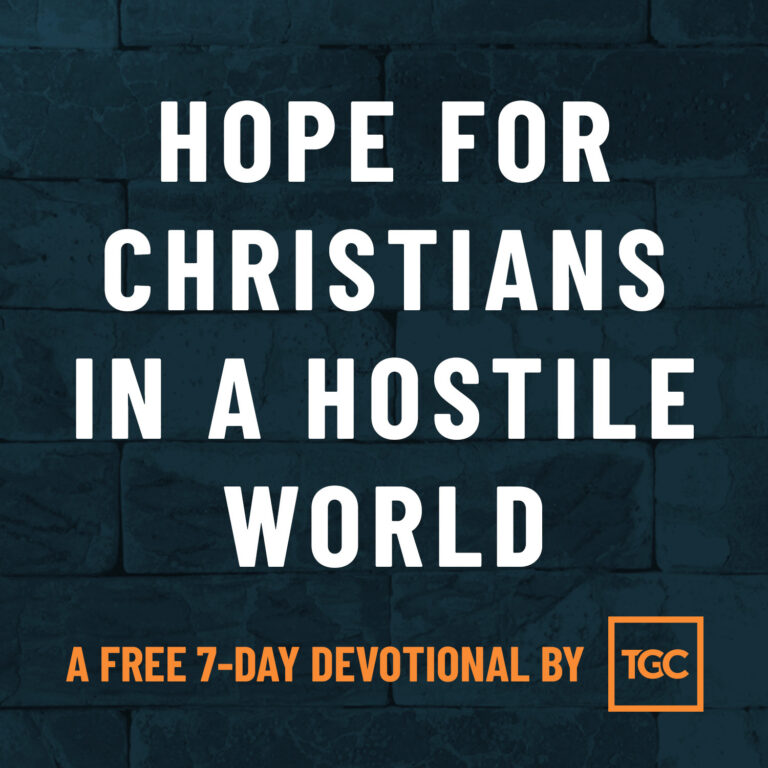 God's people have always been strangers and sojourners in this world. Do you feel that way, too?
You're not alone. Since the church's beginnings, Christians have often felt ostracized. And the Bible offers great encouragement for how to live with hope.
If you're feeling the weight of cultural exile today, our new 7-day devotional, Hope for Christians in a Hostile World, will encourage you.
If you sign up for this FREE resource, we'll send you an email each day for a week with a daily devotional featuring Bible readings and reflections written by TGC staff and friends.