The following 20 quotes caught my attention as I read John Piper's new book, Coronavirus and Christ (Crossway, 2020), available in multiple languages for purchase or as a free audiobook (read by Piper) or eBook download. You can also listen to Collin Hansen's interview with Piper.
---
This book is my invitation for you to join me on the solid Rock, Jesus Christ. . . . My aim is to show why God in Christ is the Rock at this moment in history—in this pandemic of the coronavirus—and what it is like to stand on his mighty love. (19)

It matters little what I think about the coronavirus—or about anything else, for that matter. But it matters forever what God thinks. He is not silent about what he thinks. Scarcely a page in the Bible is irrelevant for this crisis. My voice is grass. God's voice is granite. (21)

The same sovereignty that could stop the coronavirus, yet doesn't, is the very sovereignty that sustains the soul in it. (23)

The sovereignty of God is all-encompassing and all-pervasive. He holds absolute sway over this world. He governs wind (Luke 8:25), lightning (Job 36:32), snow (Ps. 147:16), frogs (Ex. 8:1–15), gnats (Ex. 8:16–19), flies (Ex. 8:20–32), locusts (Ex. 10:1–20), quail (Ex. 16:6–8), worms (Jonah 4:7), fish (Jonah 2:10), sparrows (Matt. 10:29), grass (Ps. 147:8), plants (Jonah 4:6), famine (Ps. 105:16), the sun (Josh. 10:12–13), prison doors (Acts 5:19), blindness (Ex. 4:11; Luke 18:42), deafness (Ex. 4:11; Mark 7:37), paralysis (Luke 5:24–25), fever (Matt. 8:15), every disease (Matt. 4:23), travel plans (James 4:13–15), the hearts of kings (Prov. 21:1; Dan. 2:21), nations (Ps. 33:10), murderers (Acts 4:27–28), and spiritual deadness (Eph. 2:4–5)—and all of them do his sovereign will. (41–42)

This is not a season for sentimental views of God. It is a bitter season. And God ordained it. God governs it. He will end it. No part of it is outside his sway. Life and death are in his hand. (42)

If we try to rescue God from his sovereignty over suffering, we sacrifice his sovereignty to turn all things for good. (45)

The very sovereignty that rules in sickness is the sovereignty that sustains in loss. The very sovereignty that takes life is the sovereignty that conquered death and brings believers home to heaven and Christ. It is not sweet to think that Satan, sickness, sabotage, fate, or chance has the last say in my life. That is not good news. That God reigns is good news. (45–46)

Even if Satan, on his divine leash, has a hand in our suffering and death, he is not ultimate. He cannot hurt us without God's permission and limitation (Job 1:12; Luke 22:31; 2 Cor. 12:7). And in the end, it is right for us to say to Satan what Joseph said to his brothers who had sold him into slavery: "As for you, you meant evil against me, but God meant it for good" (Gen. 50:20). (48)

In Christ we are not his dispensable pawns. We are his valued children. (50)

God is giving the world in the coronavirus outbreak, as in all other calamities, a physical picture of the moral horror and spiritual ugliness of God-belittling sin. (61)

Physical evil is a parable, a drama, a signpost pointing to the moral outrage of rebellion against God. . . . Physical pain is God's trumpet blast to tell us that something is dreadfully wrong in the world. Disease and deformity are God's pictures in the physical realm of what sin is like in the spiritual realm. (66)

Calamities are God's previews of what sin deserves and will one day receive in judgment a thousand times worse. They are warnings. They are wake-up calls to see the moral horror and spiritual ugliness of sin against God. . . . Therefore, God is mercifully shouting to us in these days: Wake up! Sin against God is like this! It is horrible and ugly. And far more dangerous than the coronavirus. (66–67)

For "the household of God," this judgment from God is purifying, not punitive—not punishment. . . . It is discipline, not destruction. (70, 72)

The coronavirus is a merciful wake-up call to be ready [for Christ's return]. (76)

The coronavirus is God's thunderclap call for all of us to repent and realign our lives with the infinite worth of Christ. (77)

Disasters are a gracious summons from God to repent and be saved while there is still time. . . . I think that's God's message for the world in this coronavirus outbreak. He is calling the world to repentance while there's still time. (79–80)

What God is doing in the coronavirus is showing us—graphically, painfully—that nothing in this world gives the security and satisfaction that we find in the infinite greatness and worth of Jesus. This global pandemic takes away our freedom of movement, our business activity, and our face-to-face relations. It takes away our security and our comfort. And, in the end, it may take away our lives. The reason God exposes us to such losses is to rouse us to rely on Christ. Or to put it another way, the reason he makes calamity the occasion for offering Christ to the world is that the supreme, all-satisfying greatness of Christ shines more brightly when Christ sustains joy in suffering. (82)

One of God's purposes in the coronavirus is that his people put to death self-pity and fear, and give themselves to good deeds in the presence of danger. Christians lean toward need, not comfort. Toward love, not safety. (91)

The global scope and seriousness of the coronavirus is too great for God to waste. It will serve his invincible global purpose of world evangelization. Christ has not shed his blood in vain. . . . He will have the reward of his suffering. And even pandemics will serve to complete the Great Commission. (98)

Do not waste our misery and grief, O Lord. Purify your people from powerless preoccupation with barren materialism and Christless entertainment. Put our mouths out of taste with the bait of Satan. Cut from us the roots and remnant of pride and hate and unjust ways. Grant us capacities of outrage at our own belittling of your glory. Open the eyes of our hearts to see and savor the beauty of Christ. Incline our hearts to your word, your Son, and your way. Fill us with compassionate courage. And make a name for yourself in the way your people serve. (100)
Get a FREE eBook to strengthen your family discipleship!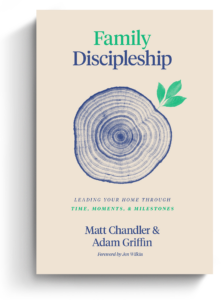 The back-to-school season is stressful for moms and dads. New rhythms of school, sports, and other extracurricular activities can quickly fill up a family's already busy calendar. Where do busy parents look for resources on discipling their family well? Aside from prioritizing church, what else can Christian parents do to instill healthy spiritual habits in their household?
Matt Chandler and Adam Griffin cover these questions and more in Family Discipleship: Leading Your Home through Time, Moments, and Milestones. And we're excited to offer this book to you for FREE as an eBook today.
Click on the link below to get instant access to your FREE Family Discipleship eBook now!